We invited you, dear readers, to share your love stories this Valentine's Day.
Rediff reader Shankar Vasan from Toronto, Canada shares his 'Jab We Met' story.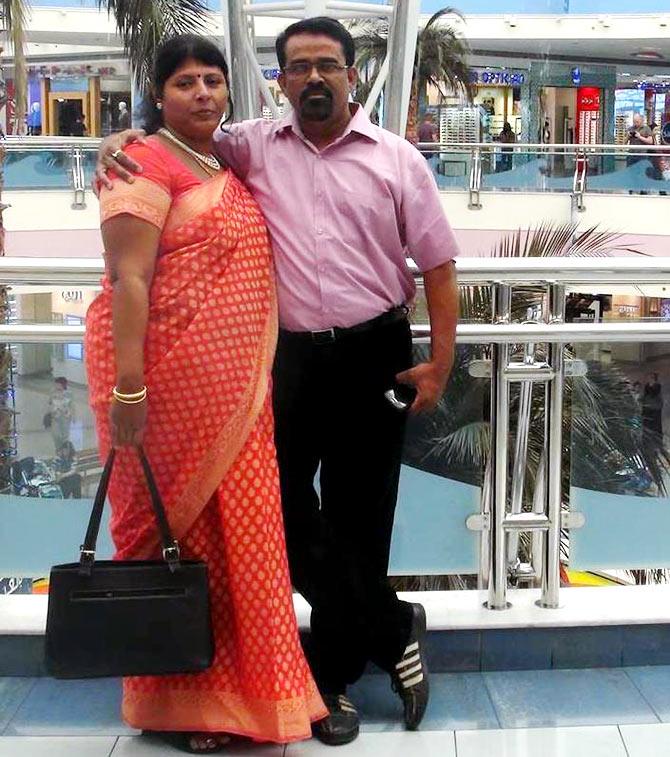 This was way back in 1997 in the hot and sweaty month of May.
I was on a marketing tour from Delhi to Mumbai and Chennai.
After finishing my work in Mumbai, I boarded the AC coach for my onward journey to Chennai.
The train departed at 6.30 pm from Mumbai CST and was scheduled to reach Chennai at 6.00 pm the next day.
I slept early that night. It was in the morning that I met her as I was stepping off the train to get breakfast at Guntakal station. So was she.
I initiated a conversation just for fun which in the next one hour became a serious conversation.
We met three times at the door and talked some more. Neither of us had thought that our wave length would match so much and we would end up getting married.
Love at first sight does happen!
We got married the same year -- November 19, 1997.
Our mutual understanding is what keeps our relationship strong.
We were also lucky that our parents agreed, although we had talked about eloping in case of opposition.
Everything happened so fast for us, that it sometimes feels like a dream.
As is rightly said, marriages are really made in heaven!
Click HERE to check out our Valentine's Day Special!
Surprise your loved one with an awesome Valentine's Gift from Rediff!
ALSO SEE
Jab We Met: My so-called arrogance disappeared
Jab We Met: She was my friend's younger sister
Jab We Met: 'We sat on adjacent benches but never spoke'
Jab We Met: 'I could never forget her'
Jab We Met: An arranged 'happily-ever-after'
Jab We Met: She's 9 years younger than me
Jab We Met: I called her up at the stroke of midnight
Jab We Met: It was love at first sight
Jab We Met: I was ten and I knew she was the one!
Jab We Met: Our friendship blossomed into love
Jab We Met: It started in a chat room
Click here to read more Jab We Met stories
Dear readers, do you have an interesting love story that you want to share?
Tell us where you first met your partner and how the two of you fell in love.
Write in to us at getahead@rediff.co.in (subject line: 'Jab We Met').
You can also include a photograph of you and your partner and we'll publish the best entries right here on rediff.com.