We invited you, dear readers, to share your love stories this Valentine's Day.
Here, Mahesh Hiremath shares his 'Jab We Met' story.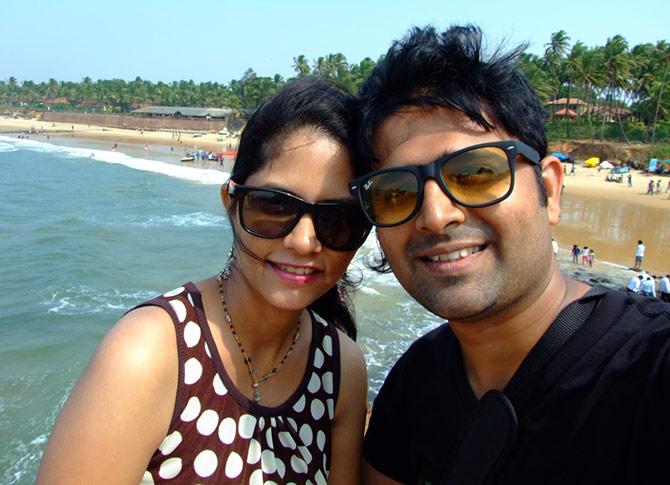 I was pursuing second year of pharmacy. Being a senior, I first saw her while we were taking digs at juniors.
She was dressed in salwar kameez, had beautiful long hair and looked stunning!
I stopped thinking and kept gazing at her. I got lost in her eyes.
Much to my surprise, I didn't have a nice conversation with her (though I wanted to!).
I praised myself too much and expected her to treat me like a respected senior.
After that day, all her friends would talk to me about books and notes. But she would avoid me.
Whenever we met at the corridor or the laboratory, she'd give me a stern look.
She was getting along with some of my friends but not with me.
With time, my impatience grew.
Both of us stayed at the college hostel.
I asked my friends to avoid talking to her and if she needed anything, to ask her to get in touch with me.
To my disappointment, she never approached me on her own.
All this affected me and I was slowly beginning to feel depressed.
I started altering my schedules to get a glimpse of her at the college library, canteen and on the road to the hostel.
All my close friends got to know about my feelings and soon the news spread everywhere.
During these five to six months, my so-called arrogance disappeared and I had turned into a devoted lover, which reflected in my behavior towards her.
She started noticing that I do care about her and that helped us connect.
I used to look for reasons to talk to her.
We would exchange smiles and looked forward to seeing each other in the corridor.
It took me another four months to express my feelings to her.
I can never forget February 3, 1999 -- I consider it as our Valentine's Day.
Both of us were on the way back to our hostel. A friend accompanied her.
I requested her friend to excuse us for a few minutes, so she moved ahead.
While walking with her, I plucked a flower from the grass bed nearby and offered it to her saying that I liked her a lot.
The words were not important as my feelings and emotions at the moment probably showed her that I love her.
She smiled and I felt like the happiest person in the entire world!
That day onwards we got along really well.
Although we had met each other only a few months ago, it felt like we were made for each other.
Everyone in college got to know about us and soon we were termed 'love birds'.
When our professors enquired about our relationship we did not deny it.
They didn't make an issue out of it as both of us were good in studies.
By the time, I reached the final year, we had become the most popular pair.
During this period, I had also introduced her to my parents and conveyed to them that this was the girl I would like to marry.
Although my parents laughed it off initially, later they got angry and asked me to focus on my studies.
However, everybody, including my grandmom liked Vidya.
They probably didn't make a fuss because they believed that she belonged to the same caste as us, which was not really the case.
Meanwhile, her parents had started looking for a suitable guy to get her married.
During one such discussion, Vidya told her father that she loved me and intended to marry me.
As expected, her father got upset and shouted at her.
I believe any father would have done the same thing.
His main concern was that I was a Brahman and they were Marathas.
He was afraid that if he agreed to our marriage, it would affect the prospects of his younger daughter.
The next eight to ten months were very challenging for us.
However we decided to get married and put an end to all these problems.
My parents supported me and advised that we go for a registered marriage.
Soon after we informed her parents and eventually they accepted.
I found them to be extremely kind and lovable.
I too informed my parents about Vidya's caste just some time before our marriage. They didn't object as she had already captured everyone's heart.
I got married when I was pursuing my post-graduation and did not have an income. But both of us were convinced that if we did not get married then, we would never be together.
We were confident that after we completed our studies, we would both find a job and lead a quality life.
Even though both our parents offered to help us financially, we declined and decided to build our life with own income and luck.
About fifteen years ago, we started our life in a one-room kitchen rented accommodation and today we have all the amenities required for a quality life.
My 'Quality Life' started the day I plucked the flower from the grass bed and she smiled!
Our love story continues…
Click HERE to check out our Valentine's Day Special!
Surprise your loved one with an awesome Valentine's Gift from Rediff!
ALSO SEE
Jab We Met: She was my friend's younger sister
Jab We Met: 'We sat on adjacent benches but never spoke'
Jab We Met: 'I could never forget her'
Jab We Met: An arranged 'happily-ever-after'
Jab We Met: She's 9 years younger than me
Jab We Met: I called her up at the stroke of midnight
Jab We Met: It was love at first sight
Jab We Met: I was ten and I knew she was the one!
Jab We Met: Our friendship blossomed into love
Jab We Met: It started in a chat room
Click here to read more Jab We Met stories
Dear readers, do you have an interesting love story that you want to share?
Tell us where you first met your partner and how the two of you fell in love.
Write in to us at getahead@rediff.co.in (subject line: 'Jab We Met').
You can also include a photograph of you and your partner and we'll publish the best entries right here on rediff.com.