We had invited you, dear readers, to share your love stories.
Here, Indranil Maitra tells us how he met his wife.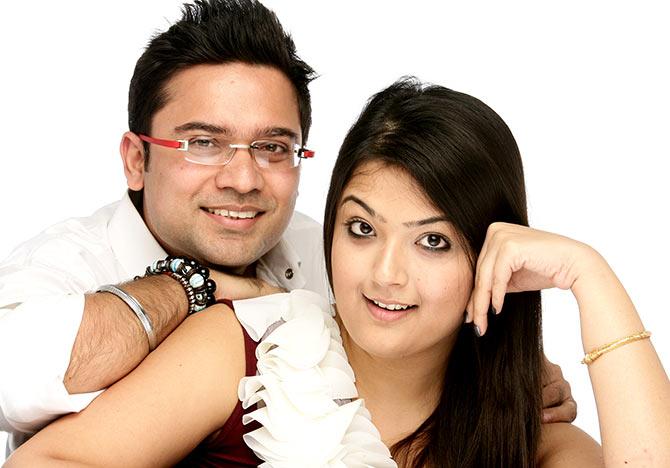 L ove at first browse.
Yes that is exactly what I call my love story. It was like magic.
Just like any 30+ bachelor, I was getting pressurised by my parents to get married soon, as I was living alone, away from my hometown and family.
But I loved to go against normal rules. And I did not want to go for an arranged marriage set up. I wanted to get to know a girl better before getting married. But that was difficult for my parents to accept.
So I decided to log on to Facebook in search of my life partner.
We had a common family friend on whose Facebook page I found her.
She was a pretty girl from Bengal who looked perfect to me.
It was as if a single click of the mouse had changed my life.
I called up our common friend desperately, to find out the whereabouts of this pretty girl.
This friend decided to play cupid and arranged our first meeting.
I still remember the first time I met her at a restaurant in Mumbai, when I realised that she's the one.
When I got to know that she liked me too, I was on seventh heaven.
But then said she would be leaving for Dubai for good as she'd got a job in a reputed bank there.
I became restless but managed to control my emotions.
I crossed my fingers and in Dilwale Dulhaniya Le Jayenge style, told the world that if we were meant to be together, she would come back.
I tried my best to be in touch but it was not frequent enough as she was busy in her professional life.
But one month later, my dream came true.
I was making breakfast when I got a call from a familiar voice -- It was her.
I was confident that she'd be mine.
We met again and dated for a few months.
One day I expressed my feelings with a painting of Krishna, the God of love, with the words 'I love you' written on it. She said yes.
We got married with the consent of our parents.
We completed five years of our marriage this February and are blessed with a beautiful boy.
We love our family, friends and elders without whom we wouldn't be together today.
I believe that if you wish for something from your heart, it will be yours.
Believe in love and the entire world is yours.
I would like to thank my wife Aditi for making my life such a beautiful place.
ALSO SEE
Jab We Met: My arranged love story
Jab We Met: I drove from Vizag to Kolkata to see her
Jab We Met: I did not have her photograph
Jab We Met: He was my project partner
Jab We Met: My so-called arrogance disappeared
Jab We Met: She was my friend's younger sister
Jab We Met: 'We sat on adjacent benches but never spoke'
Jab We Met: 'I could never forget her'
Jab We Met: An arranged 'happily-ever-after'
Jab We Met: She's 9 years younger than me
Jab We Met: I called her up at the stroke of midnight
Jab We Met: It was love at first sight
Jab We Met: I was ten and I knew she was the one!
Jab We Met: Our friendship blossomed into love
Jab We Met: It started in a chat room