We invited you, dear readers, to share your love stories this Valentine's Day.
Here, Rediff reader Yatin tell us how he met his sweetheart in the year 1997.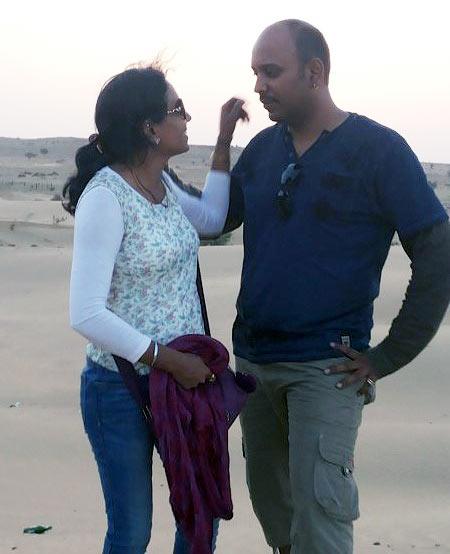 Chaitali and I first met each other during our Class 10 extra lectures in the year 1997.
Despite studying together and sharing adjacent benches we never spoke to each other.
When I look back, I feel it was love at first sight.
As time passed, we moved on with our lives.
I wasn't even aware that she had joined my college to pursue commerce.
Since my group of friends and I would not attend lectures frequently, it took me a few months to realise that Chaitali and I were in the same division.
The few instances when I saw her, I felt something good within, but never realised what it was.
Our first interaction was when we exchanged notes in college.
I can only imagine how many guys would have attempted to make their maiden conversation through college notes.
We clicked instantly as friends.
I was soon attending lectures and we would study together in the library.
I started spending more time with her and life seemed to be good.
We had our likes and dislikes, but our level of mutual understanding just got better with time.
On February 1, 1999 in the middle of our college festival, I confessed my feelings to her.
She took some time to think.
The five days that followed have been the most anxious days of my life.
I had all kinds of thoughts going through my mind.
On February 5, when she told me that she wanted to speak to me the following day, I had butterflies in my stomach.
On February 6, 1999 we decided take our friendship to the next level.
Having a love affair in the late 90's with no mobiles and restricted land line options was very different.
If we had to meet, everything would have to be planned well in advance.
Whoever would reach first, needless to say, would have to wait till the other person makes it.
After four years of courtship we got married on August 17, 2003.
We are blessed with wonderful kids.
Chaitali has stood by me all these years.
I'll cherish the time spent with her all my life.
In these years, our relation has transformed through different stages.
She has always stood like a rock behind me and I have enjoyed her companionship.
When I look back, it feels like yesterday when we first met.
When I look at her, I feel the entire journey -- from a young college teen to a parent – unfold in front of my eyes.
I really treasure and feel blessed to have such a supportive, loving life partner.
Love you Chaitali forever... Happy Valentines Day!
Click HERE to check out our Valentine's Day Special!
Surprise Your Special By Giving An Awesome Valentine's Gift from Rediff!
ALSO SEE
Jab We Met: 'I could never forget her'
Jab We Met: An arranged 'happily-ever-after'
Jab We Met: She's 9 years younger than me
Jab We Met: I called her up at the stroke of midnight
Jab We Met: It was love at first sight
Jab We Met: I was ten and I knew she was the one!
Jab We Met: Our friendship blossomed into love
Jab We Met: It started in a chat room
Jab We Met: A touching love story
Jab We Met: 'She had tears in her eyes'
Click here to read more Jab We Met stories
Dear readers, do you have an interesting love story that you want to share?
Tell us where you first met your partner and how the two of you fell in love.
Write in to us at getahead@rediff.co.in (subject line: 'Jab We Met').
You can also include a photograph of you and your partner and we'll publish the best entries right here on rediff.com.