Aishwarya Rai Bachchan and Pharrell Williams teamed up for the first time for a mag cover, which is making people uneasy.
Photograph: Vogue India April 2016 mag cover
Expect the extraordinary when two global icons come together for a cover.
The gorgeous Aishwarya Rai Bachchan featured on Vogue India's April 2018 cover with singer and songwriter Pharrell Williams of the Happy fame.
The cover, which has already broken the Internet, has the Bollywood actor striking a flirtatious pose in a blue ruffled dress, as the singer, who is dressed in a multi-colour track suit, maintains a poker face.
'The Power of two: Global icons #AishwaryaRaiBachchan and Pharrell Williams take over our #April2018 issue!' Vogue India captioned the pic, which has already received over 50,000 likes.
Photographed by Greg Swales and styled by Anaita Shroff Adajania, the cover has been receiving mixed reviews.
While people are happy that the mag featured a icon of colour, critics strongly feel that Aishwarya's pic has been heavily edited.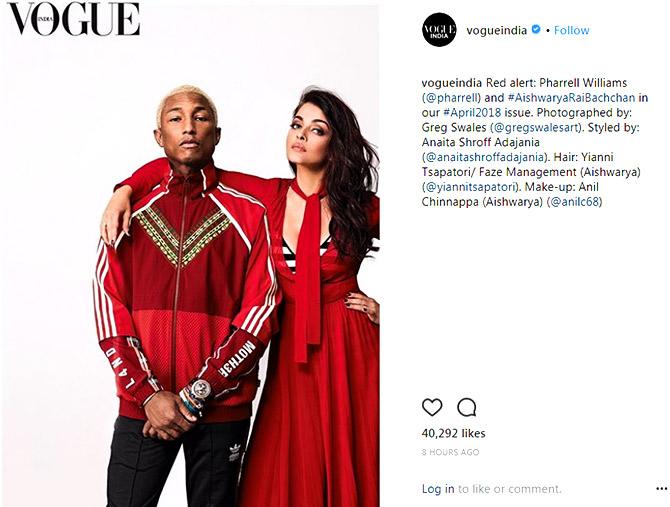 Photographs: Courtesy Vogue India/Instagram
'Why would you photoshop someone who's so beautiful @vogueindia?' questioned a user on Instagram.
Another user added, 'She looks amazing. But why photoshop her so much? Celebrate her age and her natural beauty.'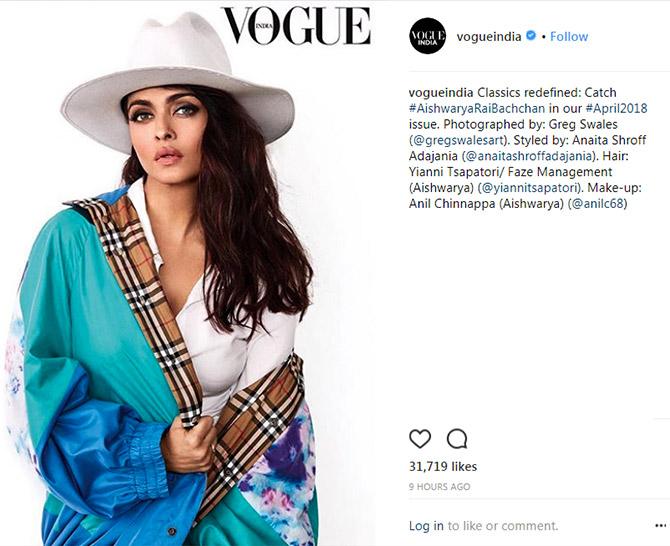 In an interview with Vogue India, Aishwarya speaks about motherhood and movies.
When asked about why she's not on Instagram as yet, she told the magazine, 'I'm not remotely averse to social media, but when it first began it became a bit of a rat race of numbers, and I've never been into that.'