May 15, 2013
'Supreme Court wants CBI to be politically-neutral'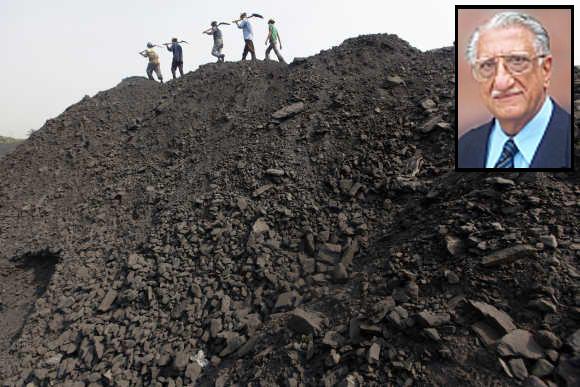 'The court would like to make the CBI politically neutral so that they behave as professionals and they are not influenced by somebody in power,' constitutional expert Anil Divan tells
May 09, 2013
'Indian Special Forces are tied up in bureaucratic hierarchy'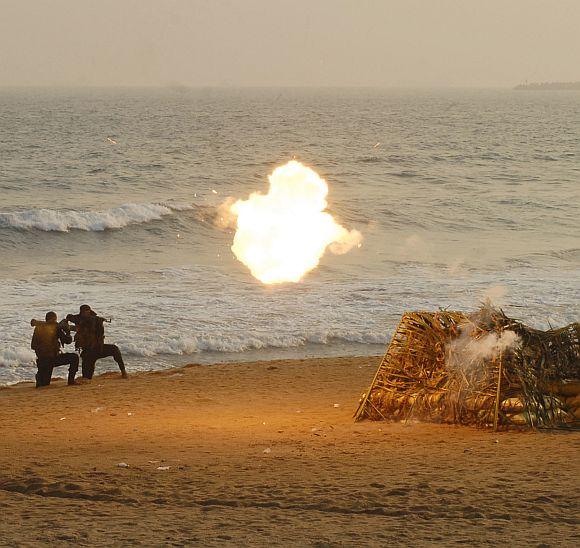 Special Forces are a vital element of national power, possessing enormous freedom of action and should be fruitfully employed to successfully meet future challenges, say Lieutenant General P C Katoch and journalist Saikat Dutta.
May 08, 2013
Koodankulam: 'It takes time to make a plant operational'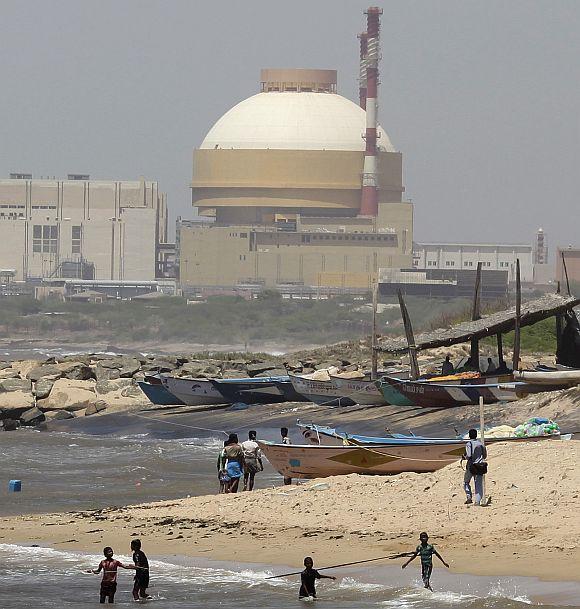 'We are restricting the media because of the difficulties we are facing with the media. The public have been visiting the plant regularly,' says R S Sundar, site director at the controversial Koodankulam Nuclear Power Project in Tamil Nadu. 'The public is knowledgeable. They ask as many questions as journalists. We have faced tough questions from them, clarified their doubts and convinced them.'
May 02, 2013
Exclusive: 'Ladakh incursion by China a localised matter'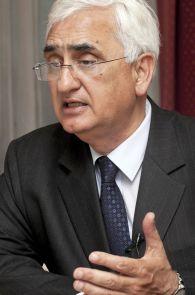 In an exclusive interview to Rediff.com, Khurshid refuted reports that the flag-level talks were not moving forward. He also dismissed suggestions that he should call off his visit to Beijing if there's no progress in the talks.
April 26, 2013
'The Cong will win in Bellary despite tainted candidates'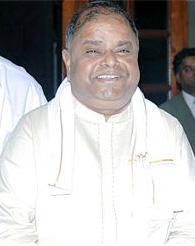 K C Kondaiah, a senior leader of the Congress speaks out to Vicky Nanjappa.
April 22, 2013
'Our support is always based on policies': Yechury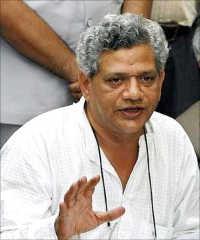 The best option in 2014 is the formation of a non-Congress, non-BJP government based on alternative policies, says CPI-M leader Sitaram Yechury
April 21, 2013
'Congress is the biggest communal party in India'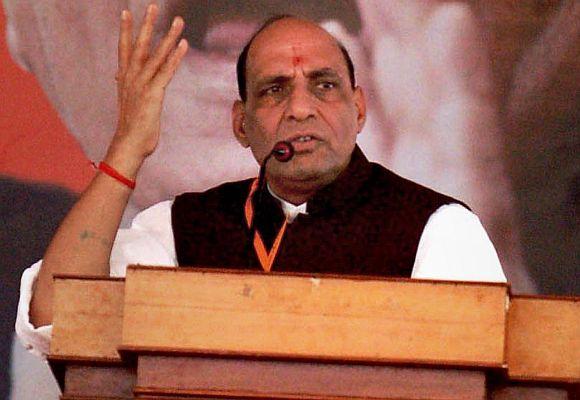 BJP president Rajnath Singh talks on issues like Modi as PM, ties with JD-U and Congress's tainted secular creditials.
April 19, 2013
'Govt should encourage, not prosecute, whistle-blowers'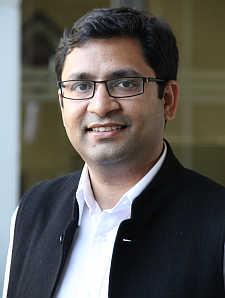 Giving legal immunity to bribe-givers motivates citizens to report corruption, says Tarun Jain of the Indian School of Business, Hyderabad.
April 15, 2013
'India must use special forces better against Pak, China'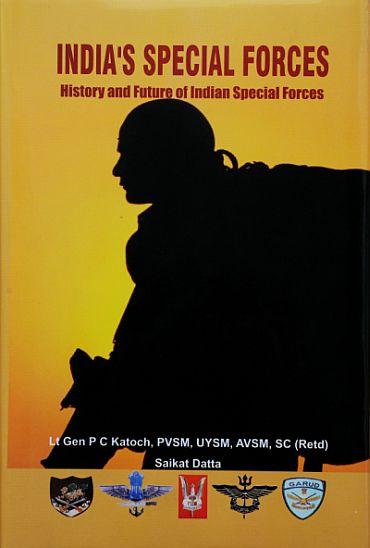 Rediff.com's talks to Lieutenant General P C Katoch and journalist Saikat Dutta on how India has failed to strategically employ its considerable number of special forces especially in creating deterrence against the asymmetric war unleashed upon us by both Pakistan and China since past several years, and that we need to right this urgently.
April 14, 2013
Not in Karnataka CM's race: Mallikarjuna Kharge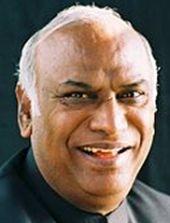 In this interview with Rediff.com's Vicky Nanjappa, Kharge says that he is not an aspirant to the chair of the chief minister, but also adds that the final decision would be with the party high command.
April 12, 2013
'Corruption is accepted by ALL parties in Karnataka'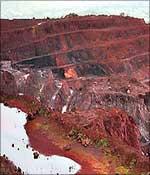 The rampant mining in Karnataka and the politicians who minted money from it made headlines during the state election in 2008. But this year, the issue has taken a backseat and mining barons like Janardhana Reddy have been kept away from the electoral fray.
'Congress-JD-S will form coalition govt in Karnataka'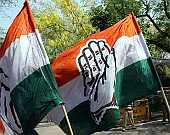 Dr K S Shetty from Udupi has been closely following the political developments in Karnataka for the past three decades or more. A passionate political analyst he predicts in an interview with rediff.com's Vicky Nanjappa that the Congress-Janata Dal-Secular alliance will oust the current Bharatiya Janata Party government in the state.
April 10, 2013
'BJP will be routed in the Karnataka elections'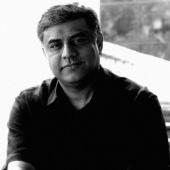 In an exclusive interview with Rediff.com's Vicky Nanjappa, IIM professor Rajeev Gowda says that the Congress will come to power while the ruling Bharatiya Janata Party will be routed this time.
April 09, 2013
'Congress stands united; will win 120 seats in Karnataka'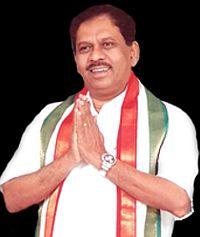 In an interview with rediff.com's Vicky Nanjappa, Karnataka PCC President Dr G Parameshwar rubbishes reports of infighting in the party and predicts that the Congress will win 120 seats in Karnataka.
April 08, 2013
'People will give BJP another chance in Karnataka'
For the ruling Bharatiya Janata Party in Karnataka, the assembly elections are nothing short of an acid test.
April 03, 2013
'Hypertension is leading cause of death in urban areas'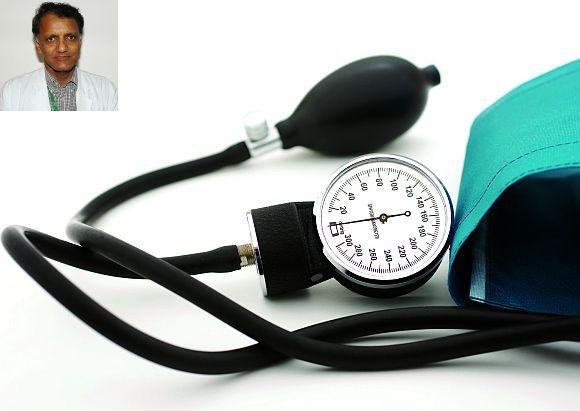 In this exclusive interview with Rediff.com's from Jaipur, Dr Gupta talks about the study and what the urban population to do to fight hypertension.
March 30, 2013
Veerappan aides' hanging stayed, Guru denied chance: Omar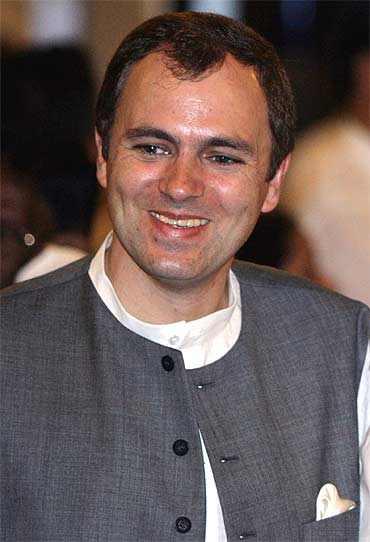 In an exclusive interview to CNN-IBN's Senior Editor Suhasini Haider, Jammu and Kashmir Chief Minister Omar Abdullah admits the lapses in the rehabilitation policy for surrendered militants following the fiasco over the arrest of Hizbul Mujahideen terrorist Liaqat Ali Shah.
March 28, 2013
'Suryanelli victim shivers when she sees Kurien on TV'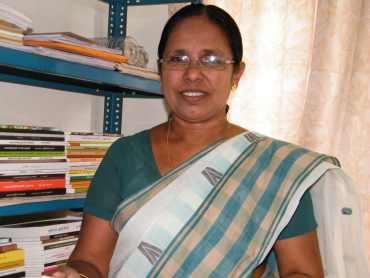 'Our prime interest is to help the victim get justice. When we speak of justice, what we mean is, all the people who exploited her should be punished,' KK Shailaja, general secretary of the All India Democratic Women's Association, tells Shobha Warrier
March 26, 2013
'We are doing a disservice to Tamils in Sri Lanka'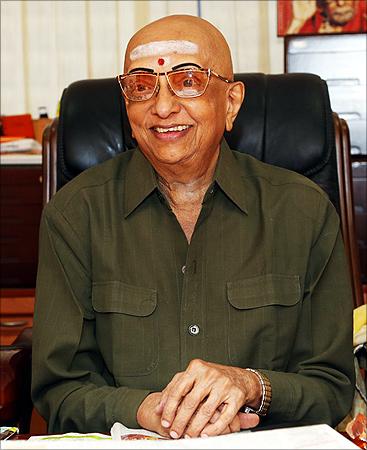 Cho Ramaswamy talks about the Sri Lankan Tamil issue, the DMK walking out of the UPA and also his thoughts on the next Lok Sabha elections.
March 06, 2013
'Religion is one of the biggest divisive forces'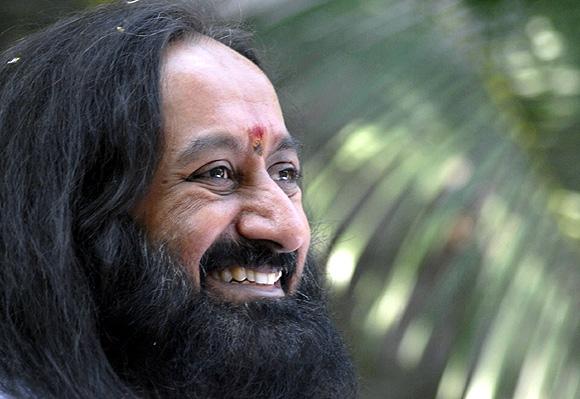 'It is the distress and mistrust in people which causes them to take religion as an excuse to express their frustration and display aggressive, violent behaviour,' says Sri Sri Ravi Shankar.
March 04, 2013
'An India-Pakistan war in future would be Armageddon'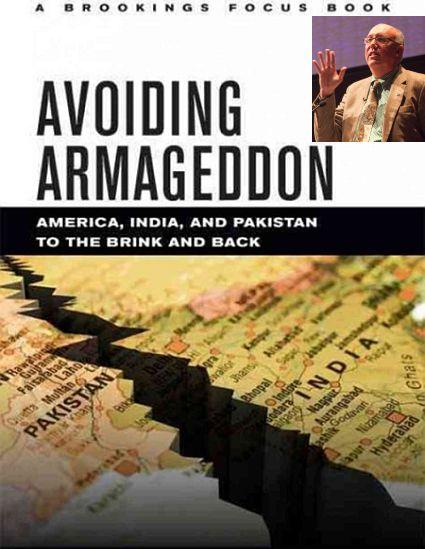 'Indians need to think clearly about what kind of future they are going to have with a Pakistan that has the fastest growing nuclear arsenal in the world, and more terrorists per square mile than any other place in the world.' Erstwhile Central Intelligence Agency veteran Bruce Riedel speaks to Rediff.com's Aziz Haniffa in an exclusive interview.
February 27, 2013
'Lack of honesty, work culture retard India's growth'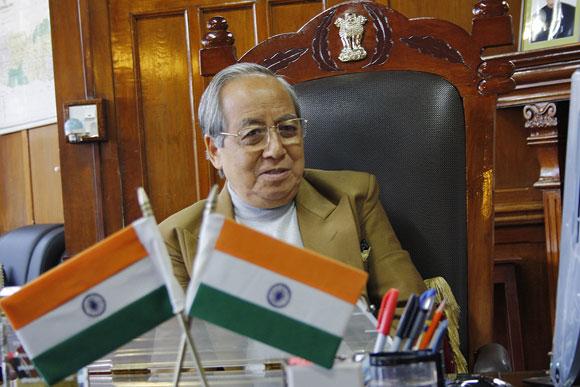 'Human society is a conflict-prone society... You cannot have complete peace of the graveyard... Switzerland had 500 years of peace and what did they produce? The Cuckoo Clock... Italy had always been in turmoil and they produced Michelangelo, Leonardo da Vinci and the Renaissance.' Meghalaya Governor Ranjit Shekhar Mooshahary, a former head of the BSF and NSG, in a rare and candid interview with Rediff.com's Archana Masih.
February 26, 2013
Suryanelli rape: 'I saw Kurien in Thiruvalla around 5 pm'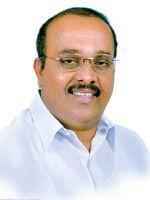 In an interview with rediff.com Shobha Warrier, key witness K S Rajan explains why he has changed his version now.
February 20, 2013
'Doesn't the Suryanelli rape victim deserve justice?'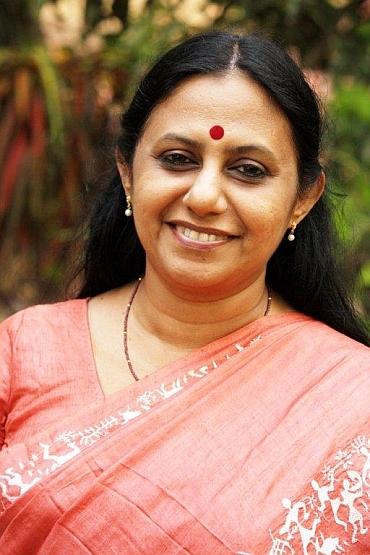 In this interview with Rediff.com's Shobha Warrier, the only woman Rajya Sabha member from Kerala, Dr T N Seema speaks about the party's strategy in the Rajya Sabha.
February 19, 2013
Suryanelli rape: The most key issue Kerala is facing now?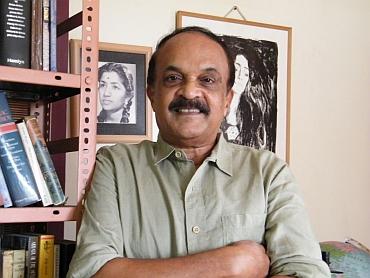 Well known writer and social commentator, Paul Zacharia is always in the forefront to voice his opinion on the various issues that affect the very social and political fabric of Kerala. In this exclusive interview with Rediff.com's Shobha Warrier, he takes a look at the Suryanelli case that is being talked about in Kerala once again, after 17 years.
February 15, 2013
Didn't say hang Kurien, but probe his role: BJP leader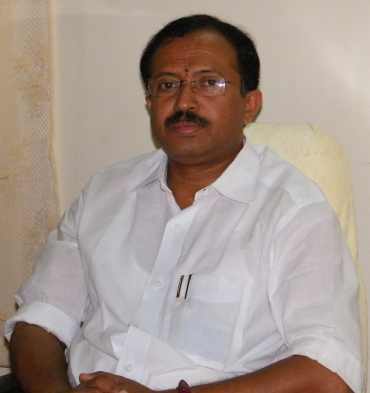 In an interview to rediff.com's Shobha Warrier, Kerala BJP President V Muraleedharan talks about the possible conspiracy that helped P J Kurien go scott-free and why the BJP is now protesting over Suryanelli rape case.
'One Billion Rising has become a tsunami today'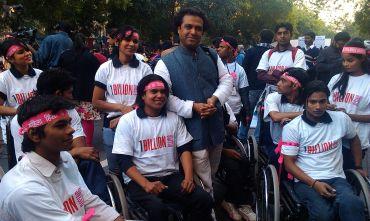 Kamla Bhasin, the coordinator of One Billion Rising in South Asia, tells Rediff.com's Priyanka that their movement has become a tsunami today and also explains why they are against death penalty even for rapists.
February 13, 2013
'How can Kerala government re-open Suryanelli case?'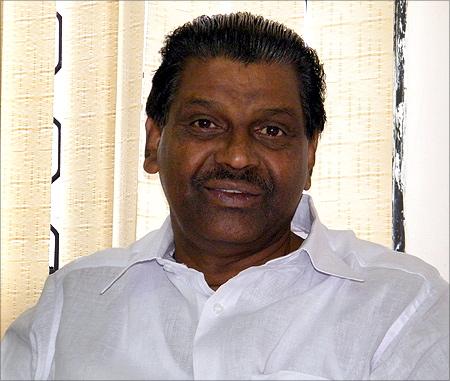 With the Supreme Court reopening the Suryanelli case, the horrific gang-rape case of a 16-year-old girl from the small town in Kerala has again hit national headlines.
February 11, 2013
Afzal hanging: 'What was the need for this great secrecy?'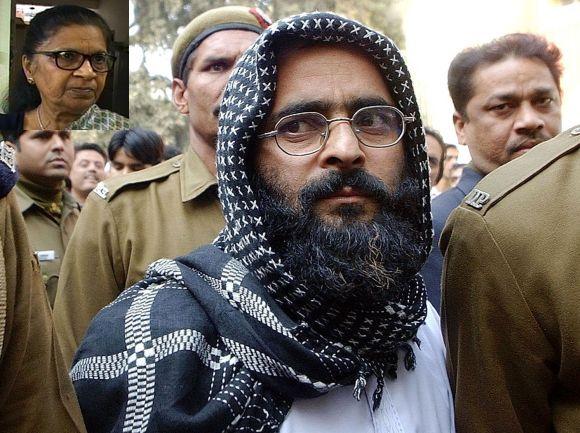 "They are saying that the president disposed of Afzal's mercy petition five days ago, on February 3. But even the petitioners didn't know that his mercy plea had been rejected," says Supreme Court advocate Kamini Jaiswal in an interview
January 29, 2013
'Power shortage in TN caused by bureaucratic failure'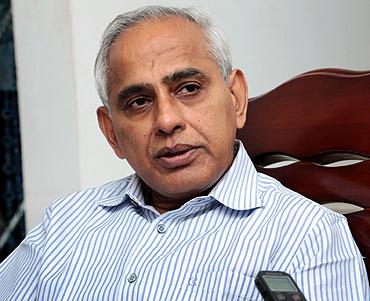 S Kabilan, former chairman of the Tamil Nadu Electricity Regulatory Commission, talks about what he could do as chairman and what ails the power sector in Tamil Nadu.
January 24, 2013
'Pakistan army is a dishonourable bunch of people'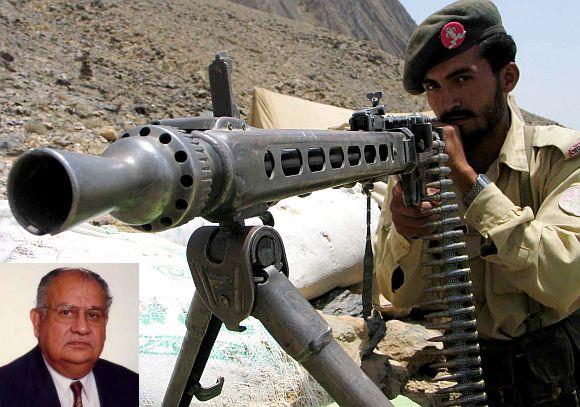 Naresh Chandra, bureaucrat, diplomat and administrator, shares an 'insider's view' on the India-Pakistan peace process in an exclusive interview with Rediff.com's Sheela Bhatt.
January 21, 2013
'TN power shortage is due to lack of proper management'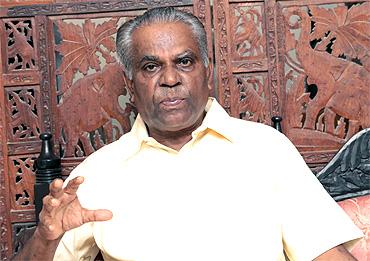 M G Devasahayam, an expert in power utility management, demand side and need based energy management, transport utility management, etc with over 45 years experience, discusses the power sector in Tamil Nadu and India.
January 17, 2013
EXCLUSIVE! Rahul as PM is good for India: Ahmed Patel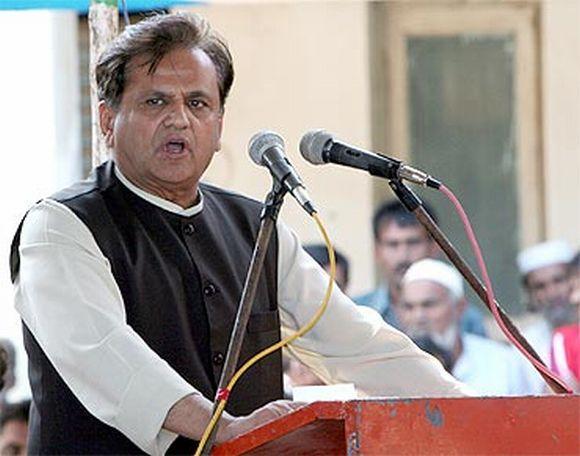 'As a Gujarati, I would be proud if Narendra Modi becomes prime minister,' Ahmed Patel, the most powerful man in the Congress party after the Gandhis, tells Rediff.com's Sheela Bhatt in a rare and exclusive interview.
January 09, 2013
Grow up! Tit for tat is not Pakistan policy: Hina Rabbani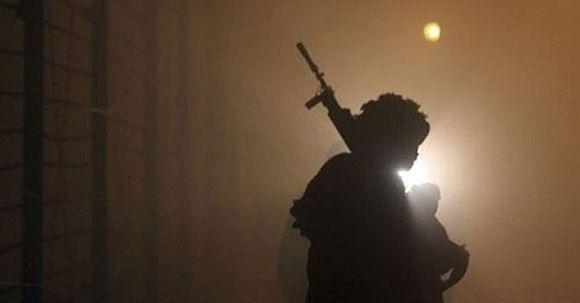 Pakistan Foreign Minister Hina Rabbani Khar on Wednesday stated that reports about her country's army killing 2 Indian soldiers along the Line of Control and mutilating the body of one were inaccurate.
January 07, 2013
After bus ride, Mantriji agrees Delhi roads are unsafe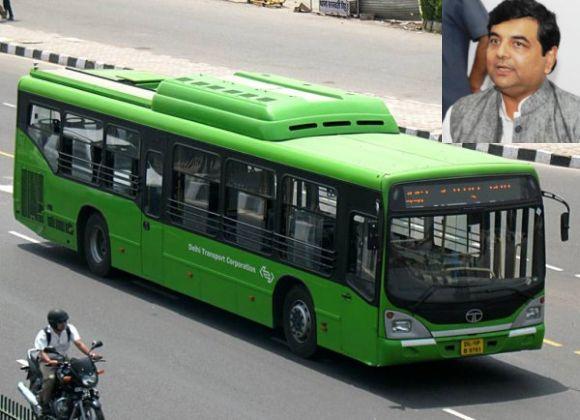 Minister of State for Home Affairs R P N Singh travelled incognito on a bus from Dhaula Kuan to Chhattarpur. He tells Gyan Varma that he now agrees with the people that they feel unsafe on Delhi roads.
Archives
September - December 2012
|
May - August 2012
|
January - April 2012
|
August - December 2011
|
March - July 2011
|
March - July 2011
|
January - February 2011
|
November - December 2010
|
August - October 2010
|
June - July 2010
|
February - May 2010