It's not every day that you hear about Mamta Banerjee getting married to Socialism, but that's what happened in Salem on Sunday.
A Ganesh Nadar finds out more about this unusual matrimonial alliance.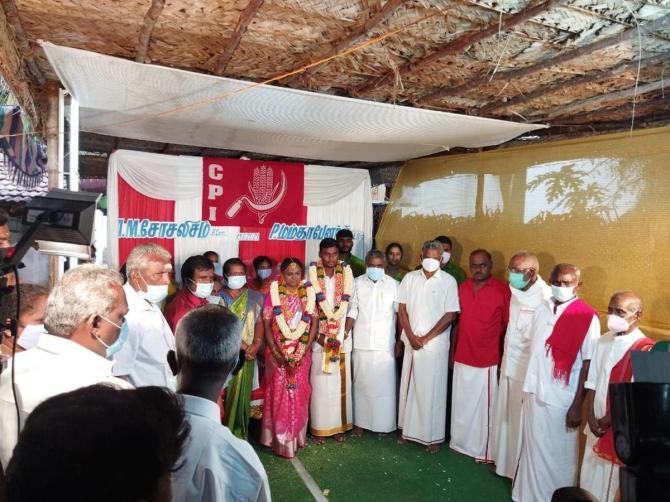 West Bengal Chief Minister Mamata Banerjee may have ousted those advocating Communism from power decisively from West Bengal, but in a small town in Salem in Tamil Nadu, her namesake was wedded to Socialism on Sunday, June 13.
Actually the story starts much earlier, with A Mohan, the Salem district secretary of the Communist Party of India. He has studied only up to the third standard and is a full time worker of the party.
In the joint family he comes from, four generations live under the same roof. Mohan's parents, he and his wife, and their three sons.
The elder, Communism, is married to Priya.
The second son, Leninism, is married to Kaushalya, and the third son is Socialism who married Mamta Banerjee on Sunday.
And the story continues. Leninism has named his five-month-old son Marxism. Which perhaps is not all that unusual considering that the state is being ruled by Stalin.
Socialism says when in school he used to get teased for his unusual name and he would come home and complained to his father. "But he explained the philosophy behind our names and said I would understand it when I was older."
While Mohan's elder son Communism is a practising lawyer, his brothers Leninism and Socialism are in the family business of making and marketing silver anklets and bracelets.
For those wondering why Mohan would name his sons so, he has a ready explanation.
"When the Soviet Union collapsed, people said that Communism was dead as it had failed in the country where it was born. I felt very sad. In 1992 when my wife was pregnant I thought that if I have a son I will name him Communism. As far as I am concerned, as far as humanity is there Communism will not die."
After Communism, the second born was named Leninism, after the Russian revolutionary who propagated Communism.
As Communism believes in the equality of people and Socialism is a part of it, he named his third son Socialism.
The siblings call each other by their names, or sometimes as anna (elder brother) and thambi (younger brother).
The eldest son has a law degree while the other two are commerce graduates. "I wasn't educated so I educated my children," says Mohan.
Socialism says when he was in Class 10 he attended a CPI meeting where he realised their names' significance. "Our three names would be mentioned on stage, it felt good to know its importance."
His father Mohan says this about his tryst with the Communist ideology: "My grandfather was a Communist, my father was a Communist and therefore I was involved with the Communist party from childhood."
He became a card-carrying member of the CPI in 1983 and the 53 year old is njow the local councillor from Panamarathupatti town.
"I had a love marriage, all my three sons also had love marriages," is all he would say, when asked how he found a daughter-in-law named Mamta Banerjee in Salem.
Socialism himself is more forthcoming. He first saw his wife-to-be, a distant relative, in 2018 and liked her very much, but didn't tell his family.
The two became friends after 10 months, and the relationship lasted three years before they decided to get married. "Mamta too likes my name very much," he adds with a smile.
The families too agreed immediately.
The bride's family too has an interesting take on her name. "We belong to the Congress party and Mamata Banerjee was a popular minister when my daughter was born," says her mother Neelambal, "so we named her after her." Their other daughter has a regular name, Poojashri."
Socialism is determined that his children's names too will follow the family tradition.
"I will name my kids based on the Communist philosophy after consulting my dad," he says.