V Chinnadurai and S Swetha wanted their wedding to be memorable. So this is what they did.
A Ganesh Nadar/Rediff.com reports.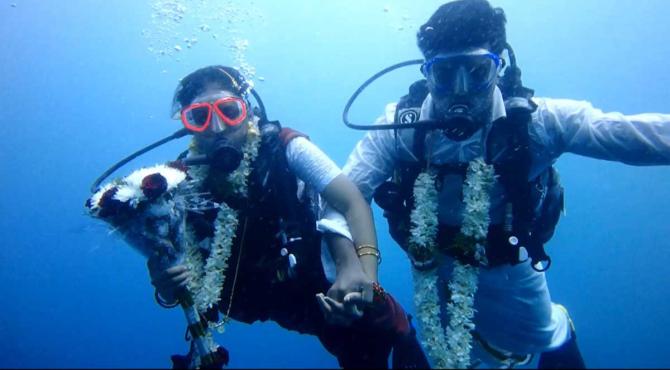 On February 1, 2021, S Swetha and V Chinnadurai were married 60 feet underwater in the Bay of Bengal, four-and-a-half kilometres from Neelankarai, a town located south of Chennai.
The wedding was organised by Temple Adventures, a scuba diving centre based in Pondicherry.
"I wanted to do this 11 years ago for my own marriage, but that didn't happen, so I shared this idea with many people," says S B Aravind from Temple Adventures. "Most didn't accept and sometimes the parents didn't like it."
They came close a few times with other couples -- sometimes the boy and, at other times, the girl backed out because of rough sea when the weather conditions are not ideal.
"Couples tend to lose interest when they have to wait for a long time for the weather to improve," he explains.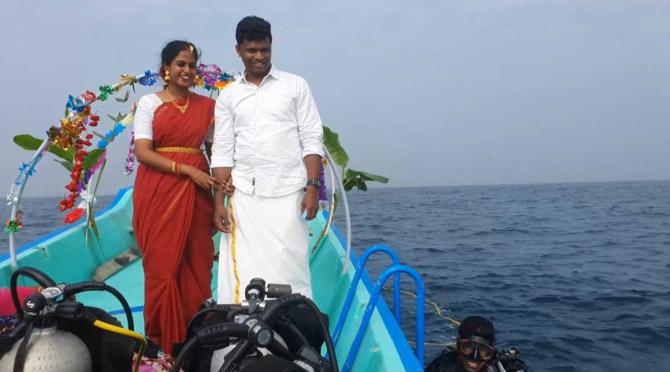 A wedding under the sea comes with a lot of challenges, Aravind says. If the location is the Andaman and Nicobar islands, the sea is calmer and cleaner, he adds.
Since it was in the Bay of Bengal, they had to wait for the ideal season which falls between January to March.
"Chinnadurai is my cousin so he agreed," grins Aravind.
After the engagement, they suggested the idea to Swetha. Though she was worried at first, she agreed after they explained the safety measures and training procedures.
Aravind says it is their lack of knowledge about the ocean that frightens most people.
The preparation for this unusual wedding started with training the couple in a swimming pool. Once they were comfortable, they rehearsed in the ocean.
On the day of the wedding, Aravind had seven divers in the ocean with the couple, and an additional four on the boat that took them to the wedding location.
"I was one of the seven," says Aravind. "I was handling the video camera."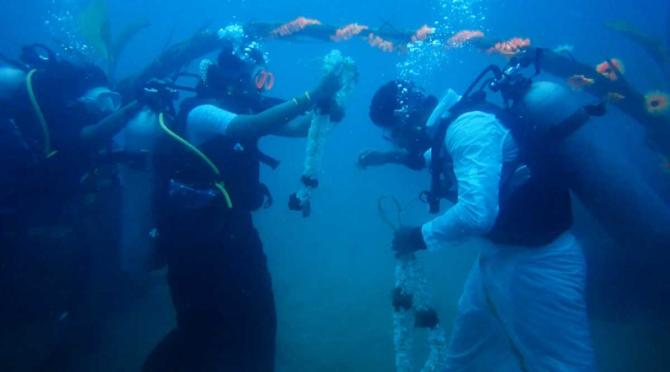 The invitation card did not mention the date. That would be decided by the weather.
For 10 days, they waited.
Then, on February 1, the weather was perfect. They went ahead.
"It was fun, great fun," says Aravind.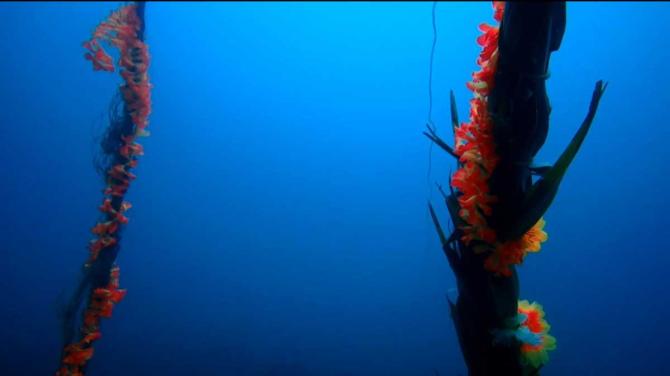 The marriage cost around Rs 1 lakh.
The team put up decorations, made of coconut leaves and jasmine flowers, at the venue.
They added weight to the wedding garlands, which were created with flowers, so that they did not float.
Everything was organic.
Swetha's wedding sari was designed by Aravind's wife Tharunsri. She used Velcro tape and pins so that the sari would remain in place while the bride was underwater.
Chinnadurai's veshti (dhoti) was held down similarly.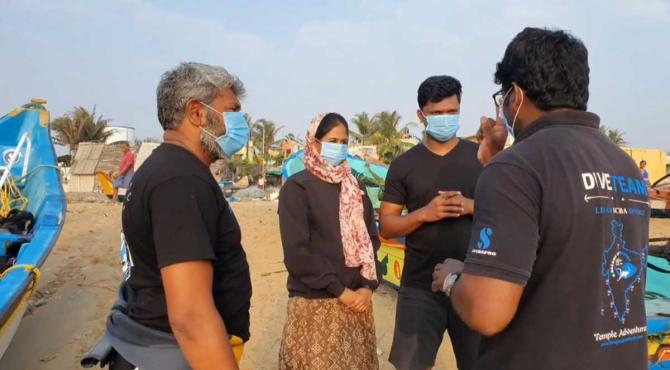 V Chinnadurai, 29, is a software engineer who works in Chennai.
"It was my cousin Aravind's idea," he says. "I agreed because I like doing adventurous things."
Chinnadurai is a licensed scuba diver and a certified paragliding pilot.
"I got my scuba diving license 12 years ago and I have been scuba diving regularly," he says.
His parents were not surprised when he told them he wanted to get married under water because they knew he liked to do things differently. Understandably, they were hesitant. It took the combined persuasive powers of Aravind and Chinnadurai to change their mind.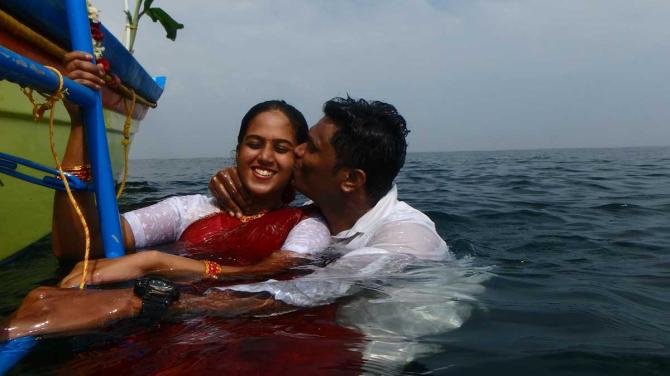 The fact that their outfits were specially designed made them even more comfortable with taking on this challenge, says Chinnadurai.
Relatives from both sides were waiting on the shore. The remaining wedding rituals were completed in their presence.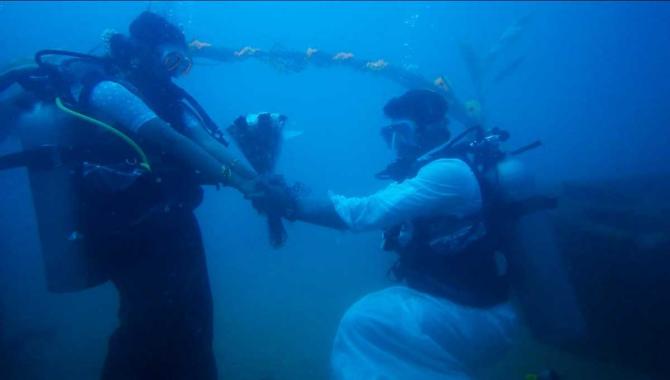 S Swetha, 26, is also a software engineer. She shifted from Bengaluru to Chennai after her rather unusual wedding.
"Ours is an arranged marriage, He is a regular scuba diver. After the engagement, he told me he would like an underwater wedding. Once I was convinced, we persuaded our parents as well," she says.
"My parents were scared as I don't have any diving experience. After they saw the videos and safety measures, they were okay with it," she adds.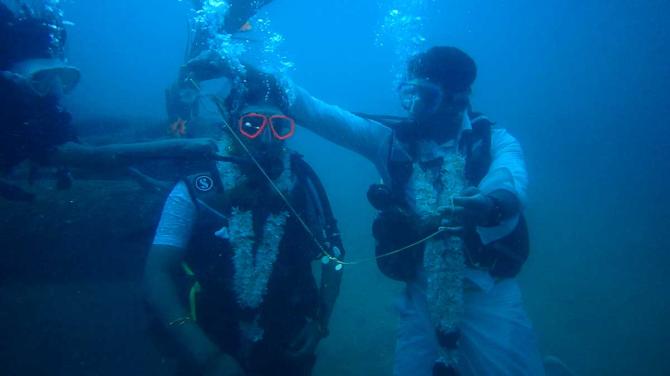 While Swetha knew how to swim, she had never dived. Aravind trained her. When scuba diving, you have to breathe through your mouth which was something Swetha had to remember and get used to.
"Once my training was complete, I was confident about the big day," she says.
The first time she went underwater in the ocean was scary, she says, but after five minutes she got used to it and her fear disappeared.
"Once you are underwater, you don't feel the weight of the clothes or the oxygen cylinder," she says.
They exchanged garlands underwater and Chinnadurai tied the thaali (mangalsutra) around Swetha's neck at the auspicious time.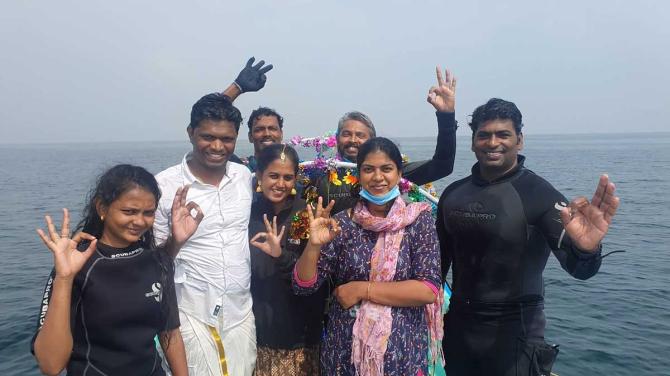 Getting married under water has been the most novel experience of her life, says Swetha.
"This is the first time I have done something adventurous," she smiles.
They spent nearly 40 minutes under the ocean's waves for their wedding.
While the couple will host a reception in Chennai on February 13, their unusual wedding is something they will never forget.
Video production: Hitesh Harisinghani/Rediff.com
Feature Presentation: Ashish Narsale/Rediff.com