'I did hesitate and was scared, but I decided to save the child as I realised I would have done that if he was my child.'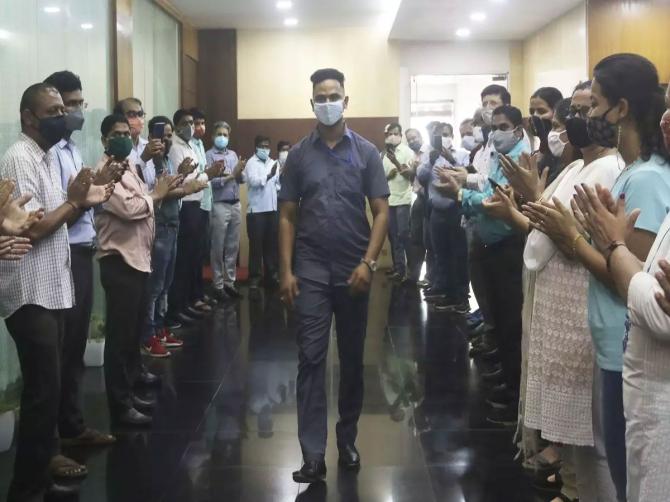 A video of a child stumbling from his visually-impaired mother's grip and on to the railway track, an express train racing towards him, a man sprinting desperately towards the child to get the child and himself out of harm's way, first lifting the child and putting him safely on to the platform and then heaving himself up as the train hurtles past them just a second or two later -- has gone viral.
If you think this video is fake or part of some film shoot, then hold your breath. This is what actually happened on platform number two at the Vangani railway station, in Thane district, some 90 km from Mumbai, on April 17.
A sprightly young man -- a pointsman with Indian Railways, whose job is to observe trains as they pass by and wave a red flag if he sees anything unusual or the green flag if he finds everything normal -- without thinking about the consequences, decided that he must beat the oncoming train and death because that is what he would have done if it were his own child.
And thus Mayur Shelke, an arts graduate who joined Indian Railways in 2016, ran like he had never run before to save Sahil from imminent death. And he did save the child and his own self, beating the speeding Udyan Express in the nick of time.
The video grabs from the surveillance cameras on platform number two at Vangani captured these life-saving scenes and have gone viral since then, making Mayur a household name across Maharashtra, perhaps India.
WATCH THE VIDEO OF MAYUR SHELKE SAVING SAHIL BELOW!
"I saw the Udyan Express coming towards the child. I ran to save the child. I did hesitate and was scared but I decided to save the child as I realised I would have done that if he was my child," the unassuming Shelke tells Rediff.com's A Ganesh Nadar about the split-second decision he made to save Sahil.
The video footage shows Sahil and his visually-impaired mother moving close to the edge of the platform even as the boy tumbles on to the railway tracks from his mother's grip.
Shelke, who was watching the train, which is his job as a pointsman, from the opposite track, saw the child slipping out of his mother's hand and falling on the tracks.
After a split-second of hesitation, Shelke made a sprint towards the boy, as can be seen from the video footage, and the rest as they say is history.
"I picked up the child and put him on the platform and then climbed up myself as the Udyan Express from Bengaluru raced past us. Both of us were safe," says Shelke about the moment that could have well rung his and the child's death knell if it were not for his efforts, as well as the Udyan Express's loco pilot who applied emergency brakes to save the child.
Shelke says he overcame his fear as he decided in his mind that he wanted to save the child.
Interestingly, he did not tell his family about his heroism for the next two days because he knew they would be scared and worry about him.
But when the video clip went viral, they came to know. "As they saw that everyone was appreciating me, they too said they were proud of me," laughs Shelke.
"This incident happened on April, 17, 2021. My child's naming ceremony was on April 19. When the video went viral I named my 15-day-child Shaurya (braveheart)," he says with a smile.
People who saw the video must have observed that he ran very fast. This is because in his youth he was an athlete and played kabaddi in school and college.
The loco pilot of Udyan Express, who called him later to praise the Class IV Indian Railways employee, said: 'You put your life in danger to save the child; you have made all of us proud.'
"The Udyan Express loco pilot had pushed the emergency brakes. This gave me the very crucial two seconds to save the child and myself," says Shelke.
Shelke has been receiving all-round praise from his colleagues, his seniors, managers from the Railways -- even Railway Minister Piyush Goyal.
"I was so excited and happy when our railway minister called me personally. He said, 'You have made the Indian Railways proud, not only in our country but throughout the world'," he says about the conversation Goyal had with him.
In the past he has never done anything as heroic as this ,but he said that if anyone approached him for help, he always obliged. "I think my helping nature was one of the reasons I just ran to save the child," he says.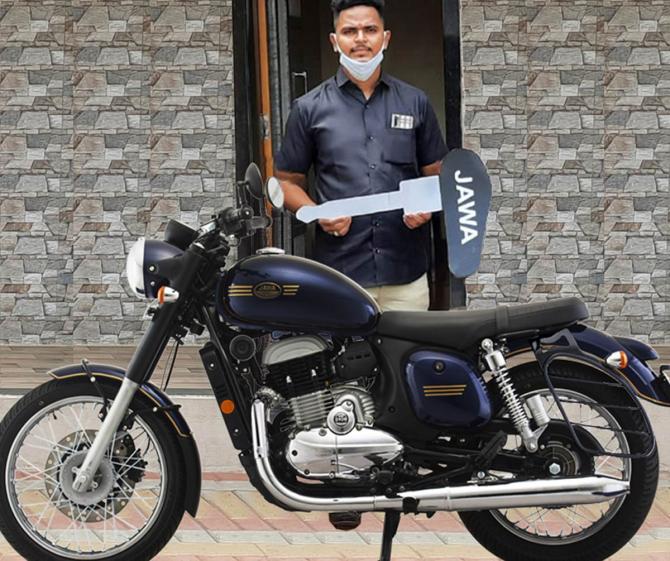 Shelke's heroic deed and magnanimity doesn't end here, though.
When the Railways announced a cash award of Rs 50,000 for Mayur for his act of bravery, he announced that he would share 50 per cent of the amount with the boy he saved.
"I am going to give Sahil half the money for his education. He is a local boy from Vangani," says Shelke.
Mayur Shelke is not just a braveheart, but also has a magnanimous heart.