'After the hoarding went up I got a lot of calls even from people that I don't know.'
'They called to tell me not to get dejected.'
'They told me my life would improve.'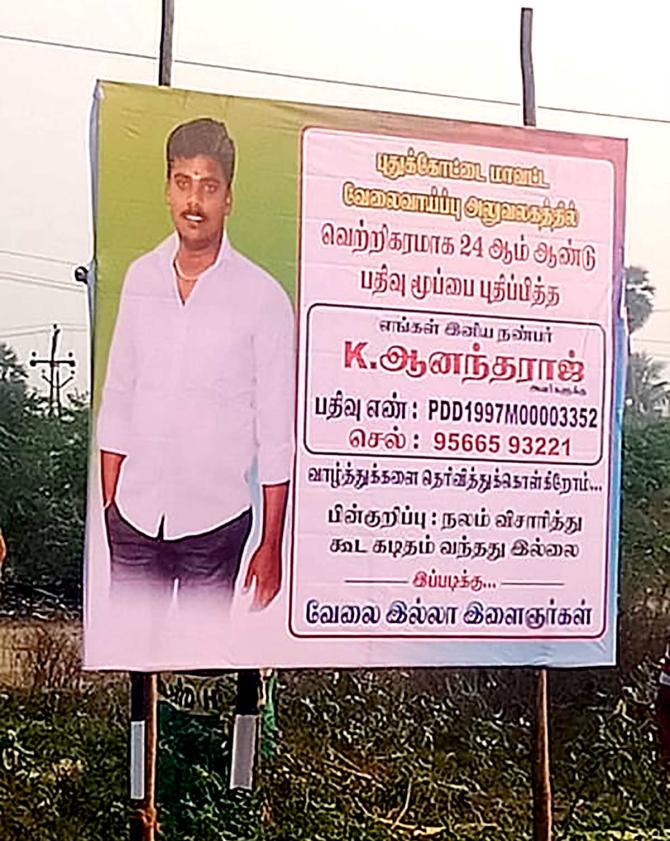 In the first week of February, a hoarding was put up outside the employment exchange in Pudukottai, a town in Tamil Nadu, India.
It featured the photograph of a young man named K Anand Raj, congratulating him for registering at the District Employment Exchange 23 years ago and stepping into the 24th year -- without finding a job.
The banner, which described Anand, now 38, as a 'jobless youth' pointed out how he had not received a single letter in over two decades to even inquire about his health.
"I first registered with my tenth standard qualification when I was 15. I thought I would get the job of an attendant in a government office," Anand, a resident of Pudukottai, who is now married and has a three-year-old son, tells A Ganesh Nadar/Rediff.com.
After completing Class 12, he updated his qualifications in the employment office. He joined college, but later dropped out.
In 2009 he did a teacher's training course and upgraded his qualifications with the job exchange again.
In 2013 he added his light commercial vehicle driving licence, followed by a heavy vehicle driving licence in 2018, to his long list of credentials.
Though he did not receive a single letter to attend an interview for a job, Anand never gave up hope and renewed his registration every year.
Like Anand, several others also registered at the employment exchange, but he has no idea if any of them were lucky enough to find a job.
Currently Anand drives a minivan for a local contractor and has to stay away from home for days attending to customers. But the salary is not enough to take good care of his family, he complains.
"I have a lot of debts. I hope to get a better job and salary," he said, explaining why he continues to visit the employment exchange every year.
"I was talking to my friends that I have been on the waiting list at the employment exchange for 23 years and was now stepping into the 24th year so they put up the banner," he said.
"Half of my life is gone waiting for a job," Anand sighed, expressing his disappointment.
So has life changed for him after the banner went up?
"I got a lot of calls even from people that I don't know. They called to tell me not to get dejected. They told me my life would improve."
Surprisingly, Anand also received a call from the employment exchange -- perhaps the first and only call so far.
"They told me that a lot of job aspirants are now selected through competitive exams and I should appear for these exams. They said that they would give me a seniority card after I appear in these exams."
Whether or not he appears for the exam, Anand wants to find a better job so he can take care of his family and send his son to a good school.
"The salary I am earning now is not enough. I want a job with a higher salary, so that I can look after my family better and give them a more comfortable life."