N Kalyanasundaram started saving up last year so that he could feed the hungry during the second COVID lockdown.
A Ganesh Nadar/Rediff.com reports.
Illustration: Dominic Xavier/Rediff.com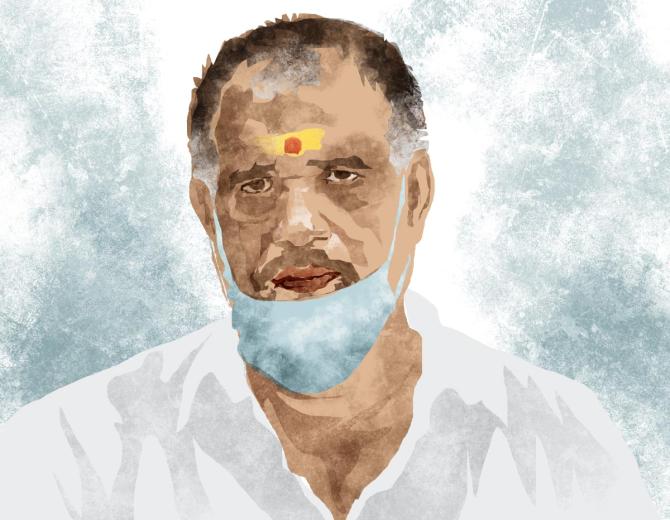 Challenging times, they say, begets heroes.
And there has been no time more challenging than the pandemic the world is fighting today.
And heroes are coming forward to add their mite to the battle.
Meet N Kalyanasundaram, 56, and his wife, Padmavathy, who have been distributing 300 food packets for free, twice a day.
Their pushcart -- which they have christened Shri Sabari Bajji Stall and Catering Stall -- is stationed opposite their home in Bhaktavatsalam street, West Mambalam, in the heart of Chennai.
When they began on May 16, the couple used to distribute 220 packets of food -- 100 for lunch and 120 for dinner. Now, that has increased to 300 food packets for lunch and 300 for dinner. Lunch can include sambar rice, tomato rice or lemon rice and a side dish. Dinner is pongal or rava upma. Both meals include a 500 ml bottle of water.
"Last year, during the COVID lockdown, I distributed food for a week and donated Rs 10,000 to the PM CARES Fund," says Kalyanasundaram.
"I read the newspapers regularly and realised there might be a second wave and another lockdown. So, since last September, when the economy opened up, I started saving.
"Depending the sales of the day, I used to keep some money aside. Once the lockdown was re-imposed, we used this money to start distributing food."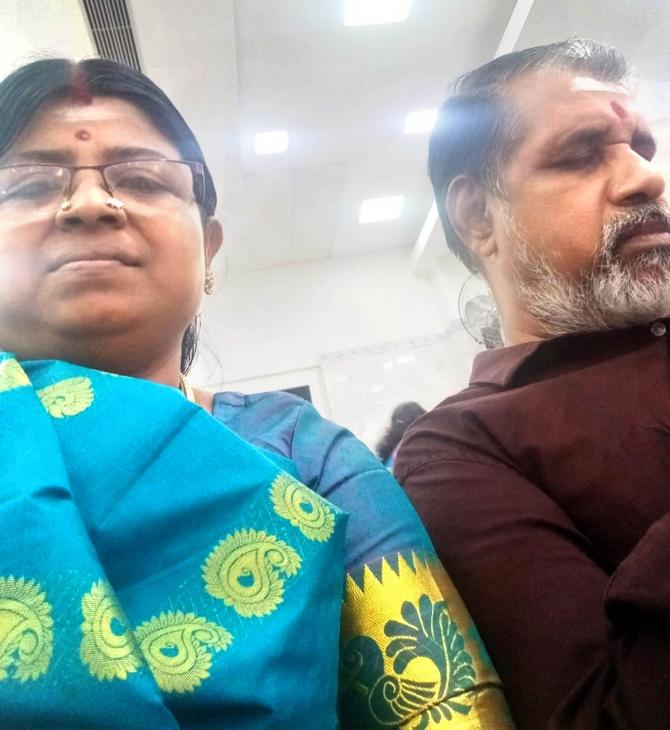 Kalayanasundaram has been in the food business for 42 years. A native of Kuttalam, Mayiladuthurai district, he moved to Chennai with his family in 1980 to make a living.
He began his street food business after completing Class 10 and now runs it with his wife.
When he first started his food business, he used to sell items like idli, vada and dosa in the morning and sundal (a legume-lentil preparation) in the evening.
Eleven years ago, he stopped the morning service and only sold South Indian chaat items and samosas in the evening.
His son and daughter are married and live in their own homes.
Kalyanasundaram and Padmavathy own the house they stay in. He pays income tax and files his returns every year.
He normally has a staff of five to help with the cooking. Both last year and this year, when the lockdown began, he sent them back to their homes.
Now, he is helped by three temporary helpers who are paid every day.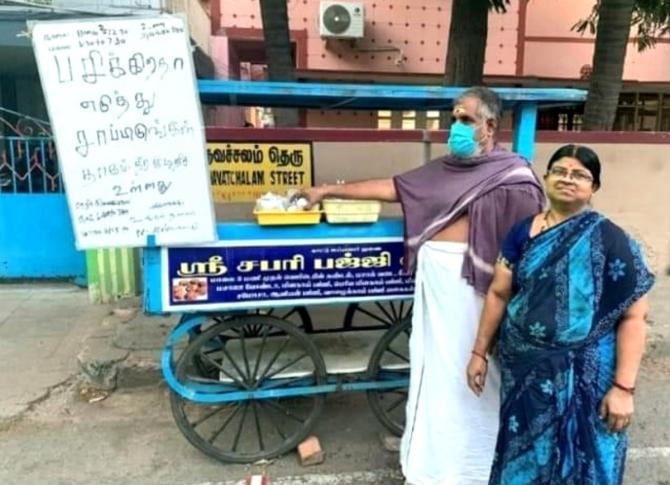 "Many across the country are helping feed people during this pandemic. I am trying to help people in my area," he says.
From noon to 1 pm, they distribute lunch packets and from 7pm-8 pm they distribute dinner packets.
"Everyone who comes to our stall is served. All our packets get over. So far, there hasn't been a shortage. I make sure all the people stand in line and maintain social distancing. Everyone has to wear a mask," he says.
For his own safety, he also wears a mask and uses gloves.
After hearing about his work, Tamil Nadu Finance Minister P T R Palanivel Thiagarajan visited Kalyanasundaram's stall along with T Nagar MLA J Karunanidhi.
"He appreciated our work and donated Rs 10,000 to help our food distribution effort. The MLA gave us Rs 5,000 and some groceries," Kalyanasundaram says.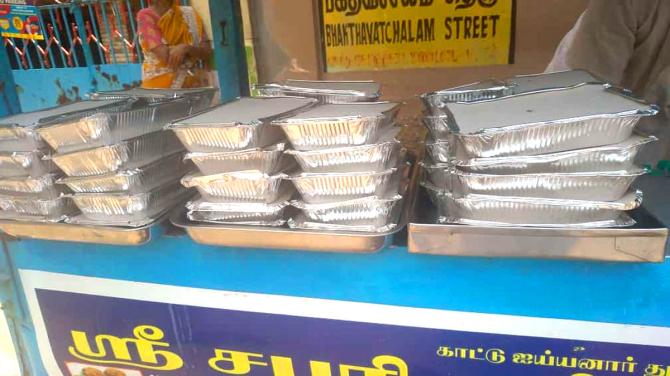 Earlier, Kalyanasundaram used to rise at 6 am and finish cooking by 8 am. From 8 am to 1 pm, he would man his stall. He would return home for lunch at 1 pm, followed by half an hour of rest. Then he would start cooking again and return to the stall from 4 pm to 10 pm.
He grabs six hour of sleep -- from 11 pm to 5 am.
Since he started distributing food during the pandemic, he says he barely has time to rest. "The day starts at 6 am. First the cooking, followed by packing and then distributing for an hour."
After lunch and a brief break they start cooking and packing to meet the deadline of distributing dinner at 7 pm. Though the work is tiring, Kalyanasundaram says it is very satisfying.
His personal funds and public contributions have made it possible for him to distribute food for a couple more days. "After that, it depends on public contributions," he says.
N Kalyanasundaram can be contacted on 91-9344732640.