'I have saluted thousands of senior officers during my 26 years of service, but saluting my daughter made me very happy,' Circle Inspector Dr Y Shyam Sundar tells A Ganesh Nadar/Rediff.com.
A photograph clicked on the evening of January 3, 2021, in Tirupati, Andhra Pradesh, went viral. It captured a police inspector saluting a deputy superintendent of police.
What made this photograph so unusual -- besides the pride and joy on the faces of the PI and the DSP -- was that it was of a father saluting his daughter as they came face-to-face for the first time during the course of their respective duties.
Circle Inspector Dr Y Shyam Sundar is posted at Tirupati while his daughter, DSP Yendluru Jessy Prasanthi, is posted at Guntur, nearly 378 kilometres away.
She had come to Tirupati to attend the Andhra Pradesh state police meet, Ignite, which is being held there from January 4-7.
Yendluru Jessy Prasanthi became a DSP after clearing the Andhra Pradesh Public Service Commission Group 1 exam in 2018.
Guntur is her second posting.
She says her father inspired her to join the police force.
DSP Prasanthi's younger brother has a B Tech degree and is now preparing for the civil services exam.
Her younger sister is an assistant professor at a government dental college in Kadapa, Andhra Pradesh.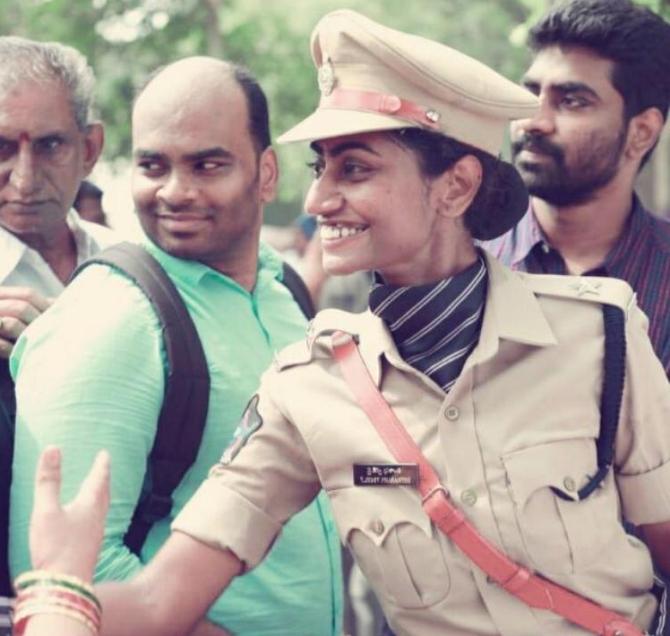 After attempting the civil services (UPSC) exam twice, she appeared for Andhra's Group 1 exam and cleared it at her first attempt.
Since they were working in different districts, father and daughter never met each other while on duty. That happened for first time on January 3.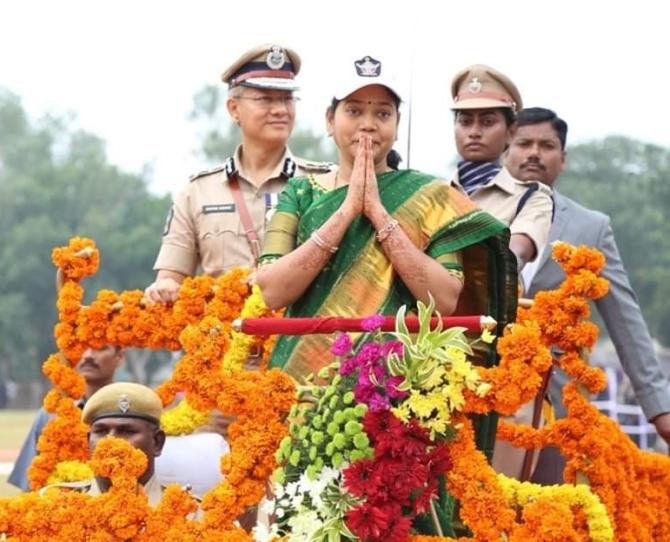 "That was the first time I met him while on official duty. He saluted. I didn't expect him to salute me. I was surprised but I saluted him back with a smile," DSP Prasanthi tells Rediff.com.
"My father is a farmer. My mother's younger brother is retired inspector general of police Peram Venkaaiah. That was one of the reasons why I joined the police force," says Circle Inspector Y Shyam Sundar.
He was directly recruited as a sub-inspector after passing the Andhra Pradesh Police Recruitment exams in 1995.
At the time of joining, he had completed his MA degree in public administration. Then, in 2012, he earned his PhD degree in law.
He has served in the police force for 26 years.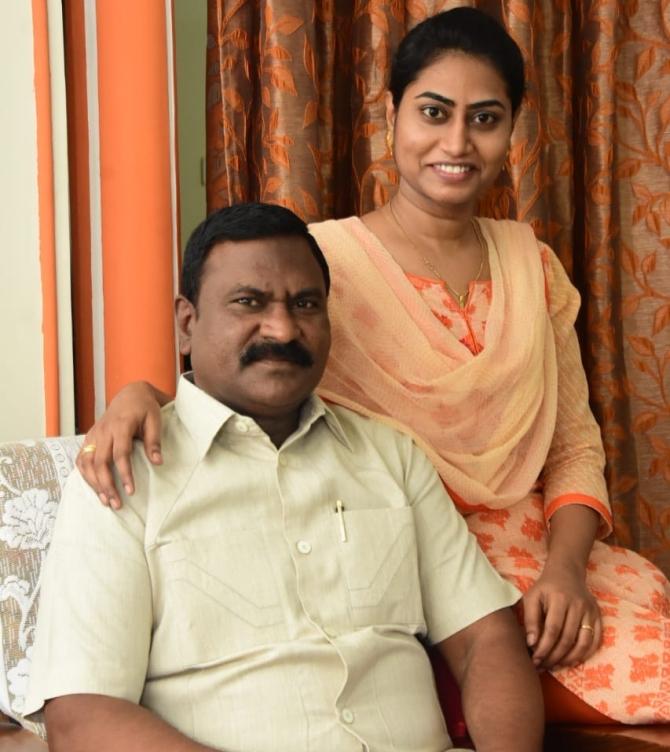 Inspector Dr Sundar recalls how his daughter would, from the time she was in Class 7, say she would become a civil servant. Even at that time, he says proudly, she was a district topper in academics.
He explains that the Ignite competition that tests professional skills. All the state police attend the event including the state's DGP.
"We were at the police grounds on the evening of January 3. She came there unexpectedly. I did not expect to see her there. She is a superior officer and so I saluted her. She returned my salute," Inspector Dr Sundar laughs.
"It was a very proud moment. I have saluted thousands of senior officers during my 26 years of service, but saluting my daughter made me very happy."
Father and daughter will meet again before the DSP returns to Guntur.