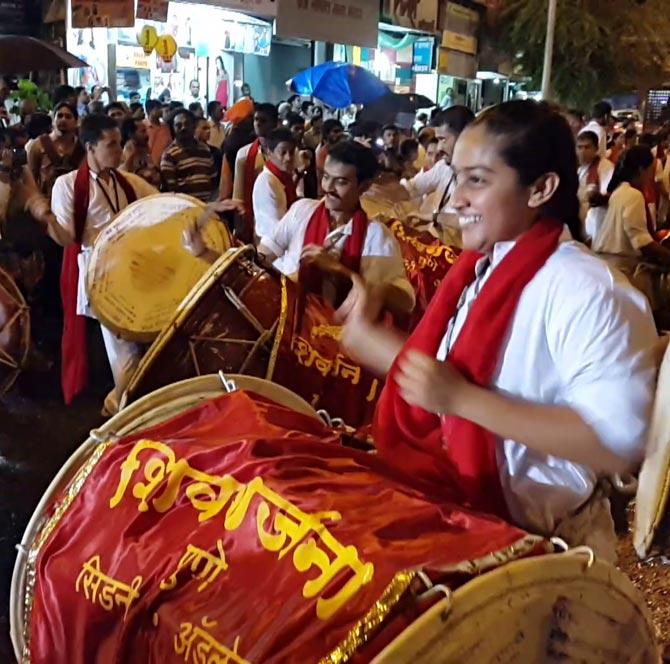 People from all over Maharashtra come to watch the Shivgarjana dhol-tasha band in action. Paloma Sharma/Rediff.com find out why.
As is habitual of fireworks during the festival season, one suddenly goes off somewhere on the busy street, in the middle of the day, sending hundreds of pigeons fleeing for the sky.
There are so many of them that they could block the sun, and while this may seem like a wondrous phenomenon to one who is witnessing it for the first time, it is part of everyday life for those who find residence and employment in and around Dadar's Kabutarkhana in central Mumbai.
It is also around this time that Ganpat Patil, who resides right around the corner on B S Road, becomes the most envied man in the area, for not many can match the splendour of the Ganpati visarjan (immersion) procession that begins from his house and ends at the beach near Dadar's famed Shivaji Park.
"People come from as far as Pune and Kolhapur to watch," says Akshay Patil, filling in for his father, who can be seen pacing around in his white kurta-pyjama and saffron turban, making sure everything is in place before the spectators start pouring in.
Not only do people from all over Maharashtra come to watch, but certain aspects of the procession are handled by specially selected artisans and technicians who travel all the way to Mumbai. The most elusive of them are a traditional Puneri band called Shivgarjana.
"We only come to Mumbai for Patilji," says Ameya Mehendale, one of Shivgarjana's founder members. "Otherwise we only play in Pune. We have known him for the last 17 years and have a very different, very special relationship with him."
Ameya's mate, Nilesh Joshi, stresses that Shivgarjana is not just a dhol-tasha troupe (a dhol is a double-headed drum and tasha is a type of kettledrum). It is a trust that promotes social causes; the band is only a part of the big picture. Furthermore, the band is a social activity and not a paying gig,
"In our group, most people are well educated and well settled. They are employed or have their own businesses. There is no income expectation from this activity. Ameya has a background in accounts and I handle a paper business which has been in my family for the last three generations," says Nilesh.
Ameya counts the years on his fingers. "Before Shivgarjana, we were NMV, which was our school's band. The same group is now the Shivgarjana," he says.
Watch the amazing Shivgarjana band in action!
Shivgarjana was established in 2002.
The troupe has over 500 members but only about 150 will be performing in Mumbai.
They have branches in Sydney and Adelaide as well. "One of the founder members of our group, who has settled in Australia, has established these branches," explains Ameya. "The instruments and all the materials are supplied by us from India because there is a difference in the fibre used. The members there play the same instruments we do."
Both Ameya and Nilesh have been playing the dhol since 1998 and are in their late thirties. "We have been friends for the last 15 years," Nilesh chuckles, running a hand through his thick black beard.
The group has younger members too.
One of the youngest is a child who started off when he was three-and-a-half years old. However, he couldn't make it to Mumbai this time since he is preparing for his Class X board exams.
"He's the son of one of the members of our group and is an excellent tasha player," says Ameya. "He said, 'If Dad is playing, why can't I?' It was a simple idea and we welcomed it. Now he has grown up and is giving his board exams. Another child of the same person is an amazing dhol player."
Siddhi Upadhyay, who will be performing with the dhwaja (flag) this year, is in Class XI. This is her first performance. "I'm in charge of the dhwaja this time. We have to take different positions, twirl and throw and catch the flag," she says.
Usually, though, Siddhi can be found practising on the dhol, "I didn't know how to play when I joined. But everyone has been very helpful. I enjoy learning how to play the instrument."
It is unusual to have female members in a dhol-tasha troupe; one hardly ever sees anything but an all-male band. However, for Ameya, it is just a part of what Shivgarjana stands for.
"In the beginning, we had only four girls in the band but, believe me, they could carry a 10 kilo dhol for hours and play like 10 boys. If you hear a musician, will you be able to tell if they are a man or a woman? Then why not include women also?" he asks.
Nilesh feels that if there are women in the audience, then there can certainly be women in the band. "After seeing those girls, more girls and women got inspired. Anyone who has the passion is welcome. We motivate all drummers. There is no gender difference," he says.
Another aspect that is perhaps unique to Shivgarjana is that they do not hold auditions. "Anyone who has the passion can join us," says Nilesh.
"There is no entry fee or money asked. They only have to incur the expenses of their uniform, which is just a simple white kurta-pyjama and a red shela (shawl) or odhni (shawl worn by women with the kurta-pyjama)," says Ameya. "Everything is provided by the trust."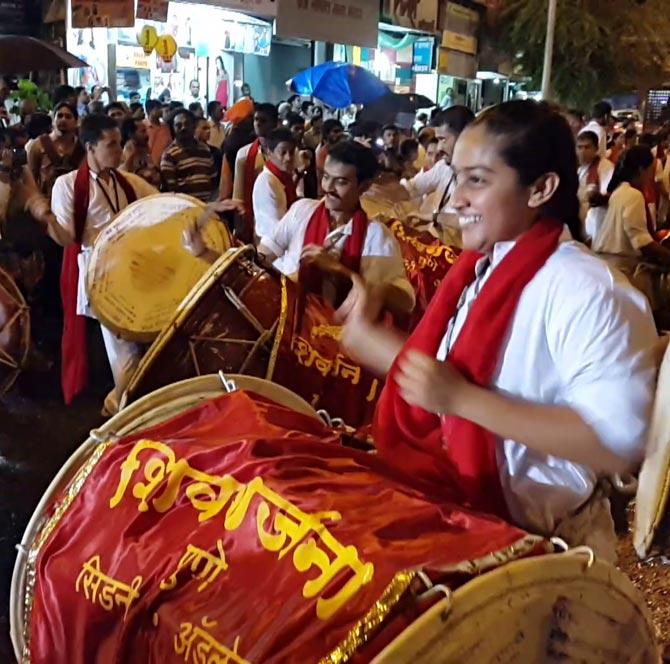 Pune's famous Shivgarjana dhol-tasha troupe.
Ameya says they start practising seriously at least two months before the Ganesha festival.
"I practise from 6 pm to 8 pm after my job and Nilesh usually comes in on Saturday and Sunday but, before the festival, he starts coming in every day. We all have the passion but not everybody has that much time. That's okay, we understand. No one is anyone's boss here. We are like a family," he says.
The Shivgarjana troupe plays tunes, not songs. They intersperse the old and the traditional tunes with the new and popular ones. Says Ameya, "We take both the traditional and new tunes and collate them in order to present them to the people. Some people in our band have a background in music so that helps. Anyone who has an idea they would like to present can come forward. If it is good, we incorporate it in our performance."
Another thing that sets Shivgarjana apart from other hired bands is the fact that the consumption of any intoxicant before or during the performance is forbidden.
"Our band is absolutely clean," asserts Ameya. "We don't need any external high. Even though we carry the dhol for over four hours during our performance, once we start playing, the energy comes from inside. That is our passion."
Shivgarjana has certainly generated a lot of buzz but they aren't worried about the prospect of generating noise. Ameya explains why.
"If you listen to the loudspeakers, you will actually experience your heart beating in your mouth. But if you hear the traditional dhol-tasha band, then you will never experience that because there is always a rhythm. From young kids to the elderly, everyone can enjoy this activity. It's not noisy. Rhythm is different and noise is different -- we deal with rhythm, we don't deal with noise."
Their future plans deal with the expansion of the band and what it stands for. They aim to work for social causes, increase social awareness about dhol-tasha as well as support the social activities that Shivgarjana does, such as raising and distributing funds, on a larger platform.
"Recently we have donated some funds to the Paraplegic Rehabilitation Centre in Kirkee, Pune," says Ameya. "This is where injured Army men receive therapy and treatment. We have also donated to a school of orphans and blind people. Other than this, if anyone needs help for any reason, we are there for them."
DON'T MISS!
Day 1: Ganpati Bappa Morya! Bringing the Lord home
Day 2: Mumbaicha Raja and a sea of devotees
Day 3: Goodbye Ganesha… it's not easy to let You go
Day 4: The Ganeshotsav festival's biggest tragedy!
Day 5: 'It was pure love for the Lord'
Day 6: Why Mumbai visarjans are so orderly
Day 7: This Ganpati is edible, so nothing goes waste
Day 8: Mangala Gauri: The 'Women's Only' Festival
Day 10: 'We can go hungry, but bringing Ganesha home is mandatory'
Day 11: 'Bappa will be back in another 365 days, na?'