Paloma Sharma/Rediff.com discovers a group of murti (idol) sellers in Mumbai for whom life comes to a halt with visarjan (immersion).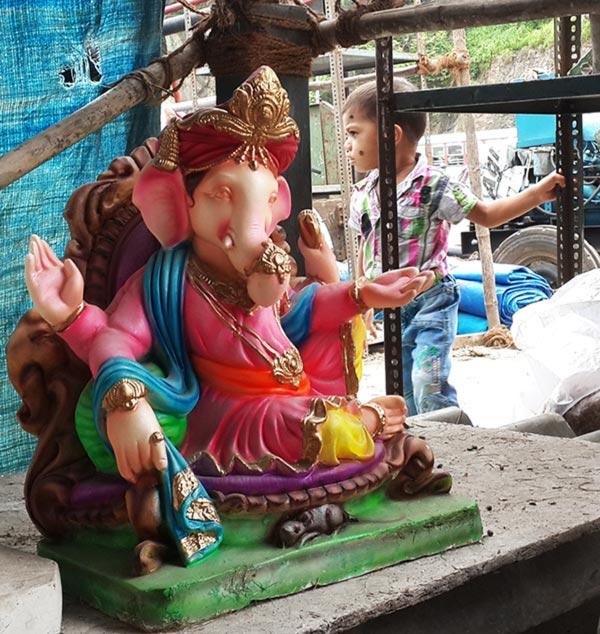 Past the garish posters of political parties and the patches of lush greenery that threaten to collide with the asphalt, a few metres ahead of Kurar village in Kandivali east (north Mumbai), a long line of tents have suddenly disappeared.
The few that are still standing are in the process of wrapping up their wares and vanishing as abruptly as they had appeared in July.
Randomly sprinkled across a row of mostly marble workers' shops, the almost bare tents hold dusty moulds and Ganpati murtis (idols).
A sense of finality hangs in the air.
Umeesh Wankhede and Dinesh Mahadik look over the accounts book with a pandal (tent) contractor as four other men, dressed in white ganjis (vests) and white shorts, untie the bamboo poles, roll up the coir ropes and fold the black plastic covering. All of these are to be loaded onto a dull orange-brown truck that is waiting nearby.
"This is Dinesh's shop. Mine was over there," Umeesh points to an empty space in the distance. "But, now, it has been packed up."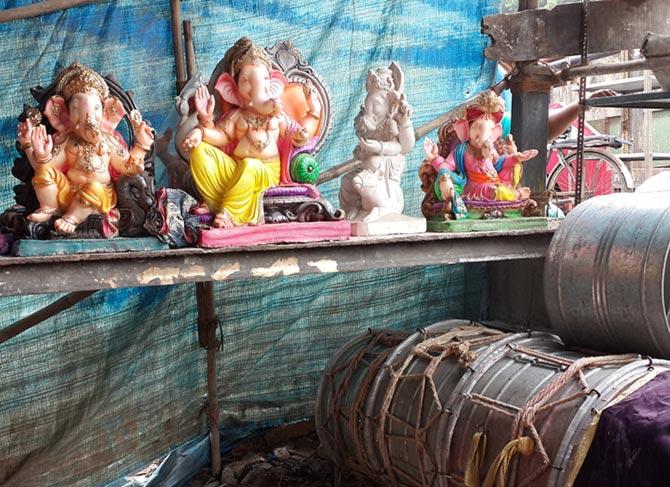 Every year, both Dinesh and Umeesh open their Ganpati murti shops two months before the actual festival begins and close down on the last day. They are not sculptors by profession. "I work in construction and he works out of town," says Dinesh. "In this season, we know we're not going to get much work, so we are automatically on vacation."
"This is our hobby," adds Umeesh.
The two live in a settlement nearby and have been friends since they were children.
Each of them orders about 35 to 40 murtis for every year.
This year, a six foot tall Ganpati murti still sits at the entrance, wrapped in transparent, dusty plastic.
Other, smaller murtis are lined up in the farther corners of the temporary shop; some are kept under chaddars (blankets) and others under folded double bed sheets.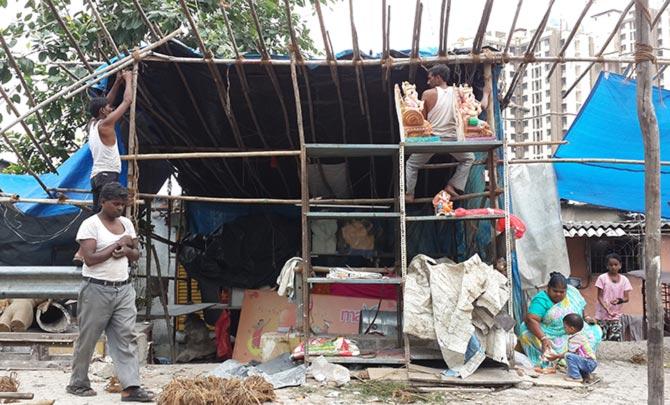 We make murtis from eight inches to however big the order is," Umeesh says. Dinesh is quick to add, "Of course, the ones that are ordered will cost a little more because we make them specifically for the client."
Most of the murtis are made from plaster of Paris, especially the bigger ones. Many of them have to be imported from the factory since they do not have enough space to keep the material they would need to make the number of murtis they desire. However, the two do make their own murtis from clay.
Umeesh hosts the Lord at his home for a day and a half; although he feels that it is too short a time, he knows that all he can commit to for now.
"When a guest comes to our home and we are not able to attend to him, then he will definitely feel bad. Then how can we do that to God?" he asks.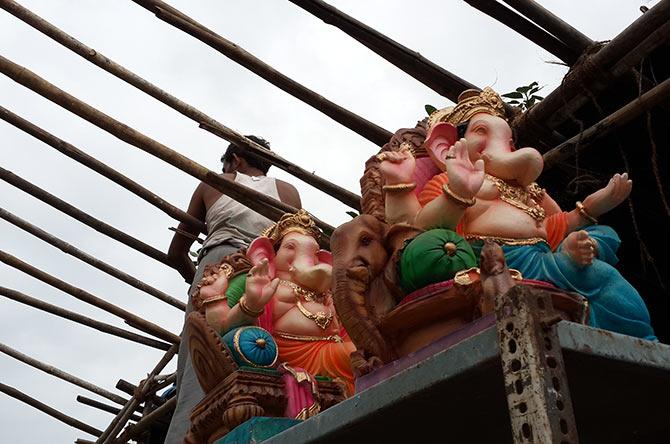 The duo has been setting up shop for the last five years in the same place.
"Some of the murtis will be packed and sent to the village, some will be kept in our own houses -- we adjust as per the space given to us. The big sellers have their factories and their godowns; they can keep the murtis safe all year round and then sell them at a good price next year also."
In the tent next door, the owner is missing. Only the pandalwala's men remain; they are waiting to collect their tent. "Talk to Babban," they tell me, holding up their chuna (lime)-coated hands to signify that they have no information to offer.
One of the men offers to call Babban, the owner, who is occupied elsewhere.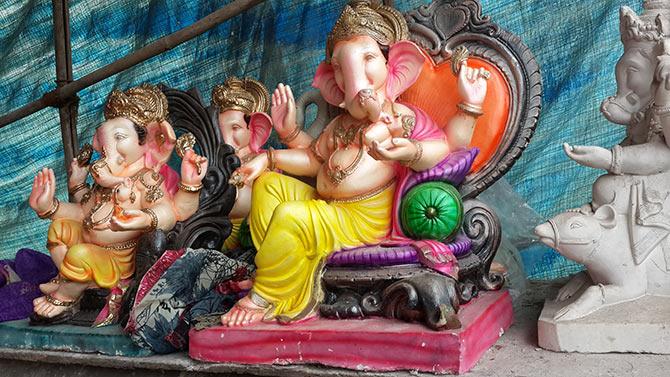 The only people who now take interest in the abandoned shack are the children from one of the houses in the chawl nearby.
Their grandmother, Zohrabeen, puts each murti they take back onto the shelf. "Iske saath nahi khelte. Yeh Allah hai (do not play with this. This is God)."
The children run after each other past empty shelves.
Zohrabeen eventually gives up and sits down as her wards scamper around. "Ever since the Brihanmumbai Municipal Corporation people came and broke the slums down, there has been space here. These people have been selling Ganpati murtis here for some five years now. Every year, they send the unsold ones back to the godown."
More trucks arrive -- some park in front of Babban's shop, some in front of Dinesh's and others further down the highway -- to transport the murtis.
However, Umeesh doesn't let this bother him too much. "Bappa toh 365 din mein wapis aa jayengey na (Bappa will be back in another 365 days, na)," he flashes a toothy grin.
Photographs: Paloma Sharma/Rediff.com
DON'T MISS!
Day 1: Ganpati Bappa Morya! Bringing the Lord home
Day 2: Mumbaicha Raja and a sea of devotees
Day 3: Goodbye Ganesha… it's not easy to let You go
Day 4: The Ganeshotsav festival's biggest tragedy!
Day 5: 'It was pure love for the Lord'
Day 6: Why Mumbai visarjans are so orderly
Day 7: This Ganpati is edible, so nothing goes waste
Day 8: Mangala Gauri: The 'Women's Only' Festival
Day 9: Band, Baaja, Bappa: It's a grand farewell party
Day 10: 'We can go hungry, but bringing Ganesha home is mandatory'