Mahim, a central suburb of Mumbai, is a place of many religions.
The sarvajanik (community) Ganpati celebrations (catch our coverage here) serve a special purpose in the multi-community Navjivan Society.
It brings the entire community together, with their best smiles and their best clothes, for a celebration that is not only about religion. And more about community bonding.
Text: Paloma Sharma/Rediff.com
Photographs: Sonil Dedhia/Rediff.com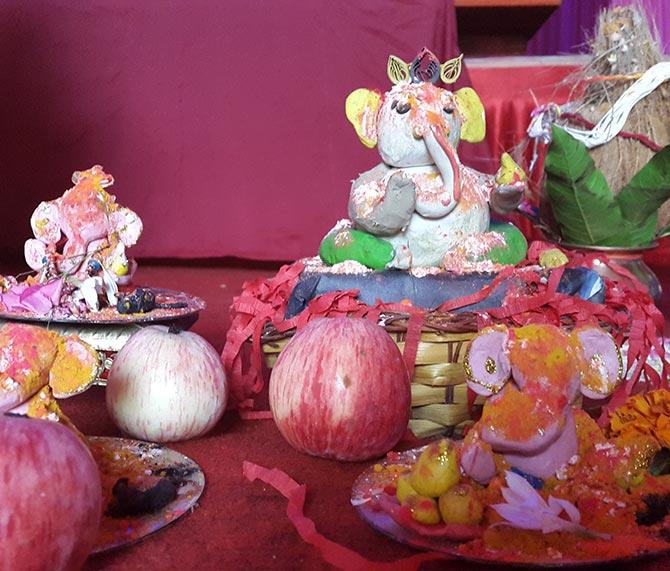 Clay Ganpatis made by the children of Navjivan Society, Mahim, central Mumbai
This is our 24th consecutive year," says Sanjay Advani, 42, crossing his arms over his chest, exuding pride and confidence.
Advani is one of the 25 members of the core group, as they dub themselves, that organises the sarvajanik Ganpati celebrations for the enormous Navjivan housing colony at Mahim, central Mumbai, every year. He is also one of the three men who started the tradition for the colony.
Enter Navjivan from the main gate and you will see the large pandal right in front of you. It seems sober compared to the grandeur one observes visiting various other pandals but it isn't so without reason.
"We've consciously kept this year a low-key affair," says Kedar Gupte, a 35 year-old electronics engineer, who has lived in Navjivan all his life. "We are one year short of a silver jubilee. We want next year to be the biggest celebration we've ever had."
Sanjay and Kedar, along with other senior members of the group, make frequent rounds of the pandal to make sure that everything is in order. The pandal itself is home to, not one or two, but six different Ganpatis of various size, shapes and crafted from different materials.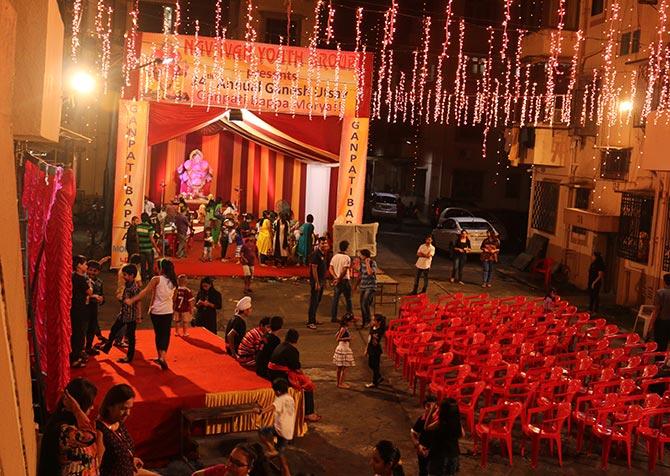 Mahim's Navjivan Society has been celebrating a sarvajanik Ganpati puja for the past 24 years.
The big one has been bought by the society. So has one of the medium-sized ones. The other medium-sized one belongs to a society member. People come and give us their Ganpatis and we take care of them," explains Sanjay. "The three small clay ones are made by the kids here."
Along with two of his friends, Sanjay started a sarvajanik or a public celebration in 1991. Since then, it has gradually grown. Kedar, who joined the organisation committee two years later, says their preparation starts at least three months prior to the main event.
Though finances have never been a problem, they certainly are important. "We are a group of 25 people who are self-sufficient, so a large chunk of it is contributed by us. We also do collections. There are many elderly people in this society and it is not right on our part to ask them to donate. We accept whatever people wish to give us from their heart.
"There is no minimum amount. Everybody who contributes gets a receipt. If we have a surplus, we carry it over to next year and use it for charity work like feeding the underprivileged. Contributions are not always monetary."
The lights, the loudspeakers, the boxes and boxes of prasad clearly stand as proof of Kedar's claims.
Karishma Karani, who has attended all 24 of the Ganpati celebrations, says that though many of her neighbours have Ganpatis of their own, nobody misses the sarvajanik celebration. "Everybody contributes, whether it is by way of coming to volunteer, to do seva or just to make prasad," she says.
The organisers chalk out the week's plans by dividing the festival into five days and 10 aartis. For the first and the last aarti, they buy seven kilograms of the Lord's favourite sweets, modaks. But they usually don't have to arrange for sweets for other aartis since the residents of the colony provide them -- and to top that, they're all home made.
"Lunches and dinners are also sarvajink these five days," jokes Kedar.
Navjivan turns into a Utopia during Ganeshotsav with people of all faiths coming together to celebrate the festival, says Sanjay. "It has always been that way."
Bringing people together is one of the biggest reasons why they started the sarvajanik Ganeshotsav.
Not only do the residents of Navjivan worship Ganpati, but they also have several other activities on at the same time. There is a Satyanarayan puja, a Mata ki chowki, a dandiya night and children's programmes as well (Watch the aarti and children's programme HERE). Perhaps the most heartwarming aspect of the last-mentioned event is the fact that every child gets a gift for participation.
"It's a question of community engagement, right? So when you worship God, that's the idea. Most of us are at an age where we know what we're supposed to do when it comes to Hinduism or being pious or being holy. But for today's kids, with all the instant gratification that they seek on the internet, it's important to inculcate Indian values in them and teach them the system that we grew up in. The idea is to be able to put together a show that gets the whole society downstairs and together. Then, in the name of God, we also socialise, meet people, figure out what's happening in each other's lives."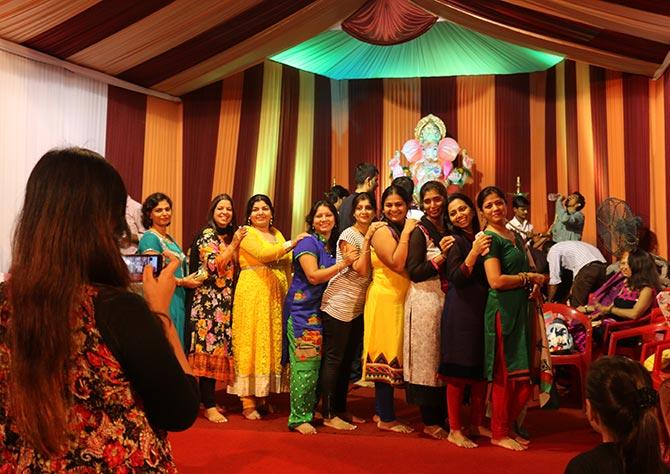 The young women of the society take their picture with their God.
While the senior members of the core committee seem to be satisfied with bringing the residents of their housing colony together, Siddhant Lalwani's reasons for joining the group are different.
Siddhant, a 22-year-old MBA, has been working with the festival organisers for six years says:
"What drew me in initially was pure love for the Lord. I've always been a religious person. I have a one-and-a-half day Ganpati at home as well. That's how I divide my time -- two days at home and three days outside."
Kedar, who has taken leave from work, started off with what he describes as "kid jobs" like collecting funds. He is now in charge of training the younger ones. "We divide the jobs on a day-to-day basis. We sit in the mandap the night before and plan out the next day. The duties change every day. We keep ourselves up at night by talking about the entire day and keep pulling each other's leg. That's what keeps us going," he smiles.
A unique aspect of the Navjivan Ganpati celebration is that the idol is immersed by the organisers themselves, without any help. This, says Kedar, this is one thing he is very proud of.
"We have never, ever gotten into a power trip and said that we'll have a 15 foot or 20 foot idol because that's something we know we cannot handle. We always ensure that the murti size is between 7 and 9 feet. We, as the menfolk of the society, carry the murti all the way into the sea. We don't take extra risks in terms of going deep into the sea. A 6-7 foot murti is not difficult to immerse. It takes about 12-16 people, who are from the core team."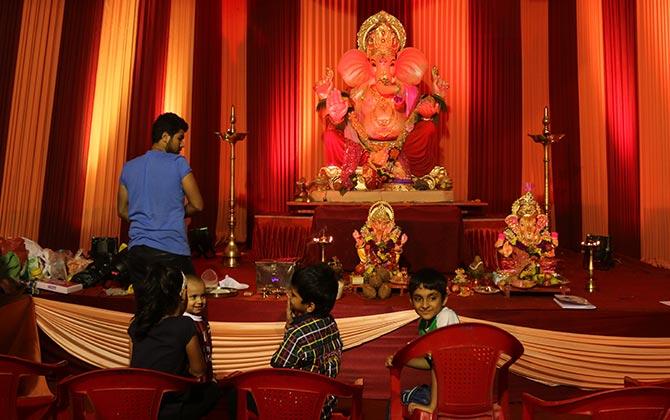 The Ganpati festival brings all the residents -- whatever their religion-- together to celebrate.
Saying goodbye to the Lord can be harder when the immersion is such a personal process. It takes a while to get used to the fact that Ganpati is gone, at least for the year.
But the residents of Navjivan are especially looking forward to Ganesh Chaturthi, 2015. "It will be a grand show," Kedar promises.
It's funny how something as simple as a five day festival can almost turn things around from a situation where Mumbaikars would hardly recognise their neighbours to a community celebration that has people coming out of their houses in their best clothes with their best smiles.
A Plaster of Paris murti really does work in mysterious way.
Day 1: Ganpati Bappa Morya! Bringing the Lord home
Day 2: Mumbaicha Raja and a sea of devotees
Day 3: Goodbye Ganesha… it's not easy to let You go
Day 4: The Ganeshotsav festival's biggest tragedy!
Day 6: Why Mumbai's visarjans are so orderly
Day 7: This Ganpati is edible, so nothing goes waste
Day 8: Mangala Gauri: The 'Women's Only' festival
Day 9: Band, Baaja, Bappa: It's a grand farewell party
Day 10:'We can go hungry, but bringing home Ganesha is mandatory'
Day 11: 'Bappa will be back in another 365 days, na?'