She wanted to do something eco-friendly.
So she created a chocolate Ganpati.
But it's her visarjan (immersion) and post-visarjan plans that, she feels, may not meet with everyone's approval.
Not that this deters Rintu Rathod, who shares her story in her own words.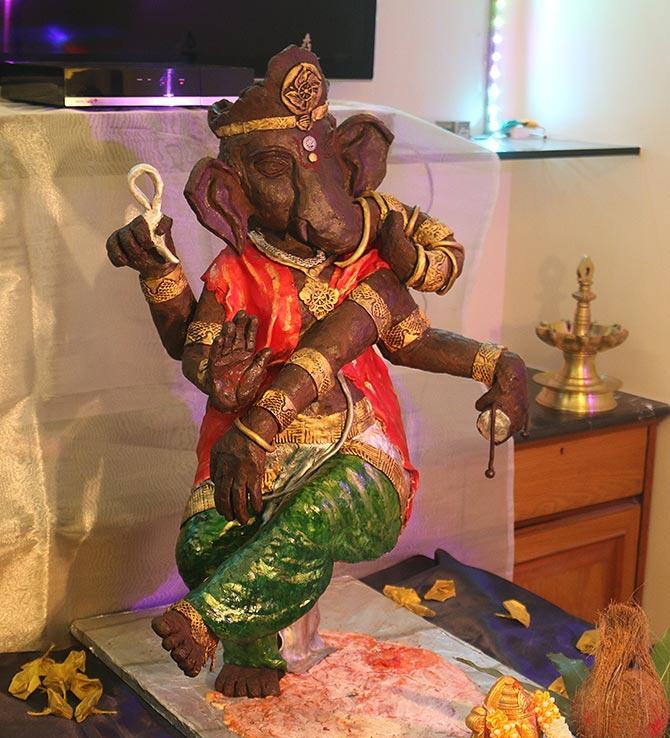 Rintu Rathod's chocolate Ganpati.
The concept of a chocolate Ganpati came to me naturally.
I'm a commercial designer by training and a baker by profession. Every year, I visualise the murti in my mind but there is no blueprint.
This year's murti (idol) is not something I had worked on or planned. Since I had seen so many Ganpatis in a similar position, I thought, 'Why not make Him in a dancing mudra?'
We have invited Lord Ganesha home for five years now.
The first year we chose an idol made of clay and immersed it in our home itself. That water was then used to water the plants.
I wanted to do something eco-friendly that year.
Once it was over, I thought of taking things a step ahead. After all, if we can preserve the environment and help people out the same time, why not?
That was when I started making the idols myself, and I would make them out of sugar!
After five days, we would immerse Him in milk and then use that milk to make a milkshake. We would distribute this milkshake to orphan children.
This year again, I felt I should do something different and thought adding a chocolate twist would be nice. After all, children generally prefer chocolate milkshake to any other variety.
Usually, my murtis are not bigger than 18 inches. This year's murti, however, is 32 inches tall. There's no logic behind it except that, since I've used 28 kilos of chocolate, we'll be able to feed a lot more children.
It took me approximately 45 hours to make the murti and, believe me, it was tough. But, when you find your passion, nothing can stop you.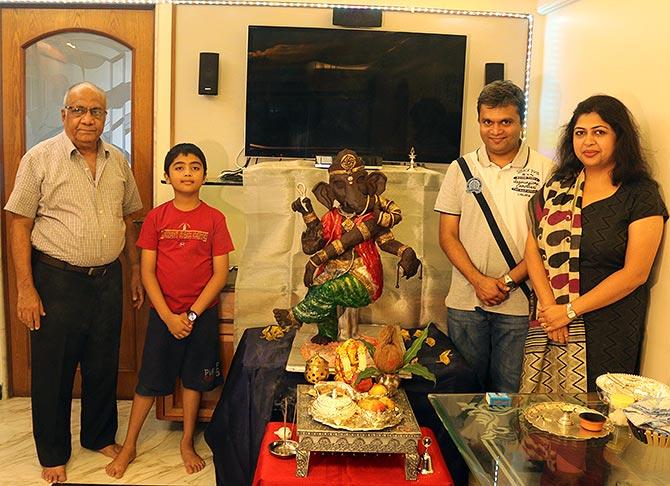 The Rathods with their chocolate Ganpati.
My family has been very supportive. My husband would make tea or my mother-in-law would make dinner while I was busy with the idol. Of course, it was not possible for them to help me directly, but the little things they did for me accounted for a lot.
When I got married, I couldn't even make tea. My husband is a gourmet, so I started cooking different things for him. I also learnt how to bake.
When I became pregnant, I quit work and was at home 24/7. It gave me time to experiment and that's when I realised that I loved baking.
I use my skills to make my own idol. Trust me, it gives you a lot more satisfaction.
We usually keep the idol at home for five days, but we extended it to seven days this time because of the media attention our idol is getting.
I don't know how word got out. I posted the pictures on Facebook and suddenly there were some 2,000 likes and 200 shares, even though I have only 400 friends.
Later, I found out that pictures of our idol are being circulated all over WhatsApp.
I guess it is a good thing if the message is reaching the people. But I don't know if people will accept this.
Making your own idol, doing the visarjan in your own home and then consuming the idol itself might not be acceptable to some people in our society but I think of it this way -- Ganesha stays in my home for five days and then He will stay forever in those kids. They are consuming divinity. It's like a blessing.
It is very tricky to work with chocolate.
You need to maintain a certain temperature, so you have to constantly heat it in the microwave and, if it is not right, then you have to put it in the fridge to cool it down to the right temperature.
You have to have the air-conditioner on continuously. It helps maintain hygiene levels because, ultimately, we are going to consume it. That's why we also keep the windows are closed; this ensues that no dust enters the house.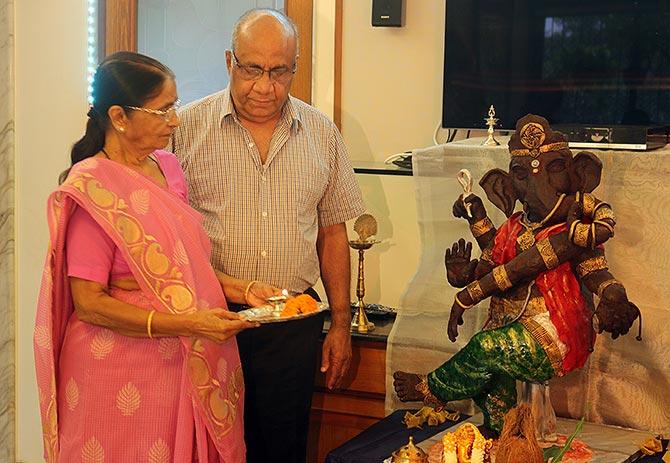 Rintu's in-laws pray to Lord Ganesha.
I made it out of something edible because I did not want anything to go waste. I feel bad that, during these 11 days, a lot of disturbance is caused both to the people and to the environment.
Of course, festivals are good.
Of course, everyone has the right to worship and enjoy.
I am not questioning anyone's devotion. People should enjoy their festivals but please enjoy them in a way that does not inconvenience others or harm the environment.
I really don't understand this kind of devotion where you need drums, where you play loud music on the road, where loudspeakers blare songs like Sheila ki Jawani and people indulge in vulgar dances.
Have you visited Juhu beach (located in north Mumbai) after visarjan? It's a terrible feeling to see parts of Ganpati's body lying in pieces all over the beach. The people who go there for their walks have to step over those pieces.
People do so much for Lord Ganesha for 10 days and then just throw the Lord away.
It is a misconception that, if you throw everything into the sea, it will remain in the sea. The sea always returns it back.
I'm happy that people are finding out about eco-friendly options now, such as my chocolate Ganesha. There will be less pollution.
Several people have approached me to make these idols for them. However, I didn't feel good about selling God.
Having given it some thought now, I feel that next year onwards I'll ask them to donate money to charity in exchange for making idols for them.
I don't know what kind of Ganpati idol I will make next year. I don't plan it; it just comes from within.
But it will definitely be something edible and it will be something that helps others as well.
Rintu Rathod spoke to Paloma Sharma/Rediff.com.
Photographs: Sonil Dedhia/Rediff.com
DON'T MISS!
Day 1: Ganpati Bappa Morya! Bringing the Lord home
Day 2: Mumbaicha Raja and a sea of devotees
Day 3: Goodbye Ganesha… it's not easy to let You go
Day 4: The Ganeshotsav festival's biggest tragedy!
Day 5: 'It was pure love for the Lord'
Day 6: Why Mumbai visarjans are so orderly
Day 8: Mangala Gauri: The 'Women's Only' festival
Day 9: Band, Baaja, Bappa: It's a grand farewell party
Day 10:'We can go hungry, but bringing home Ganesha is mandatory'
Day 11: 'Bappa will be back in another 365 days, na?'