Mumbai's Ganpati visarjans (immersions) take place with military precision.
Thousands and thousands of Ganpatis are immersed across 11 days (catch our coverage here) with hardly an incident and with minimum traffic disruption, given the scale of the festival.
Meet the the folks who ensure that the visarjans happen smoothly and efficiently and a day of happiness is enjoyed by all.
Text: Paloma Sharma/Rediff.com, Sonil Dedhia/Rediff.com
Photographs: Sonil Dedhia/Rediff.com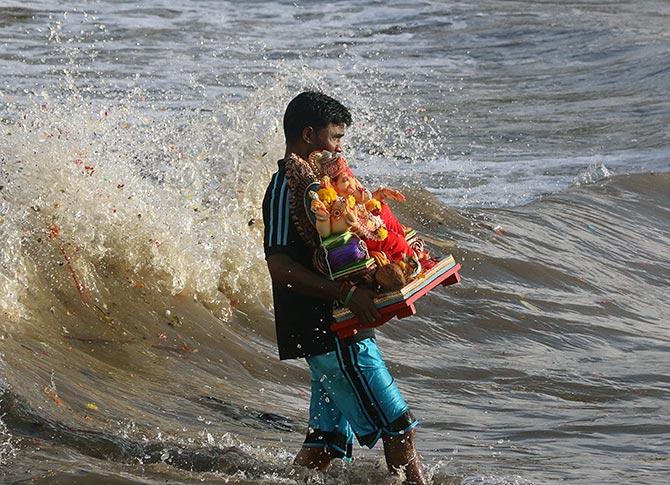 Come again Ganpatji.
It's a pleasantly cloudy afternoon.
The roads are emptier than usual in the lanes off Shivaji Park beach, central Mumbai.
It is so silent you can hear the leaves rustling in the trees in this shady and old neighbourhood of the city. Empty cars remain parked on either side of the almost deserted street.
It is just the calm before the devotee storm.
The only thing that stops the atmosphere from feeling eerie is the faint sound of bhajans set to popular Bollywood tunes, coming from an unknown loudspeaker in the distance. That's an indication that today is one the big Ganpati visarjan days at this beach.
Smack in the middle of the main road, sporting a pristine white and khaki uniform, traffic constable Prakash Gaikwad guides a few Brihanmumbai Municipal Corporation workers as they fill barrels with water that will form a divider to make controlling bigger vehicles carrying Ganpatis easier.
Gaikwad's a pro. Has been on duty during Ganeshotsav for the past 15 years.
He rejects the idea of being tempted to have a celebration of his own with his family, "Duty khudne accept kiya hai toh issue kyun hoga? (I have accepted this duty myself so why should I have an issue?)"
Though he has an 11-year-old daughter who wishes he would be at home for the festival, Gaikwad knows that she understands the responsibilities her father has. He says people are usually cooperative and only wishes that they follow the traffic rules.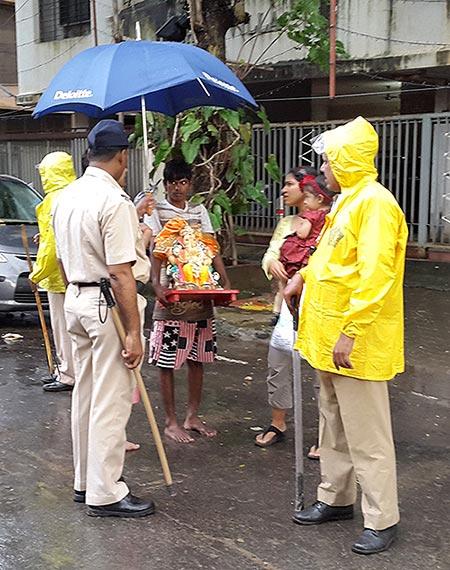 Ganeshotsav means many hours of duty for Mumbai traffic cops, who rarely get a chance to celebrate the festival at home.
Shantate se ao, sadbhavana se ao aur traffic ka rule follow karke ao. Bas. (Come in peace, come with goodwill and come following the traffic rules. That's all."
A few metres ahead, Constable Vijay Tawde, who has been on duty during Ganeshotsav for more than two decades, echoes a similar sentiment, "Duty comes first. A lot of responsibility is on us. If we also go on leave, how will law and order be maintained?"
Their job is to ensure the safety of the thousands of devotees who come for the visarjan. So, while their families and friends celebrate the festival, they slog the extra hour.
Constable Tawade doesn't seem to mind it too much. "Humein bhi lagta hai ki hum public ke saath celebrate kar rahe hain (Even we feel like we're celebrating with the people)," he laughs.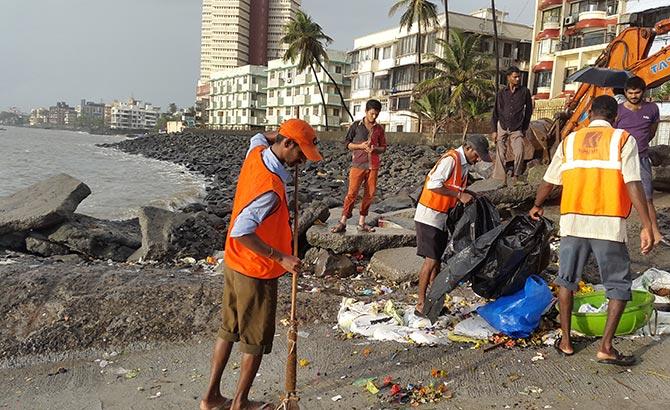 Mumbai's civic workers request that the public uses the dustbins so their job is considerably easier.
Standing, at the corner, in the BMC's trademark bright fluorescent orange jackets, are two men -- one with a broom in his hand, the other next to a large green dustbin -- engaged deep in discussion.
The older of the two, Arjun Singh, has been helping keep Mumbai clean during the Ganpati festival for a decade now. Prakash, his junior, is four years into the trade.
While Prakash is in wide-eyed awe of the murti-loaded tempos that pass by, Arjun reacts to them as if they were an everyday occurrence.
"Time nahi milta kahin jaane ka (We have no time to go anywhere)," Prakash laments. Fascinated by the cheer and the lights, he wishes that he could host the Lord in his own home, or at least visit some pandals.
Arjun has bigger worries on his mind. Afraid that someone will spot him speaking on "television" and initially reluctant to voice his thoughts, he does eventually speak out very seriously, "Public khush ho ke Ganpati har saal manawe lekin kachra kachre ke dabbe mein dale. Phool ka jo mala paani mein daal dete hain, usko paani mein nahi daalna chahiye. Public ko samajhna chahiye. Paani mein kachra dalega phir baad ayegi, phir kachra phailega, phir machhar paida hongey, phir bimaariyan paida hoti hain. (May the people celebrate the Ganpati festival happily every year but they should remember to put the garbage in the garbage bin, the garlands of flowers should be put in the dustbin. They shouldn't put these things in the water. The people should understand. They put the garbage in the water bodies, then when there's a flood, it will all come out and spread, more mosquitoes will be born and diseases will spread.)"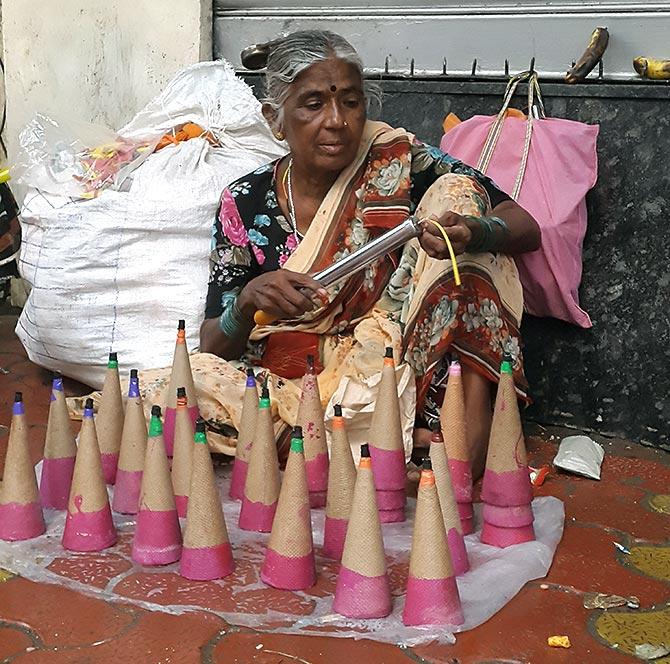 Ananta is a lemon seller at Matunga market. During the Ganpati festival, she becomes a balloon and toys hawker.
Sitting on the footpath behind them is Ananta. She expertly works her fingers to craft balloons into various shapes.
At any other time, Ananta can be found selling lemons at the Matunga (located in the heart of Mumbai) vegetable market. During the 11 days of Ganeshotsav, she trades her lemon basket for balloons and other celebratory supplies, like toy trumpets, to cash in on the crowds of devotees who throng the Shivaji Park beach (central Mumbai).
As Ganeshas are borne to the beach with much fanfare, four-year-old Suja, a child from a nearby slum, wanders the streets with a bunch of balloons that looks too big for her tiny hands.
She has a lost look in her eyes.
"Dus rupiye ka ek. Iss se kum main nahi de sakti (One balloon for Rs 10. I can't reduce my price)," she tells a lady who tries to bargain for a balloon.
I enquire about her age, "I am two," she says in a faint voice. When asked again she quickly corrects, "I am four."
Too young, either way, to be missing the festivities.
Before one can ask further, she disappears into the sea of people standing on the cement landing that leads down to the waters, bent on getting some plum sales.
Further down the cement landing is a line of young men in yellow, almost forming a human wall to stop devotees from venturing into the sea.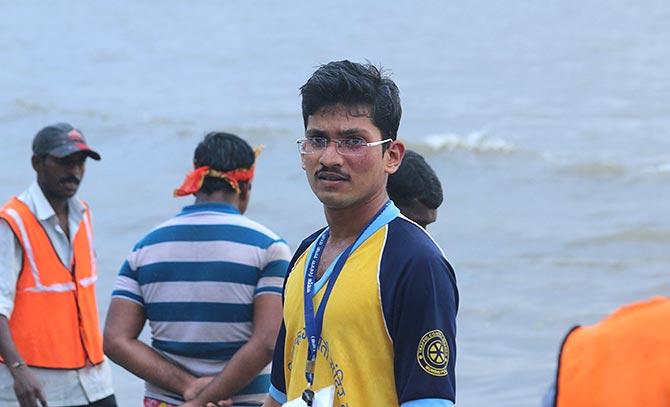 Yogesh Nayak is very proud to be one of the special festival lifeguards who keep the devotees safe.
Jal Rakshak reads the big, blue letters on Yogesh Nayak's bright yellow T-shirt.
The young volunteer wears them with a great sense of responsibility. Yogesh has been helping man the beaches of Mumbai during the vibrant, chaotic celebration of Ganesh Chaturthi for the last two years.
If you ask him how far he can swim in the dark, in a raging sea -- as several lifeguards are required do during these 11 days -- quick comes the reply, "Jitna dam hai, utna tairengey (I will swim to the best of my abilities)."
An employee with a private contracting firm, but takes leave on visarjan days since the crowd starts floating in as early as 3 pm. Yogesh and the members of his NGO don't get a break until the visarjan stops post midnight.
He says there has never been an accident or a drowning incident on his watch. To ensure that the record stays clean, the volunteers will be in the water this year as well.
Says Yogesh, "Saat baje ke baad pani ke andar rahengey aur kisiko jaane nahi dengey. Murti leke khali ek person andar jayega aur teen baar dip karne ke baad woh humare haath mein murti dega. Phir humlog aagey door jaake murti ko dubayengey,nahi toh shallow waters mein kisi ke pair ke neeche bhi aa sakti hai (After seven o'clock we won't let anyone enter the water. Only one person can come into the water with the idol to dip the idol thrice, after which they have to hand it over to one of us so we can immerse in deeper waters, otherwise in shallow waters people might step on it)."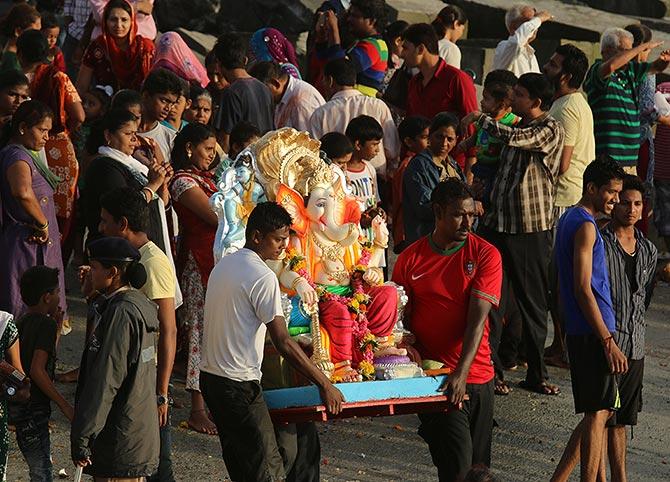 The final goodbye.
In addition to sufficient manpower, the Jal Suraksha Dal also has a boat on which they load larger Ganpatis to take them into deeper waters.
Yogesh, who had Ganpati for a day-and-a-half at his own home, says that he has seen pretty much every 'big' Ganpati and describes the ordeal one has to go through to immerse these large idols.
"Jo bade bade Ganpati saat din aur das din mein aate hain, unke liye trolleys rehti hain. Woh ek corner mein leke jaate hain. Jab high tide rehti hai, tabhi unko paani mein leke jaate hain. (All the big Ganpatis that come on the seventh and the tenth day have their own trolleys. They are taken into a corner and can only be immersed during a high tide.)"
Having to venture in and out of cold, dirty water on a day that almost always accompanied by heavy rains and harsh winds, carrying heavy loads, doesn't really sound like the ideal job description.
Yogesh says he does it because he believes that serving people is a way of serving the Lord.
However, he does have some wise words for the devotees: "Zyada se zyada plaster of Paris ki moortiyaan na banwaye aur jo murti ki unchai hai 2-3 feet hi rakhe, warna bahut mushkil ho jaati hai. Samundar apne andar koi kachra rakhta nahi hai, bahar phenk deta hai. Iss se taklif badh jaati hai (As far as possible, try not to get a murti made from plaster of Paris and try to keep the height of the idol between two to three feet otherwise it becomes very difficult to handle it. The sea does not retain the garbage we throw into it, it throws it back and this only causes more difficulties)."
Day 1: Ganpati Bappa Morya! Bringing the Lord home
Day 2: Mumbaicha Raja and a sea of devotees
Day 3: Goodbye Ganesha… it's not easy to let You go
Day 4: The Ganeshotsav festival's biggest tragedy!
Day 5: 'It was pure love for the Lord'
Day 7: This Ganpati is edible, so nothing goes waste
Day 8: Mangala Gauri: The 'Women's Only' festival
Day 9: Band, Baaja, Bappa: It's a grand farewell party
Day 10:'We can go hungry, but bringing home Ganesha is mandatory'
Day 11: 'Bappa will be back in another 365 days, na?'