On the one hand, people revel in the joy of bringing Lord Ganesha home.
On the other, many mourn the crass commercialisation that has invaded this popular festival, causing deep sorrow to many Ganesha bhakts.
Ganesh Chaturthi no longer has the power that Lokmanya Tilak had seen in it way back in 1893 -- the power of bringing people together.
This, say 83-year-old Vinaysheela Govilkar and 19-year-old Arnav Thakker, is the festival's biggest tragedy.
Text: Paloma Sharma/Rediff.com, Sonil Dedhia/Rediff.com
Photographs: Courtesy Arnav Thakker, Vinaysheela Govilkar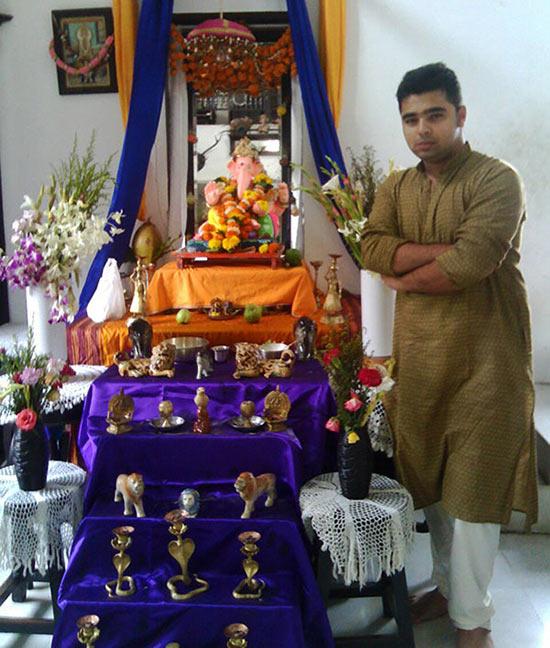 Arnav Thakker, 19, with his family's Ganpati idol.
Tradition, it is popularly believed, does not sit well with young India.
But for 19-year-old Arnav Thakker, tradition is something to be preserved -- albeit with a touch of the new.
The Thakker family, who are the descendents of a wealthy cotton broker, Lowji Meghji, have been hosting Mumbai's favourite elephant-headed deity for almost a century.
The tradition of inviting Lord Ganesha home was started by Meghji who, along with his third wife, had wished for a child for a long time. As a last resort, he decided to heed the advice of his brother-in-law, a Ganesh bhakt (devotee) himself, and began celebrating Ganesh Chaturthi.
The Remover of Obstacles – which is one of the reasons why the smiling God is revered across India – seemed to have heard Meghji's prayer; within two years, the cotton broker was blessed with a daughter.
This was not his first child… Meghji had fathered a daughter, named Kusumbala, with his second wife, but Kusumbala suffered from poor health and passed away when she was just 13 years old.
However, once the family began observing Ganesh Chaturthi, Meghji and his third wife were blessed with three more children, one of whom was young Arnav Thakker's grandfather.
Interestingly, Meghji – who passed away in 1936 -- had never been a religious man.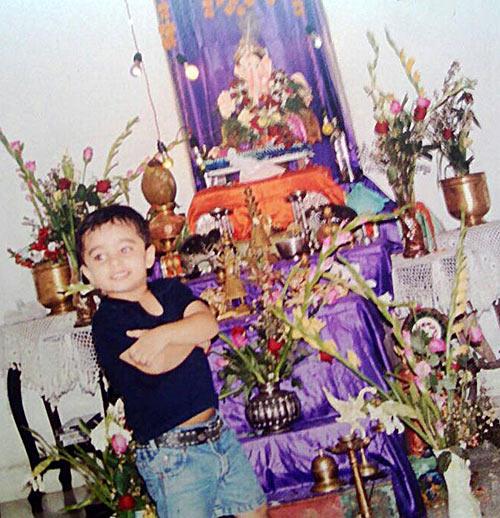 A thrilled young Arnav during his favourite festival, Ganeshotsav.
Says Arnav, "Everyone was extremely religious those days and my great-grandmother's brother told him to bring Ganpati home. However, my great-grandfather stayed away from all this since his father, my great-great-grandfather, had renounced the world. But after his daughter was born, my great-grandfather regained his faith. I don't know if it was God's blessings or plain coincidence. Whatever it was, this year completes 96 years of inviting Lord Ganesha to our home."
Till last year, Arnav's father, Gujarati actor Bakul Thakker, was in charge of the preparations for the celebrations. This year, the mantle has passed onto Arnav.
While many have a different theme for each year that they bring the Lord home, this young man prefers to stick to the handbook.
"We don't do anything drastically different. The celebrations are always grand and this year is no different, apart from the people who come to visit. When I was young, there were at least 30 people at home at any given time. Now, because of those one-and-a-half day Ganpatis, we don't get as many visitors."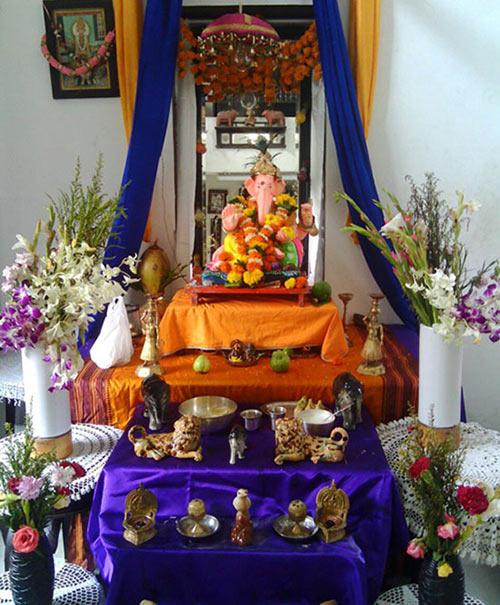 The Thakkers have been inviting Lord Ganesha home for 96 years.
Their idol has always been made at a specific shop in Girgaum (located in south Mumbai, it is home to the famous Chowpatty beach). Every idol, he says, is crafted by hand and made from "pure soil from a river bed in Maharashtra".
As far as the environment is concerned, Arnav believes that the material used to make the idols takes care of that problem. "People are so fussy about eco-friendly Ganpatis. I don't see why. Traditionally, Ganpati has always been eco-friendly because it is made of mud. It dissolves immediately when you immerse it."
Arnav's grandfather, Anil Lowji Thakker, followed the tradition established by his father.
Various festivals all over India, Ganesh Chaturthi included, have evolved with time and critics of this change have blamed the unnecessary commercialisation and monetisation for the degradation of these celebrations.
Arnav, however, remains unfazed.
"We still follow tradition," he insists, and points out that they still employ a pandit (priest) for the prayers. "We have always followed the tradition of Gauri Visarjan. That's why, this year, we have Ganpati for seven days."
Nevertheless, certain modifications have been made to adapt to the changing times.
The Ganesh idol is now transported by car and the immersion takes place in a nearby pond without any fanfare.
Although there used to be a traditional Puneri band playing during the visarjan (immersion), the Thakkers have ceased to follow this ritual since they find it noisy and unnecessarily time consuming.
Arnav followed in his great-grandfather's footsteps as well.
Arnav says he personally does not believe in loudspeakers and expresses anguish over Bollywood songs replacing bhajans (hymns). "How can anyone even think of playing a song like Gandi baat during the visarjan? It is absolutely disgusting!" he says agitatedly.
As much as he cherishes his memories of Ganpati celebrations and looks forward to Ganeshotsav every year, Arnav says that he is baffled by the changing attitude of people towards God.

"I don't understand these new short-term Ganpatis. Is it a status symbol or a statement? Is it a show of how pious and religious they are? I don't know," he asks.
While the young man's views might differ from those of others, he displays that one trait which all devout Ganpati bhakts share, "It's disappointing when He goes away."
Although he admits there's a sense of relaxation as well, since the hectic schedule of rituals and entertaining guests comes to a halt, he is saddened by the reduced number of people who visit his home.
Ganesh Chaturthi, in this aspect, does not seems to retain the power that Lokmanya Tilak had seen in it way back in 1893 -- the power of bringing people together that, according to Arnav, is what matters the most.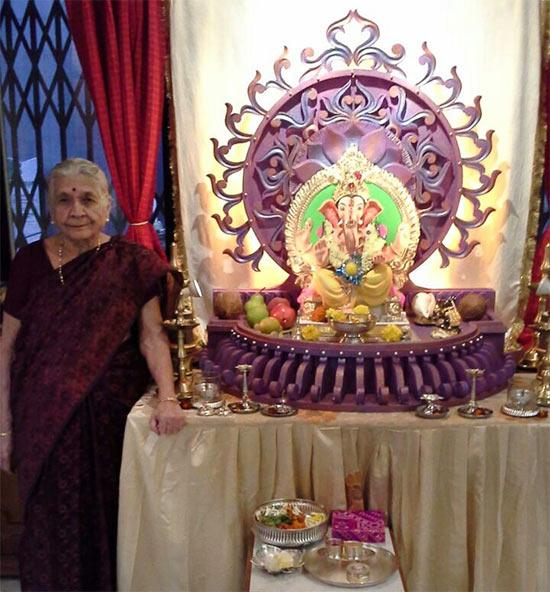 Vinaysheela Govilkar has been celebrating Ganeshotsav for 62 years.
Eighty-three-year-old Vinaysheela Govilkar, who has been celebrating the festival for last 62 years, agrees.
"Lokmanya Tilak was of the opinion that the Ganapti celebrations shouldn't be about praying to an idol but about facilitating a social gathering. He called the festival 'Sarvajanik', meaning 'for all people'. But, today, everything is so commercial."
She feels that people have started cashing on the devotion, which has led to increased commercialisation.
The present-day festivities, she feels, are far removed from the very idea of Ganeshotsav.
"There are people who still have a social sense. Some pandals donate a lot of money for various causes. But when you look at the big picture, the celebration of this festival has become like a big circus. There is a lot of corruption when it comes to handling the donation that has been collected," she says.
"Most of the pandals try to outdo each," she adds. "They seem to be in a competition to prove that my Ganpati is better than yours."
Govilkar agrees that, with the changing times, the cost of holding the festival has escalated. She also agrees that, in some ways, things have changed for better. At the same time, she points out, that things have worsened as well.
"Today's celebrations are all about high decibel bands and people playing item numbers from Bollywood films. It is the common man who complains about noise pollution and that same common man participates in the nuisance," she laughs.
An ex-principal of the well-known women's college, SNDT, at Churchgate in south Mumbai, she remembers how differently the festival was celebrated in her youth.
"We would dance, play the lezim (a small musical instrument with small jingling cymbals) and hold street plays. All this had a meaning. Aaj shaadi main bhi wohi dance karte hai, garba main bhi same dance and Ganpati main bhi same dance (Now, the dances are the same… whether it's a wedding, a garba -- a dance performed during Navratri -- or Ganeshotsav)."
Govilkar, who grew up in Nashik, began making idols when she was eight years old. "My father worked in a factory and started making Ganesh idols at home. These idols would be similar in size to the ones that we find in our cars today. My mother, my four siblings and I would help him."
While they made smaller Ganpati idols throughout the year, they would take orders for large sculptures -- but not bigger than two feet, she clarifies -- during the festive season.
"We would use shadu (a type of clay) to make the idols. These were made to suit the client's requirement. While the smaller ones would cost 1 paise (its value then, was 1⁄64 of a rupee), the larger ones would be priced at Rs 15."
Cherishing her memories of Ganpati celebrations in the past, she recalls, "There was a time when influential politicians like Keshav Sitaram Thackeray (the late Bal Thackeray's father), Comrade Shripad Amrut Dange (founding member of the Communist Party of India) and others would come and give interesting speeches. Today, politicians just want to put up their billboards and take advantage of the festival."
DON'T MISS!
Day 1: Ganpati Bappa Morya! Bringing the Lord home
Day 2: Mumbaicha Raja and a sea of devotees
Day 3: Goodbye Ganesha… it's not easy to let You go
Day 5: 'It was pure love for the Lord'
Day 6: Why Mumbai's visarjans are so orderly
Day 7: This Ganpati is edible, so nothing goes waste
Day 8: Mangala Gauri: The 'Women's Only' festival
Day 9: Band, Baaja, Bappa: It's a grand farewell party
Day 10:'We can go hungry, but bringing home Ganesha is mandatory'
Day 11: 'Bappa will be back in another 365 days, na?'