On August 29, Mumbai welcomed its favourite God, the Elephant-headed Ganesha (catch our coverage here).
Installed with love, pomp and ceremony in home and pandals, the cheerful God will reside with his devotees for 11 days.
Mumbai is famous for its Ganpati pandals, where huge idols of the much-loved Ganesha attract hordes of devotees.
We bring you glimpses from one of Mumbai's oldest pandals, Mumbaicha Raja.
Text: Sonil Dedhia/Rediff.com
Photographs: Hitesh Harisinghani/Rediff.com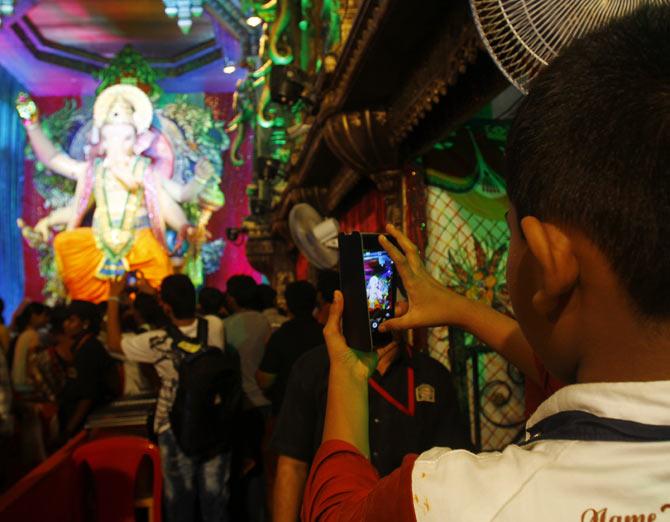 Mumbaicha Raja is one of the city's oldest Ganpati pandals.
On what would have otherwise been a quiet weekend in Mumbai, a crowd of more than 1,000 devotees are waiting patiently at one of Mumbai's oldest Ganesh pandals, Mumbaicha Raja.
The snake-like line has devotees of all hues.
Some wait quietly.
Others sway, as if in a trance.
You can hear some singing their favourite bhajans.
Chants of 'Ganpati Bappa Morya' rise and fell in the air.
Everyone knows that, sooner or later, they will get their darshan of the Elephant-Headed God.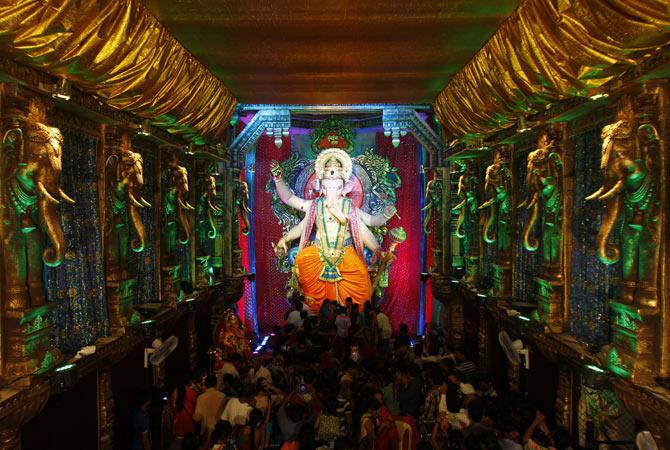 The 22 foot tall idol is adorned with six kilos of gold jewellery.
Lalbaugcha Raja, Mumbai's most known Ganpati, is a couple of lanes away, while Mumbaicha Raja finds its home in Ganesh Galli (Ganesh Lane) every year.
The 22 foot tall idol, adorned with six kilos of gold jewellery, sits royally on a gold-coloured throne. Gleaming and glistening, the first glimpse of the towering Lord Ganesha is a wonderful treat for the eyes.
The Mumbaicha Raja pandal is a replica of the well-known Khandoba temple.
The mandal, which was established in 1928, follows a unique tradition. Every year, their theme is a replica of a famous temple in the country.
This year, they have re-created the famed Khandoba temple, which is located in the Jejuri district near Pune.
And the replica is stunning!
In the past, the mandal has created replicas of the Amarnath temple, the Meenakshi temple, the Somnath temple, etc.
The replica is spread over an acre and preparations for the festival began well in advance.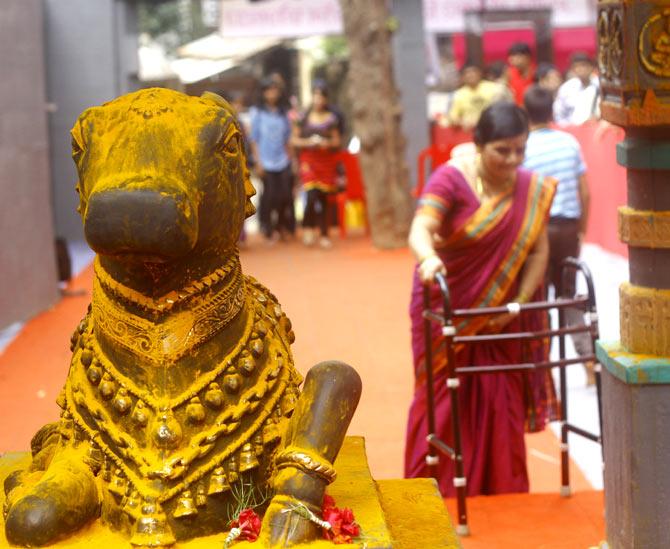 The decoration this year has cost Rs 45 lakhs.
This year, we started 45 days ago and spent around Rs 45 lakhs," says Parag Kadam, president of the Lalbaug Sarvajanik Ganesh Utsav Mandal, which looks after the preparations for Mumbaicha Raja.
Kadam, while explaining the mandal's concept, says they build replicas of well known temples because many middle class and lower middle class families cannot afford to travel to these destinations.
"I know a lot of people who cannot visit Jejuri temple or Somnath temple. We try to fulfill their wish by recreating these temples for them here," he says.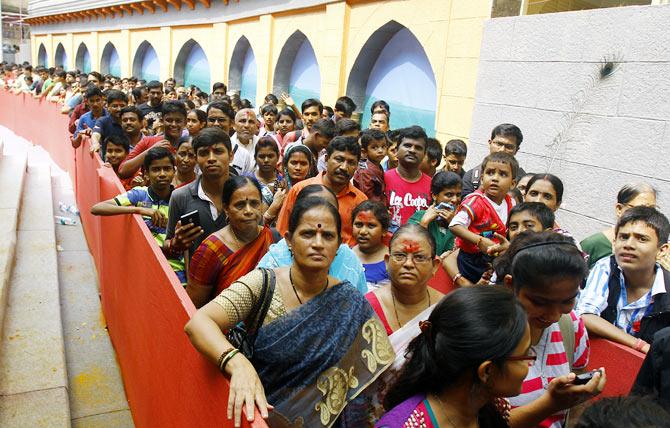 A serpentine queue of the faithful await their glimpse of Lord Ganesha.
Every pandal receives huge donations during this 11-day festival. If you've ever wondered what they do with the money, Kadam has the answer. "We have a trust which utilises the money for blood donation campaigns. We also give scholarships to students who need financial help."
The pandal has also insured all devotees in Mumbai for Rs 25 crores for the duration of the 11-day festival.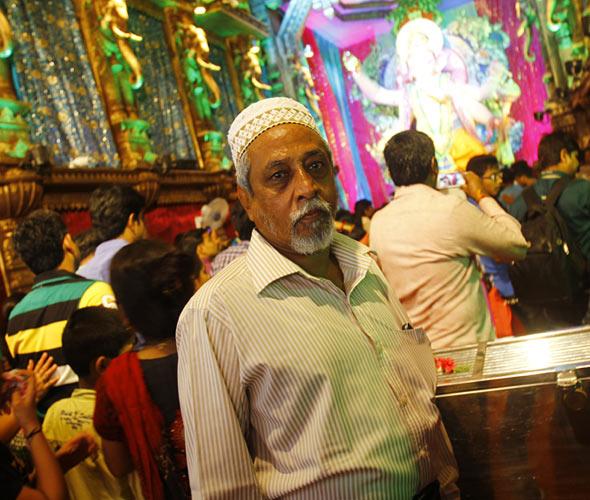 Shabbir Shirazi has been a Ganesha devotee for over a decade.
The polarisation of communities -- especially the Hindu and Muslim communities -- is always in the spotlight but the devotion of Shabbir Shirazi, who was awaiting his darshan of Mumbaicha Raja, is heartwarming.
While idol worship is banned in Islam, Shirazi says he has his own beliefs, "I think all Gods are one. We live in a secular country and I have the freedom to worship any God."
Shirazi adds that he has been a devotee of the Elephant-headed God for more than 10 years. "I visit most of the Ganpati pandals in the Lalbaugh area (located in central Mumbai) every year."
Spanish students Alba and Samatha are fascinated by the devotion for Lord Ganesha.
Alba, a Spanish student who is visiting India, found the festival "really vivid and colourful. I haven't seen so many people who are passionate about worshipping God. It's so nice that so many people come together."
Her friend, Samantha, said, "I am so glad that our taxi driver brought us here. I think we came to Mumbai at the right time… We got the opportunity to witness something so beautiful. I haven't seen such a stunning idol of God before."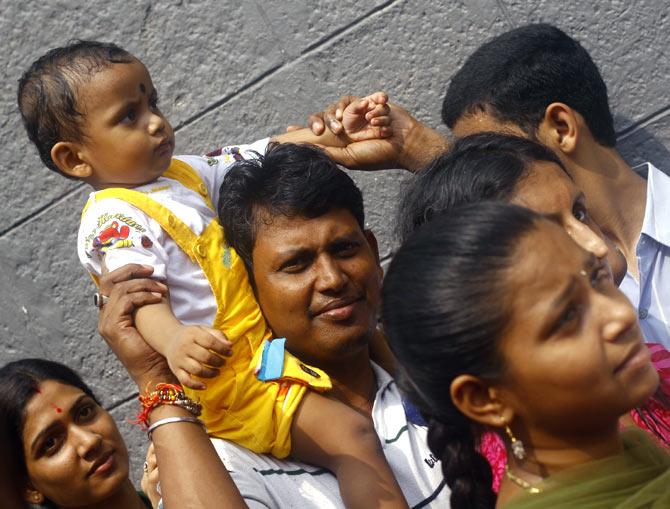 Rakesh and his family wait for their turn.
Rakesh, a resident of Mira Road (a distant north Mumbai surburb), has been standing in the queue for over 75 minutes. Waiting patiently with him are his wife and their two-year-old son.
"I have come here every year for the past 15 years to take Lord Ganesha's blessing. I am glad that I could bring my child this year," he says with a smile.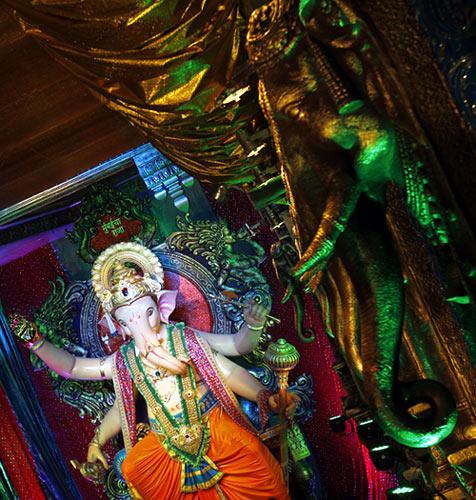 'How beautiful the idol looks,' exclaims Swati.
Inside, Swati stretches every inch of her five foot frame to catch a glimpse of the idol even as she gets pushed by people behind her.
"Bagha Bagha! Kai changli murti aahe (Look how beautiful the idol is)," she animatedly tells her father.
The reverence of the devotees is exemplified by 65-year-old Rajni Gaikwad, who recently underwent a knee surgery.
Coming all the way from Thane (Mumbai's adjoining city) to thank the Lord for her health, she says, "I have been coming here for the last 35 years. There was no way I could missed my darshan this year. It is because of Him that my surgery was successful and I am able to walk properly today."
DON'T MISS!
Day 1: Ganpati Bappa Morya! Bringing the Lord home
Day 3: Goodbye Ganesha… it's not easy to let You go
Day 4: The Ganeshotsav festival's biggest tragedy!
Day 5: 'It was pure love for the Lord'
Day 6: Why Mumbai's visarjans are so orderly
Day 7: This Ganpati is edible, so nothing goes waste
Day 8: Mangala Gauri: The 'Women's Only' festival
Day 9: Band, Baaja, Bappa: It's a grand farewell party
Day 10:'We can go hungry, but bringing home Ganesha is mandatory'
Day 11: 'Bappa will be back in another 365 days, na?'