Bollywood's many run-ins with the law.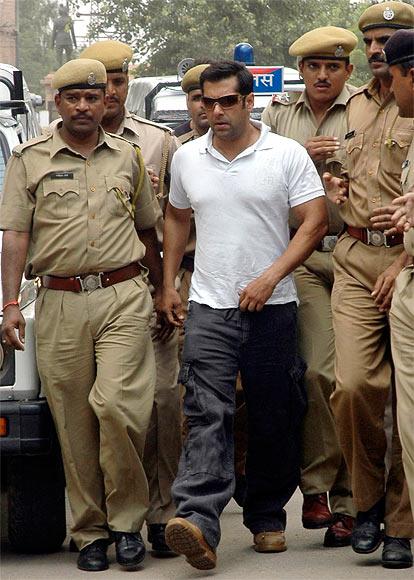 Image: Salman Khan. Photograph: Stringer India/Reuters
After 12 years of twists and turns befitting a Bollywood thriller, Salman Khan has been found guilty in the 2002 hit and run case.
While the court verdict was declared this morning, the actor has already had his share of jail encounters, thanks to his other court case, where he was charged with killing two chinkaras or black bucks, a deer species, at Bhavad village in Rajasthan in 1998.
Salman is not the first Bollywood personality to go behind bars.
Here's a look at the industry's jail encounters.

Sanjay Dutt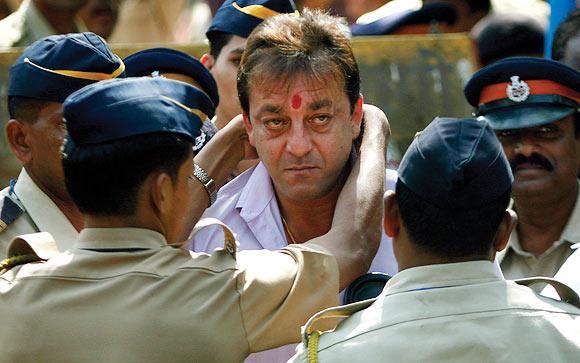 Photograph: Prashanth Vishwanathan/Reuters
Sanjay Dutt is currently serving a five-year jail term in Pune's Yerwada jail, in connection with the 1993 Mumbai blasts case.
This is his second stint in jail -- he had spent 18 months in jail in 1995, in connection with the same case.
Dutt was arrested due to the illegal possession of a 9mm pistol and an AK-56 assault rifle.
Sooraj Pancholi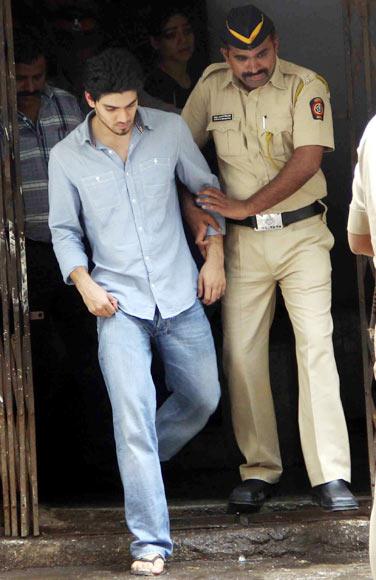 Photograph: Sahil Salvi
Son of actor couple Aditya Pancholi and Zarina Wahab, Suraj Pancholi was arrested on June 10 for allegedly abetting girlfriend and actress Jiah Khan's suicide, on the basis of a letter allegedly written by her.
He received bail on July 1 on a surety of Rs 50,000. The court has directed him to surrender his passport and appear before the Juhu police every alternate day.


Vindoo Dara Singh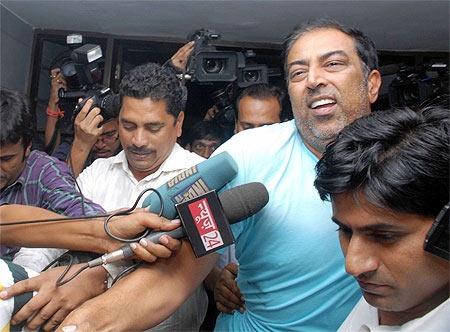 Photograph: Sahil Salvi
Actor Vindoo Dara Singh was arrested in connection with IPL spot-fixing and betting scandal on May 22. He was granted bail on June 14.
The court has asked him not to leave the country and to report to the Crime Branch every alternate day.

Saif Ali Khan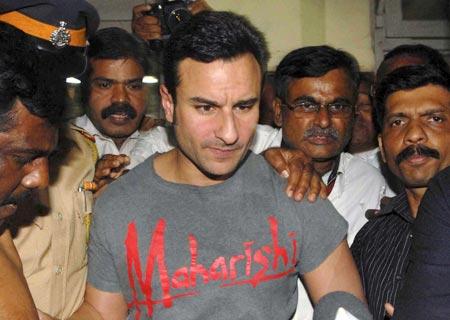 Photograph: Stringers/Reuters
In Februray 2012, Saif Ali Khan was arrested after being charged with assaulting South African businessman Iqbal Sharma, who protested against the raucous chatter of the actor and his friends at the Wasabi restaurant at the Taj Hotel.
The 41-year-old actor and his friends, Shakeel Ladak (Amrita Arora's husband) and producer Bilal Amrohi, were booked under sections 325 (voluntarily causing grievous hurt) and 34 (acts done by several persons in furtherance of common intent) of the IPC.
Khan claimed innocence saying the charges against him were false.
All three were let off on bail on a surety of Rs 15,000 each.
Shiney Ahuja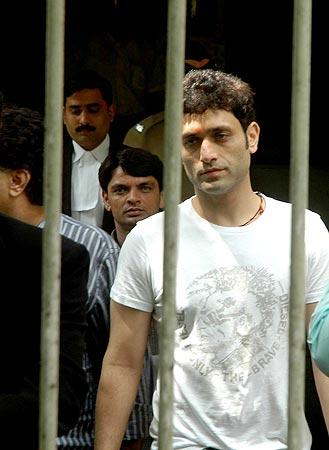 Photograph: Sahil Salvi
Actor Shiney Ahuja -- accused of raping his domestic help -- was arrested in June 2009. He was lodged in jail for more than three-and-a-half months.
The Bombay High Court granted him bail but asked him to stay in Delhi till the commencement of the trial.
Later, Ahuja was sentenced to seven years' rigorous imprisonment by a fast track Mumbai sessions court.
In September 2010, the victim backtracked from her allegations and claimed that she had filed a false complaint at the behest of the woman, who had secured the job for her.
Monica Bedi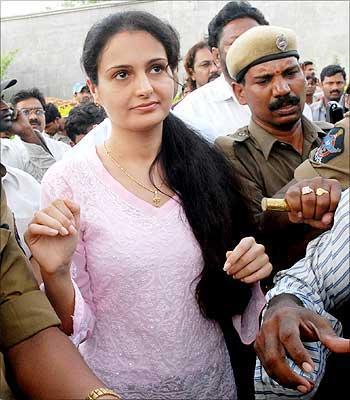 Image: Monica Bedi
In September 2002, starlet Monica Bedi was arrested along with fugitive underworld don Abu Salem by the Lisbon police for entering Portugal with forged documents.
After a jail sentence in Portugal, they were deported to India in November 2005 after India promised Portugal that Salem would not receive the death sentence.
The next year, an Indian court convicted Bedi for passport forgery.
She was sentenced to five years in prison but in November 2010, the Supreme Court reduced her jail term to the period she had already served.

Raja Chaudhary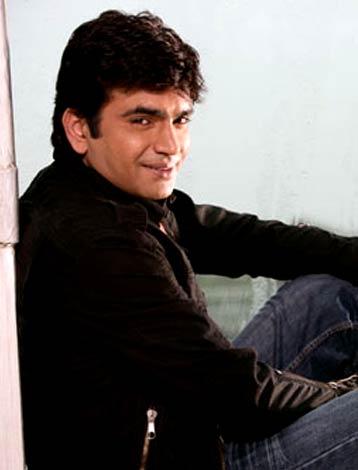 Image: Raja Chaudhary
Raja Chaudhary has been in and out of jail for a slew of alleged offences.
In November 2010, he was arrested for beating his girlfriend Shraddha Sharma at his residence
In January 2011, he was arrested for allegedly assaulting ex-wife and reality show Big Boss winner Shweta Tiwari at her residence.
In April 11, he was arrested for allegedly obtaining a SIM card using forged documents.


Fardeen Khan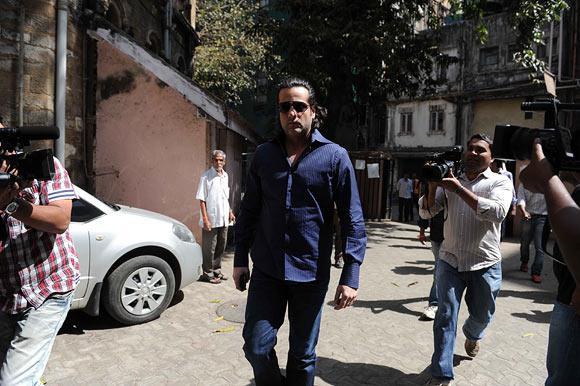 Photograph: Sahil Salvi
Fardeen Khan was arrested by the Narcotics Control Bureau (NCB) in Juhu, a western suburb of Mumbai, on May 6, 2001 for illegal possession of cocaine. Alleged drug peddlers Shaikh and Gomes were also arrested with him.
While Khan claimed he had attempted to buy only one gram of cocaine from Shaikh, the NCB alleged that nine gram of banned substance was found on Khan and Shaikh.
He was granted bail four days later.
In October 2012, Khan was found not guilty of the charges.

Shayan Munshi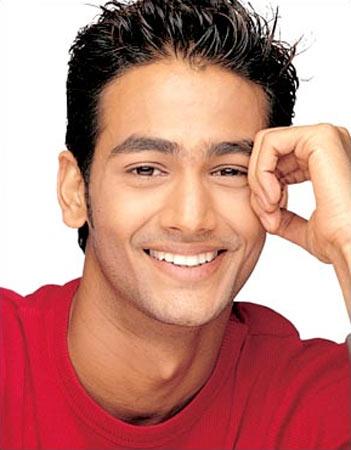 Image: Shayan Munshi
In 2006, model-turned actor Shayan Munshi was arrested at the Kolkata airport, when he was on his way to Bangkok.
Munshi was a key witness in the Jessica Lall murder case, and he had been barred from leaving the country without taking prior permission from the police. He was arrested based on this notice, and granted bail the same day.
Munshi later turned hostile, and now he faces a case of perjury. If found guilty, he may get seven years of jail term.