'I have it to get fresh': Fardeen Khan
Sheela Bhatt in Bombay
A nervous Fardeen Khan sobbed bitterly on father Feroz Khan's shoulder.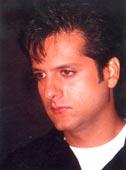 Fardeen was taken to the Exchange Building, Ballard Estate, south Bombay for questioning by the Narcotics Control Bureau after he was picked up early on Saturday morning for alleged possession of cocaine.
He was held at 0300 hours on Saturday. Feroz Khan drove down to meet Fardeen at the NCB office.
NCB sources say Fardeen dined with his family on Friday at a restaurant in Bandra, suburban Bombay.
Unaware he was under surveillance by NCB agents, Fardeen left after dinner and drove down towards Juhu, the suburb where he lives. Naseer, allegedly a drug peddler, was waiting for him there, to supply him with cocaine.
The two men were then nabbed by NCB agents.
NCB sources say six film personalities and some drug suppliers were placed under surveillance last week.
Fardeen was taken in for questioning by NCB Deputy Director Ajay Ubale. An eyewitness said the actor co-operated with NCB officers.
He was apparently heard telling Ubale, "I have it (cocaine) to get fresh. I sleep at 3 am and report for shooting at 9 am. I take it to remain fresh while shooting."
When journalists visited the NCB office around noon on Saturday, Fardeen was still being interrogated.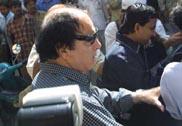 Reportedly, he is being grilled on two important issues which will decide the charges against him. NCB officers want to ascertain if he is merely a consumer of drugs or a trader. They also want to know more about the spread of drugs in the Hindi film industry.
Fardeen is also, it is learnt, being questioned about the network which facilitated his alleged habit. According to well-informed sources, daily consumption of cocaine would cost the actor Rs 5,000 plus.
The actor will be probably termed a user, and not a trader or part of the drug mafia. Anyone caught with less than 26 gm of cocaine in their possession is termed a user, sources say.
Last month, a prominent businessman's son was arrested on the same charges in Bombay. He was released on bail within a week.
RELATED REPORTS:
NCB formally arrests Fardeen Khan
Naseer was Fardeen's regular supplier
Fardeen Khan remanded to custody till May 18
My son is not an addict: Feroz Khan
EXTERNAL LINK:
Narcotic Drugs & Psychotropic Substances Act 1985