'When a common man's house is on fire, he is infused with extraordinary strength.'
'He will go to any length to save his home and family even if he is not as big and strong as Sunnyji.'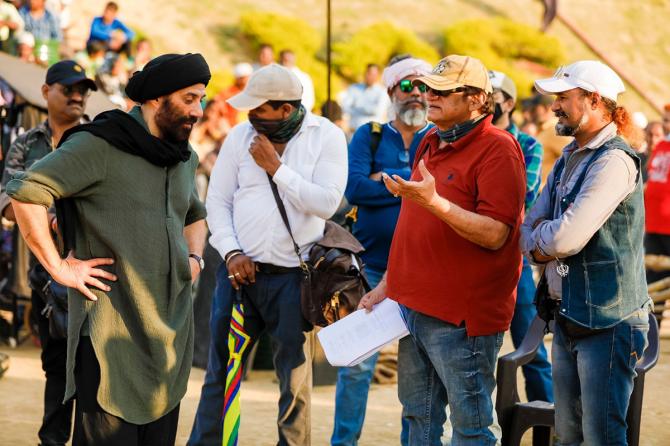 Even as Gadar 2 hurtles to the Rs 500 crore historic benchmark and Sunny Deol re-establishes his star power at the box office, there are many others behind its success.
Among them is writer Shaktimaan, who wrote the original 2001 blockbuster as well.
"My lines come out of fact rather than fantasy or fiction. Because they are simply worded, it is easy for people to remember and reiterate them even after 20 years," Shaktimaan tells Rediff.com Senior Contributor Roshmila Bhattacharya.
Gadar is famous for its cult dialogues like 'Hamara Hindustan zindabad tha, zindabad hai or zindabad rahega', and that scene where Sunny uproots the pump. How did they come about?
Lines like these grew out of the situation.
And pure human emotions.
In Gadar: Ek Prem Katha, Tara Singh goes to Pakistan to get Sakeena back.
He finds that she is being forced by her family to marry a Pakistani officer there.
With folded hands, he tells her father, Ashraf Ali, played by Amrish Puriji, that he has nothing to do with politics.
He has just come to take his wife and the mother of his son back home to India with him.
They won't relent.
But when Sakeena will not agree to a second marriage while her first husband is still around, her father, realising that neither Tara Singh nor she will agree to be separated, relents.
But as the mayor of Lahore, he also tells her that he can't be the only one making all the sacrifices, Tara Singh will have to convert to Islam and settle down in Pakistan if he wants Sakeena back.
His son-in-law agrees, even publicly says 'Islam zindabad' and 'Pakistan zindabad'. But when he is asked to add 'Hindustan murdabad', he loses his cool and rebels.
He shouts, 'Agar aapka Pakistan zindabad hai to usme humein koi aitraaz nahin, lekin hamara Hindustan zindabad tha, zindabad hai aur zindabad rahega.'
He reasons that there are many Muslims living in India who also say 'Hindustan zindabad' with the same patriotic fervour.
And in that moment of frenzy, overwhelmed by the whirpool of emotions churning within him as he fights to reclaim the woman he loves, he uproots the hand pump with his bare hands in a show of extraordinary strength.
It may seem fantastic, but it isn't really.
When a common man's house is on fire, he is infused with extraordinary strength. He will go to any length to save his home and family even if he is not as big and strong as Sunnyji.
My lines come out of fact rather than fantasy or fiction.
Because they are simply worded, it is easy for people to remember and reiterate them even after 20 years.
Have you ever been to Pakistan?
No, but my family came from there.
My parents, brother and four sisters lived in Sargodha, which is now Pakistan.
My brother's childhood friends still live there. Back then, sab bhai bhai the(they were all like brothers) irrespective of class or community.
My sister, whom I lost recently, also had many sahelis (friends) there.
I was born in Delhi, after my parents moved to India.
Did they move to India following Partition?
Yes. My father who was the eldest amongst his brothers, was running a flourishing tobacco and desi ghee business in Sargodha.
He had many godowns there and people referred to him as 'sethji'.
He didn't believe Partition would happen.
He would always say, 'Mulk kabhi bhi bata nahin karti, bas raja badal sakta hai (A country can never be divided, only the ruler changes).'
But my aunt, whom my grandfather, and later my father, educated well, thought otherwise.
Bua was a doctor, the personal physician of the queen of Nepal.
She listened to the BBC, and anticipating trouble, urged my uncle, who lived in Delhi, to bring my father and his family there.
Eventually, my father agreed that my mother and siblings should leave Sargodha with my chachaji because by then chhota mota (small) communal skirmishes had started.
He told my mother that she should go on a pilgrimage, visit shrines like Vaishno Devi and Haridwar for a couple of months, and when peace returned, come back home.
He stayed back to run the business.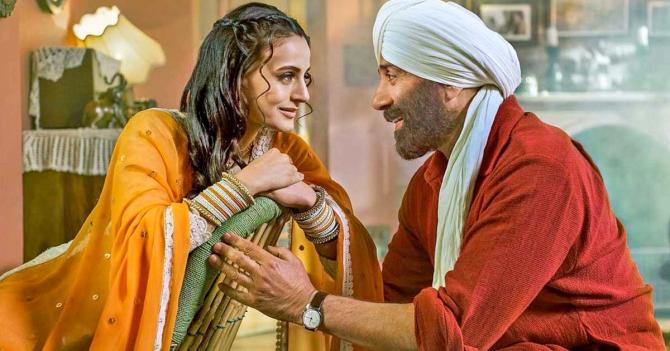 So, like Tara Singh and Sakeena, your parents were also separated for a while?
Yes. My father followed the family across the border only after three-four months by when the situation had become really tense.
I heard from my mother that trainload of corpses, people who were slaughtered during the riots, would arrive every day.
These heart-wrenching scenes were recreated poignantly and authentically on screen by Anil Sharmaji and action director Tinnu Vermaji.
Many older people who had experienced the trails and trauma of Partition first hand during their flight for survival would burst into tears even when we were shooting these scenes.
There were more tears in the theatre.
Lots of people were killed during the time, many came back as cut up corpses, others were wounded and save their lives by hiding beneath the pile of bodies and pretending to be dead.
How did your father get away?
He had a friend called Qasi sahab. My father had helped him educate his son.
Qasi sahab gave my father shelter in his home for a while after communal riots broke out.
Then he smuggled him out in one of the army trucks which brought him to Punjab.
Just before he left, my father handed over the keys to our house, the factory and godowns to Qasi sahab.
He never went back.
For a while, we thought we had lost him.
My chachaji was searching for him and he was searching for my mother and siblings.
With God's blessings, he was reunited with the family.
In Gadar and Gadar 2, there is a character, Gul Khan, played by Mushtaq Khan, who has been modelled on Qasi sahab from the stories that I was told.
He offers Tara Singh shelter in his home when he is fleeing Pakistan.
That track is an ode to Qasi sahab and my father's friendship.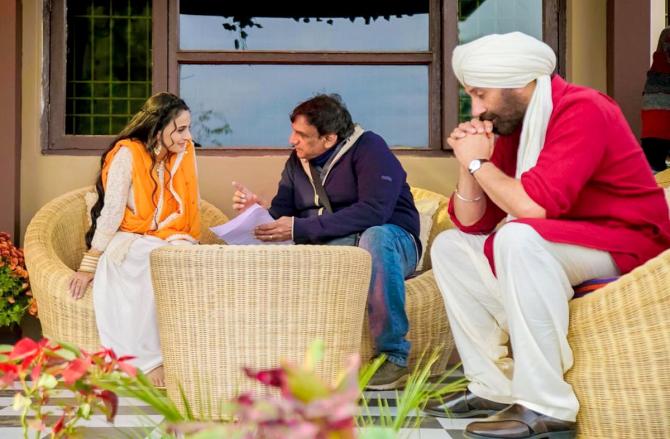 Does Sakeena and Tara Singh's love story also have a real life muse?
Everyone has a love story that they have never forgotten from when they were young.
But when you put 'prem katha' or 'prem kahani' in the title of your film, it becomes your responsibility to give the audience an unforgettable love story they can identify and empathise with.
That is possible only if you can laugh and cry, live every emotion with your characters.
Just putting the words on life-size hoardings and posters is not enough, you have to become the characters, feel the depth of their jazbaat (emotions), experience their tadap (agony), live the qurbani (sacrifice) they make for each other.
Only then can you write a prem katha that will strike a chord.
Gadar 2 was born out of not just the love a man feels for his beloved, but also beta ke dil mein pyaar, baap ke dil mein pyaar (the love in the hearts of the father and the son)...
It is only when you drown yourself in the sea of the emotions that bhavna ubhar ke aati hai (that the feelings are real) and your words motivate the director to create magic on screen, the actors to authenticate your words with their performances.
You can't write a prem katha unless you are deeply connected with the lives of your characters who grow out of life itself.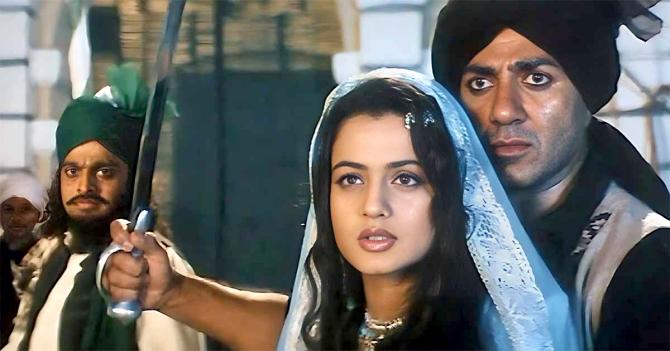 How did the title Gadar come about?
It came out organically.
Partition can be translated in Hindi as 'vibhajan' or 'batwara'.
During Partition, there was a lot of maar dhaad aur dange (violence and communal riots) leading to a revolt, mutiny, gadar.
It's a powerful hard-hitting word that came out of Partition, with trainloads of corpses.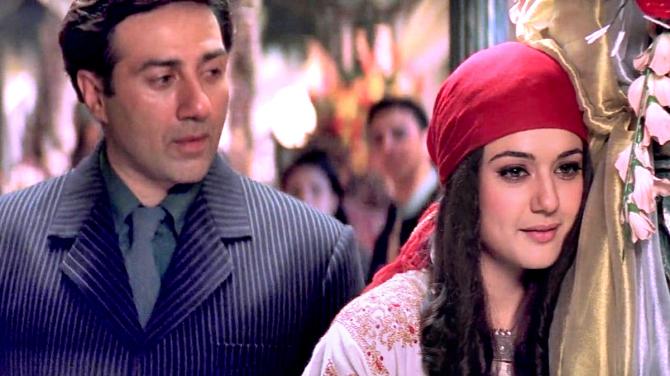 You have written two other Indo-Pak films, The Hero: Love Story of a Spy and Ab Tumhare Hawale Watan Sathiyo, both after Gadar. Any plans of taking them forward?
I never thought of it nor did anyone suggest it.
You also co-wrote Ghayal: Once Again. Now that Sunny is back, will there be a Ghayal 3?
You will have to ask Sunnyji that. Only he can answer this question.
You have also written Veer...
No, that was Salman Khan's story, I only wrote the dialogues.
I can't take the credit away from Salman because while writing the story and screenplay, you decide what to show, how much to show, how to show it, when and where.
Only after that does bhasha (language) and samvad (dialogue) come into the picture.
Writing a period drama must be tough?
It's as easy or as tough as writing a story rooted in the here and now.
No matter what the story and when it unfolds, as a writer you have to take a dubki (dip) in the pool of jazbaat (emotions).
Two people meet, phir bichad jaate hain (are separated), then are reunited...
It's a lot of hard work to write a genuine love story, make people feel for the characters.
Only then will they come out of the theatre still immersed in Tara Singh and Sakeena's world, even if that a world is from another place, another time, and not simply say, 'gaane achche the (the songs were good).'
I have many beautiful stories. If a good maker who can do justice to them comes along, I will be happy to bring them to the world.