'Gadar 2 was made with the purpose of entertaining people and not to perpetuate enmity between neighbouring countries.'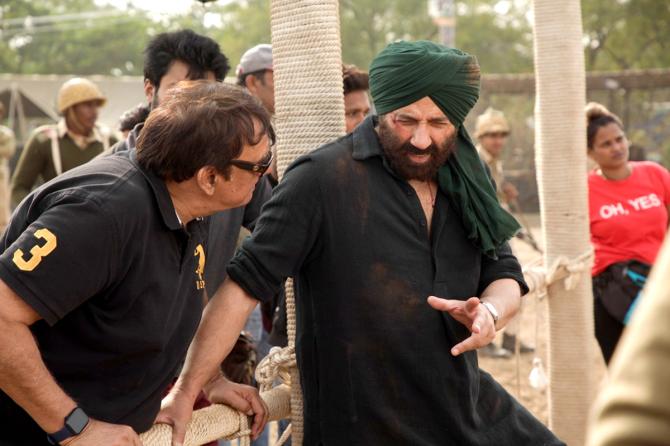 Since its release on August 11, Gadar 2 has brought in huge crowds in theatres.
While Sunny Deol looms large, both on screen and off it, and Director Anil Sharma is being lauded for giving the film industry another blockbuster, another man, writer Shaktimaan, is quietly enjoying the film's success in Delhi.
The celebrations, however, are shadowed by grief as he has just lost his sister.
"If our film has raised any issues, it is only to send out a message of peace and brotherhood," Shaktimaan tells Rediff.com Senior Contributor Roshmila Bhattacharya in the first of a multi-part interview.
Your name Shaktimaan packs in as much power as your Gadar hero Sunny Deol's 'dhai kilo ka haath'.
(Chuckles) Actually, my real name is Jagdeep Talwar.
I have an older brother, Kuldeep Talwar, who retired as the general manager of the Food Corporation of India and now writes articles from home for several newspapers, including Inquilab and Navbharat Times.
I used to work as a store supervisor and then an assistant purchase officer with Bharat Electronics Ltd, a government-owned aerospace and defence electrionics company.
It's one of the nine PSUs (Public Sector Undertaking) under the ministry of defence. Back then, some of the most widely used, medium capacity trucks by the Indian armed forces were the Shaktimaan and Nissan trucks.
I have always been fond of exercising and had an impressive physique.
Whenever I would walk towards them, the guys around me would joke, 'Dekh Shaktimaan chala aa raha hai (Look, Shakltimaan is coming).'
When I came to Mumbai and started writing for films, my friends suggested I adopt 'Shaktimaan' as my pen name.
And the name stuck.
Gadar 2 is currently on a record-breaking box office run. Why did it take Tara Singh 22 years to return to the theatres given the phenomenal success of the 2001 original?
Sharmaji (Director Anil Sharma) often urged me to plot a sequel to Gadar: Ek Prem Katha.
Honestly, I didn't try too hard because in my mind, the film was complete with Sunny Deolji's Tara Singh overcoming all obstacles to bring his wife, Sakeena, back home to India, after imparting insaniyat ka paath (a lesson in humanity) to those across the border, including her father.
Now, there was no reason for him to go back, and I knew that without Pakistan, there could be no Gadar 2.
Sharmaji heard around 30-40 stories from other writers too, thinking that if he came across anything interesting, I could develop it.
But there was nothing that could convince us to take Gadar forward.
Without a good plot, we didn't want to risk losing the love people have for the brand and its status in their eyes.
Then, Sharmaji came across a report in the newspaper that caught his interest about some private transporters offering their trucks to the army during a national emergency.
I thought since Tara Singh was in Pathankot, which is near the India-Pakistan border, and had good relations with the army and a flourishing truck business, this gave him a plausable reason to offer his services during the 1971 'Crush India' campaign.
When he goes missing, his son Chiranjeet Singh, aka Jeete, goes across the border too.
Within two-three days, I had plotted a story which I narrated to Sharmaji, Sunnyji (Deol) and Shariq Patel, CEO of Zee Studios.
They all liked it, and after two decades, Gadar 2 was ready to roll.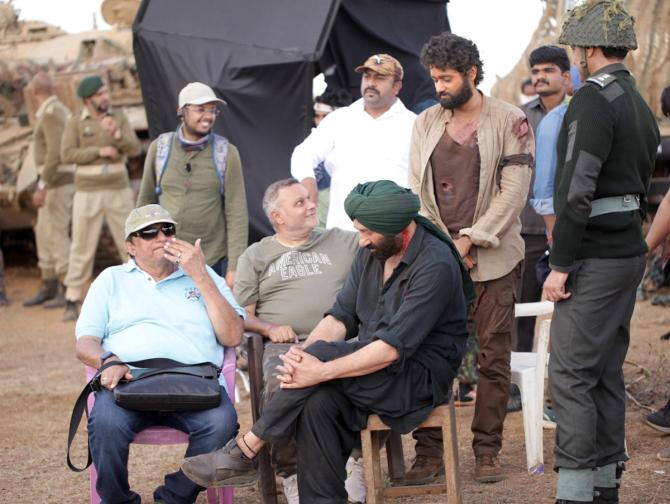 What is it about Tara Singh that makes him such a hero in the eyes of the audience even 20 years later?
All of us want to to do good.
We want to protect and help our parents and siblings, our spouse and children.
But sometimes, due to circumstances beyond our control, we are not able to do so.
So when we see a character like Tara Singh who a simple, innocent, good-hearted man, do good, uska achchapan dil ko chu jata hai (his goodness touches your heart).
Sunny was recently asked about Gadar 3 and he said it will have to be made now. Does that put additional pressure on you?
(Laughs) No, there's no pressure.
I enjoy my work and God willing, there will a Gadar 3 and maybe even a Gadar 4.
Will we have to wait 20 years for it?
No, once I get into the characters, live their lives, I am sure koi katha nikal ayegi (a story will come out).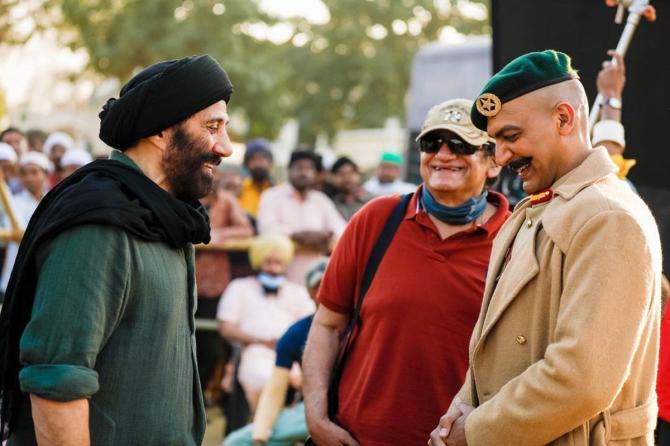 Across the border, people are asking for Tara Singh to come to Pakistan so they can take him on...
The film was made with the purpose of entertaining people and not to perpetuate enmity between neighbouring countries.
In films across the world too we have seen countries clash.
It doesn't mean the story is for real.
If our film has raised any issues, it is only to send out a message of peace and brotherhood.
In Gadar 2, the villain (Major General Hamid Iqbal, played by Manish Wadhwa) is a fanatic and tells our hero that 'hamare Musalman bhaiyon par bahut zulm kiya gaya hai aur hum unhen azadi dilayenge (our Muslim brothers have been tortured a lot and we will liberate them) and Tara Singh retorts, 'What liberation are you talking about? India belongs to every Indian -- Hindu, Muslim, Sikh or Christian -- who has fought to liberate our country.'
What's wrong with lines like these?
We are only stating facts.
We owe our azaadi to Bhagat Singh, Shivaram Rajguru, Ram Prasad Bismil, Ashfaqullah Khan, Sukhdev Thapar...
For us, they are all heroes irrespective of religion.