Veteran actor Viju Khote passed into the ages on September 30. We bring back an interview from August 2015.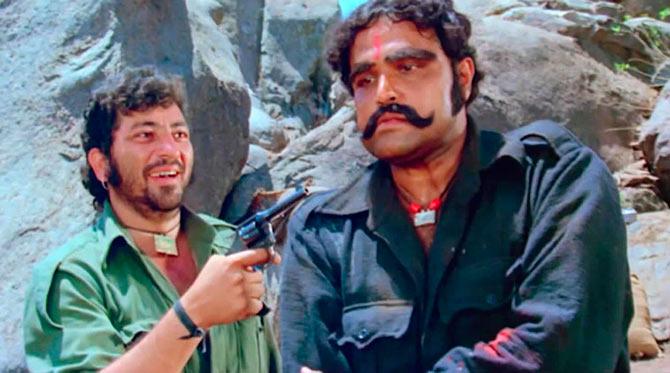 'I have done so many films but even today when I walk on the road, people call me Kaalia. I don't feel bad. I feel proud that people have seen me in Sholay and remember me.'
Viju Khote shares his memories of Sholay with Patcy N/Rediff.com
Viju Khote's role in Sholay lasts just a few minutes but it was enough to make him a star.
"I became famous after Sholay. People called me Kaalia, after my character," Khote says.
The actor has only one photograph of himself in Sholay, gifted to him by a fan. The framed photograph is displayed prominently in his large living room at his home in South Mumbai.
Viju Khote looks back at his popular movie role:
I started my career with Jeene Ki Raah (1969) and Sachaa Jhutha (1970).
Sholay was the third film I signed. After that, I got mostly villain roles.
I did a lot of action movies. I did not find them interesting and realised I loved doing comedy.
The last 15, 20 years, I have been doing comedy.
Amjad (Khan) was a good friend of mine. I had done an English play with Amjad five years before Sholay happened. After that, we both auditioned for a play based on the Ramayana in Delhi. He was supposed to do Raavan's role and I was going to do Dasarath's role.
The money offered was meagre -- they were giving us Rs 700 for the whole month, minus Rs 150 for lodging and boarding. Amjad said he would not take it up, so I was given his role.
Around that time, I got two good film offers.
I asked the theatre group if they would allow me to shoot the films in Mumbai, and they said no. So I left the play.
Amjad and I would meet on and off in Mumbai.
One day, I got a call from G P Sippy's office. When I arrived, I saw Amjad walking out. He told me, 'Viju, karle yaar bahut achcha role.'
Months later, I learnt that Amjad had recommended me to the Sippys.
I learnt that they had signed a stuntman, who was a good horse rider, for the role, as it was a very small scene.
But it had not come out the way Rameshji (Sippy, Sholay's director) had wanted. That's why needed someone who knew acting.
I was required for two schedules of one week each.
In the first schedule, we shot the village scene. The second schedule was shot at Gabbar's den.
I have never done a film like this before or after Sholay. The location was superb, the hotels were excellent. The car would pick us up on time.
The day we reached the hotel, we got a printed letter saying which room we were to be put up in, our schedule, which car would pick us up, which actors would be in the car... Everything was so systematic.
I would travel with Satyen Kappu and MacMohan in the car. It would pick us up at 8:30 am.
There were breakfast arrangements in the hotel as well as on location.
It would take us an hour and 10 minutes to reach the location.
The set was built at Ramanagar, 50 km from Bangalore.
It's the same place where the climax of Bobby was shot, where Dimple Kapadia and Rishi Kapoor try to commit suicide from the rocks.
The set designers had leveled the area and built an entire village -- the houses looked nice from outside but inside, there was only mud and grass.
In our free time, we would put a charpoy inside one of the houses and take a nap.
Earlier, we would have to shoot the same scene twice -- once for the 35mm camera and the other for 70mm. Later, they started using the same negative for both cameras.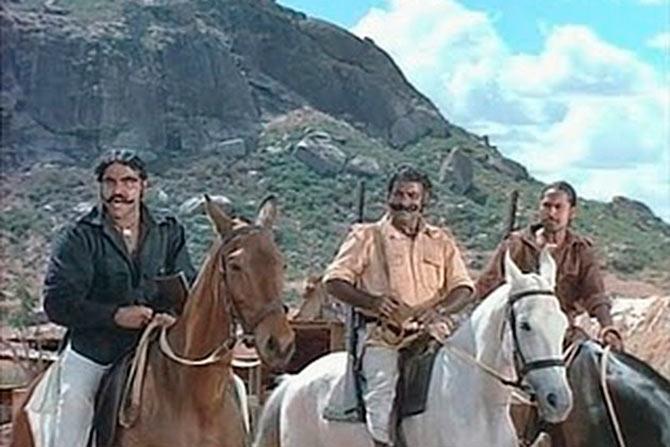 I got the worst horse in the entire unit! I couldn't even change it because of continuity issues. Her name was Nefreti, but the unit members called her Nafrati.
She would throw everyone off her, including Sanjeev Kumar and Amjad. Only Dharamji (Dharmendra) could ride her. He was a good rider because he would ride horses in his village.
Amitabh Bachchan refused to ride her.
I must have fallen off six, seven times.
When Rameshji came over to explain a shot and someone opened an umbrella for him, the horse would get angry.
If she saw a stick, she would get angry.
She was a peculiar horse.
Once when we were shooting on a wooden bridge, the sound of the bridge scared her and she ran into a low cowshed. I had the presence of mind to duck at the last moment.
When we were shooting the train sequence at the beginning of the film, the moment my horse saw the train, she threw me off.
I fell on a rock and hit the back of my head. The horse then jumped over me and I was hit by her hoof.
Amjad and Amitabh were watching the shoot, and Amitabh helped me -- he was carry his first aid kit.
The fight master then helped me out. He actually bent one of the horse's legs so that she could not move, and that's how I gave the shot.
After the first schedule got over, Rameshji told me, "Arre Viju, there is one more shot."
He wanted to take a top shot of us leaving the village. He said he would manage with a body double.
The horse took my body double Surinder (who later became a fight master) one mile away from the shooting area!
It was madness shooting with the horse!
Later in my career, I tried my best to avoid shooting with horses.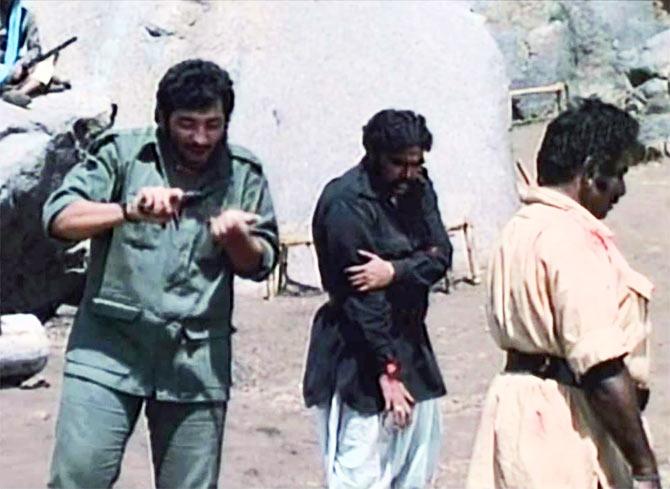 Action films are not easy to do. All those falls and injuries during stunts give me painful and sleepless nights today.
In those days, we would get hurt a lot.
There weren't too many precautionary measures taken during the stunts. Only the heroes would wear knee and elbow caps during the stunts.
Rameshji was very quiet and cool.
I've never seen him shouting or losing his temper.
In fact, he mostly spoke in sign language.
He would never get upset with someone like me, who couldn't handle a horse.
He would just say: 'What happened? You fell again? Don't worry, let's try again.'
I had no scenes with Amitabh Bachchan and Dharmendra.
I had only scenes with Haribhai (Sanjeev Kumar). He was very jovial. We would have a lot of fun in the hotel. He would always drink in the evenings. We would have get-togethers every evening.
We would rehearse every shot before the shoot; that's why retakes were very rare.
In the earlier dacoit movies starring Sunil Dutt and Vinod Khanna, they would wear a dhoti, black kurta and black tikka. Amjad did research on dacoits and found that they would wear military clothes and recce places to loot.
The dacoits in Sholay wore dhotis and long kurtas, but Amjad only wore military fatigue.
Amjad did not sound like a dacoit, as his voice was weak. They wanted another actor to dub for him but Ramesh Sippy was sure his voice would work.
The shooting lasted three years but my work got over in the beginning itself.
I have done so many films but even today when I walk on the road, people call me Kaalia. I don't feel bad.
I feel proud that people have seen me in that movie and remember me.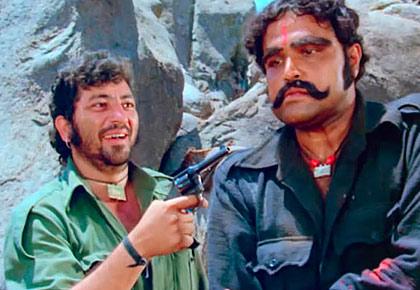 OUR SHOLAY SERIES