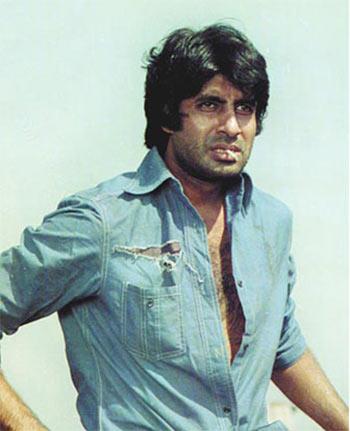 Rediff.com celebrates 40 years of the beloved movie classic.
'Indian film history can be divided into Sholay BC and Sholay AD,' believes filmmaker Shekhar Kapur.

The maker of Mr India isn't exaggerating.
Ramesh Sippy's robust revenge saga, which was released August 13, 1975, is part of Bollywood's DNA.
Its extraordinary success has spawned many imitations, remakes (and spoofs) -- Joshilay, Keemat, China Gate, Mela and, of course, the embarrassing Ram Gopal Varma Ki Aag.
Salim-Javed created immortal characters, the kind audiences have for four decades fondly addressed on a first-name basis -- Jai, Veeru, Basanti, Gabbar.
Meet Sholay's stars, then and now:
Amitabh Bachchan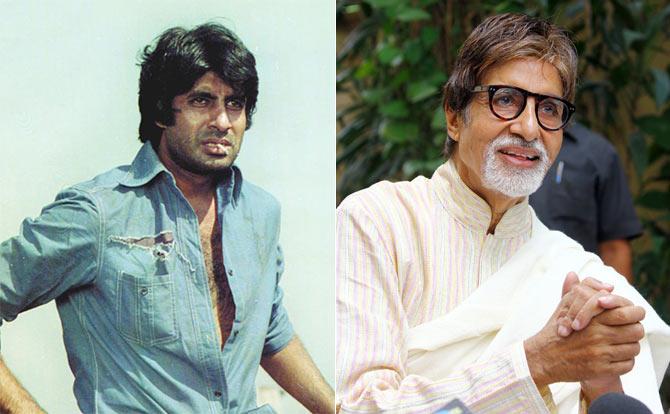 When his glum, sardonic, Jai appeared on screen, his career had finally begun to look up, after many years of flops, thanks to Zanjeer, again a movie Salim-Javed wrote.

1975 was the year he achieved bonafide stardom.

Both Sholay and Deewar made him an icon overnight, paved the path for enduring success.
Amitabh Bachchan and Ramesh Sippy collaborated on Shaan, Shakti and Akayla, but none came close to recreating Sholay's magic.
Seventy-three in a couple of months, Mr Bachchan is going strong, and just received many accolades for his turn as a potty-obsessed, crabby Bengali in Shoojit Sircar's Piku.
Dharmendra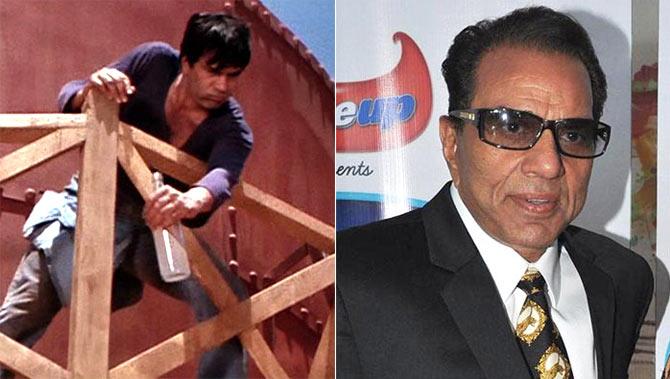 In the otherwise grim setting of Sholay, Dharmendra as the madcap Veeru trying to woo Basanti keep the laughs coming.

That same year he proved his comedic range, playing Professor Parimal Tripathi urf Pyaremohan in Hrishikesh Mukerjee's droll Chupke Chupke.
Action and comedy remained his forte till sons -- Sunny and Bobby -- took over leading men roles. Dharamji, who will be 80 or 78 this December (depending on who you ask), now acts in select projects: Apne, Johnny Gaddar, Yamla Pagla Deewana.
Hema Malini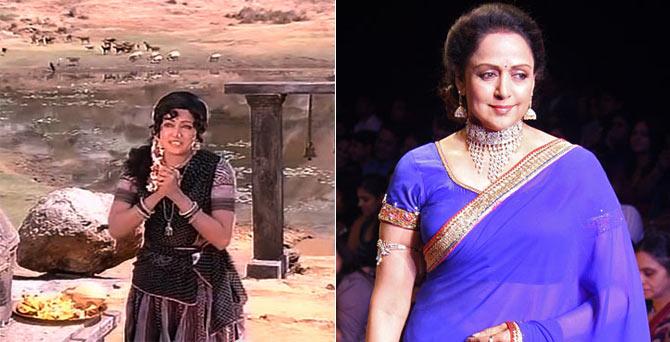 Be it the shy single mom in Andaz, chalk and cheese twins in Seeta Aur Geeta or the talkative tangewali in Sholay, Hema Malini did some of her most memorable work under Ramesh Sippy's direction.

Her yak-yak Basanti remains her most memorable role in a 47-year-old movie career that extends from playing the Dream Girl to teaming up with her Sholay co-star in the teary Baghban.

Sholay was also when the demure Iyengar girl from Madras finally fell for Garam Dharam, as Devyani Chaubal, the late diva of movie gossip, dubbbed him.Shaadi followed five years later.
The People's Representative from Mathura in the Lok Sabha unites with Ramesh Sippy on the upcoming comedy, Shimla Mirch.
Jaya Bhaduri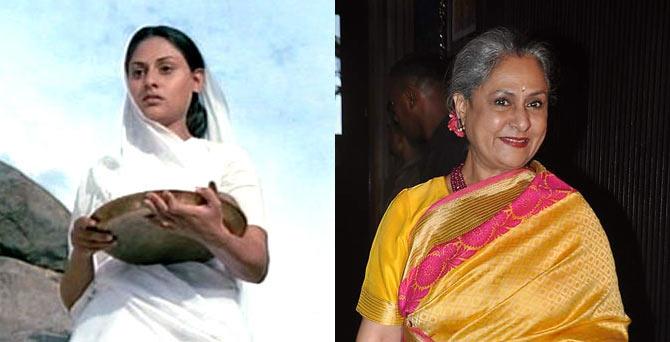 She may not have too many lines in Sholay, but Jaya Bhaduri, then considered the finest actress working in the Hindi film industry, created an emotional impact as the widowed daughter-in-law who nurses a soft corner for Jai.
In reality, the couple had been married for some months and Jaya was pregnant with their first child. In the years that followed, she has only done the occasional role, beginning with Silsila in the 1980s, Hazaar Chaurasi Ki Maa, Fiza, Kabhi Khushi Kabhie Gham and Kal Ho Naa Ho in the new century.
She hasn't made a movie in a long time, and seems content in her role as a Rajya Sabha MP.
Viju Khote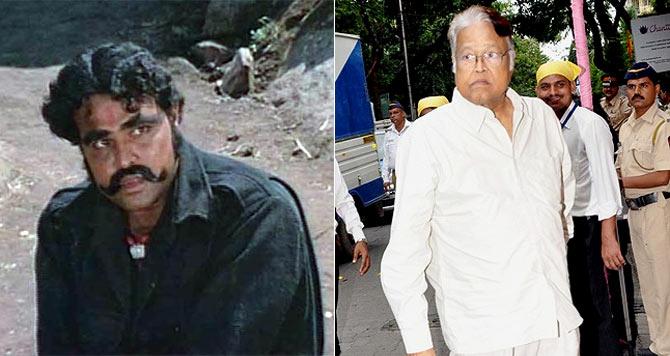 He made a lasting impression as Kaalia, one of Gabbar Singh's sidekicks, the one at the receiving end of the 'Kitne aadmi the?' line and the one who assures the terrifying dacoit that 'Sarkar maine aapka namak khaya hai.'
The scenes' presence in public memory is parodied in the comical interludes in Atithi Tum Kab Jaoge where he plays himself and is hounded by Kaalia fans with the persistent query: 'Kitne aadmi the?'
Asrani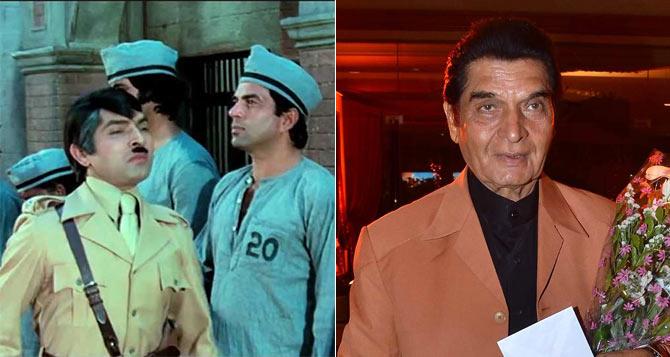 No mention of Sholay can be complete without a certain 'Angrezon ke zamane ke jailor.'
Jai and Veeru take the mickey out of Asrani's Hitler-inspired tomfoolery in the initial portions of the movie, but the actor has enjoyed quite a shelf life for the same.
These days the comic veteran appears in Priyadarshan fare and potboilers like Bodyguard, Bol Bachchan, R..Rajkumar.
Sachin Pilgaonkar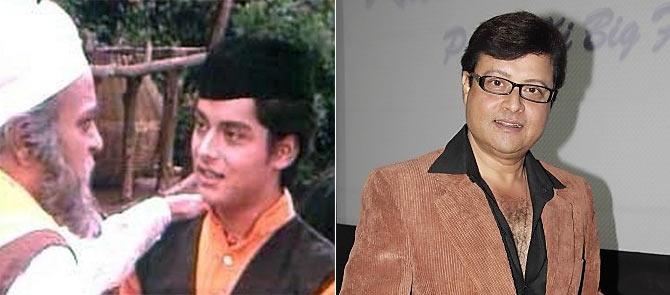 Sachin started out as a National Award-winning childish presence in the Marathi film, Ha Maaza Marg Eekla, followed by Hindi films like Jewel Thief, Brahmachari and Safar.
As a teenager, he extracted audience sympathy for his tragic turn as one of Gabbar's casualties in Sholay.

Later, he played leads in Rajshri fare like Geet Gaata Chal, Balika Badhu, Ankhiyon Ke Jharokon Se and Nadiya Ke Paar.
Sachin teamed up with his Sholay co-star Amitabh Bachchan in Trishul and Satte Pe Satta, but found better success behind the camera in Marathi cinema as well as the television comedy, Tu Tu Main Main featuring Reema Lagoo and wife Supriya Pilgaonkar.
Sachin and Supriya were also the first winners of the television dance show, Naach Baliye, beating back many younger competitors.
Helen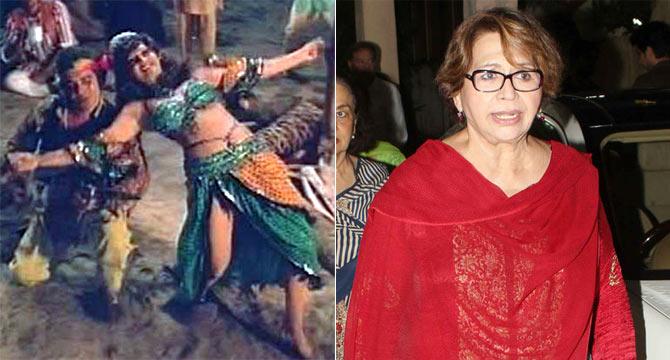 An established floor-burner since the 1950s, her belly jiggle to Mehbooba Mehbooba (the late Jalal Agha was her foil; the song was sung by the film's composer, the magnificent Rahul Dev Burman), is perhaps the only time Sholay turns on the heat for something other than violence.
Before briefly retiring from showbiz after she wed Sholay co-creator Salim Khan, Helen Aunty (as her step-son Salman Khan calls her) sizzled in chartbusters like Don's Yeh Mera Dil and Inkar's Mungra as well as played unglamorous roles in films like Lahu Ke Do Rang and Ram Balram.
Age hasn't diminished the elegance that distinguishes Helen from her peers.

Every once in a while, she returns to play characters like Manisha Koirala's song-loving granny in Khamoshi, a dance diva in Mohabbatein or a living legend (which she is!) in Heroine.
Jagdeep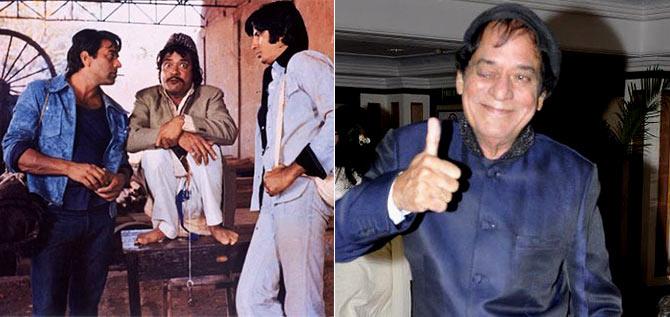 What links classics Do Bigha Zameen, Mother India and Sholay?
Jagdeep!
The goofy comic (whose son Javed Jafri is an amazing talent by the way) almost didn't play Soorma Bhopali, the timber seller with a peculiar accent in Sholay?

Pran was approached for the part, but after he turned it down, the role went back to Jagdeep. He accepted and the rest is movie legend.
The character became so synonymous with Jagdeep, he went on to direct and produce a spin-off Soorma Bhopali with cameos by Dharmendra and Amitabh Bachchan.

Andaz Apna Apna fanatics will recall his character -- Salman Khan's tailor-by-profession dad -- is named Bankelal Bhopali.
And the ones who live on in memory.


Sadly, not all of Sholay's cast are here to savour its enduring glory.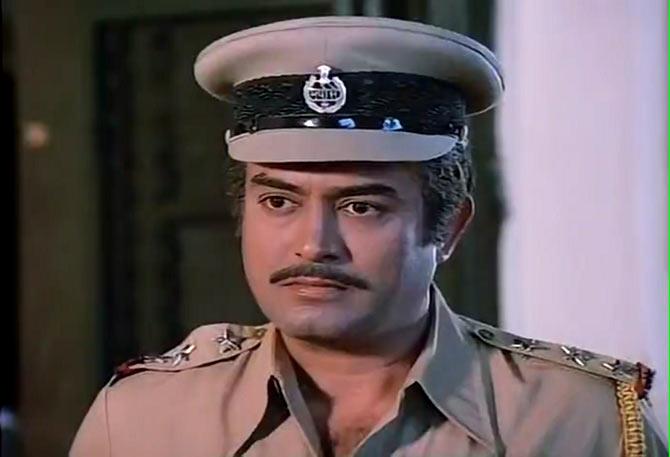 Among the most natural performers in Hindi cinema, Sanjeev Kumar could do justice to any role, any age or any length with his vitality, technique and talent.

His acting could convey the contained rage of the revenge-seeking Thakur Baldev Singh whose severed arms and massacred family prompts a single life goal -- Gabbar Singh -- alive, not dead.
Following Sholay, he played the arrogant R K Gupta in Yash Chopra's Trishul, a pair of oblivious lookalikes in Gulzar's Angoor and a bunch of Subhash Ghai potboilers before his death in 1985. He was only 50.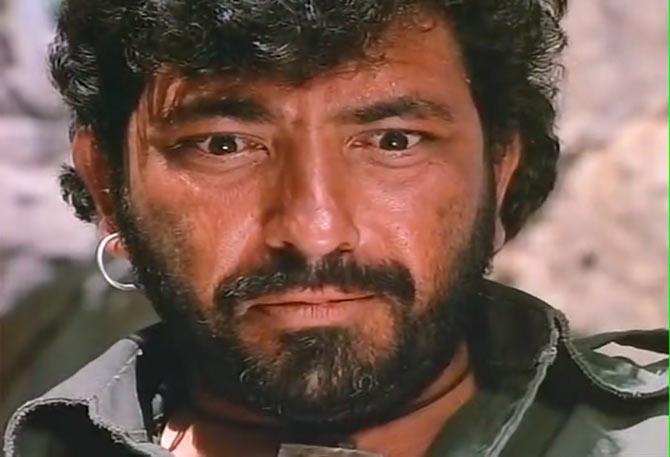 Amjad Khan bagged the role of Gabbar Singh, originally intended for Danny Denzongpa, and remains Bollywood's most celebrated and iconic villain.

In a career spanning just two decades, he showcased his range through roles in Yaarana, Lawaaris, Chameli Ki Shaadi, Utsav and Qurbaani.
The greatest tribute to his skill came from Satyajit Ray who said he would not make Shatranj Ke Khiladi because the actor was then seriously injured in an accident. Happily, he recovered and his performance as Wajid Ali Shah, the last raja of Oudh, remains a classic counterpoint to Gabbar Singh.
Tragically, we lost him in 1991, aged just 51.
Others like MacMohan (Gabbar's hilltop perched lieutenant, Sambha), Leela Mishra (the scandalised Mausi), A K Hangal (the sentimental Imaam Sahib) and Jalal Agha (the gypsy dancer in the Mehbooba song) have passed into the ages, but will always be remembered whenever Sholay is screened.