The man who edited Sholay died in penury.
Sonil Dedhia/Rediff.com visited M S Shinde in February 2011, a year before he passed away.
In a tragic twist of fate, the slum Dharavi houses a man who gave India one of her most revered films, Sholay.
M S Shinde was the film's editor, and the only person to win a Filmfare award for the movie.
He edited over 100 movies over the years, but the 81-year-old man is reduced to living in a 160 square feet small room with his youngest daughter Achala.
Things were not always so bad.
Until six months ago, they were living in Parel, central Mumbai. But the building collapsed, and they were forced to shift.
Even though their new home is a transit camp, they don't know how long they will live here.
Working for Rs 2,000 with the Sippys
Shinde is partially bed-ridden.
He cannot bend or sit for a long time and has been advised not to indulge in strenuous activities.
Recently, he underwent femur surgery. A cataract operation is also scheduled.
Back in his younger days, Shinde used to work on a monthly payroll of 2,000 with the Sippys. He edited most of Ramesh Sippy's movies -- Seeta Aur Geeta, Sholay, Shaan, Shakti, Saagar and the popular television series, Buniyaad.
He has also worked with producers like I S Johar and Sanjay Khan, and edited films like Soni Mahiwal.
The Shah Rukh Khan starrer Zamaana Deewana was the last film he edited, in 1995.
'I don't have any more hope from the film industry'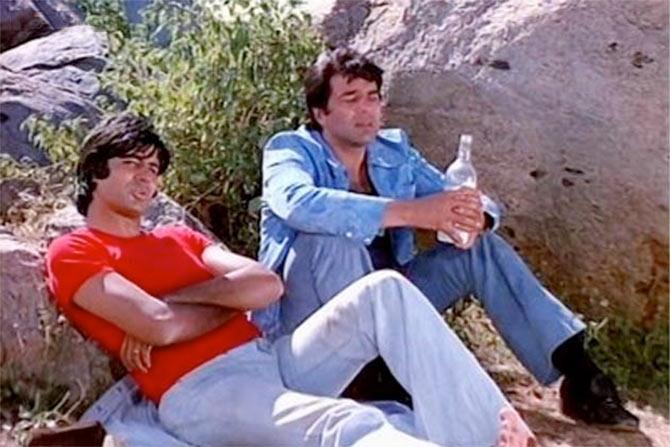 Shinde, who spent 35 years in the film industry, seems disillusioned by it.
"When I fell down last year, I wrote a letter to the Film Editors Association and they came to visit me. I got a cheque of 5,000. But I've not got any help after that. I don't have any more hope from them," Shinde says.
Did he approach any film personalities for help?
"Actors work for money and their own interests. Be it Amitabh Bachchan, Jaya Bachchan or any other celebrity. Why would they work for someone else's benefit? And why should I go to them?" Shinde asks.
'My father has never asked anyone for money'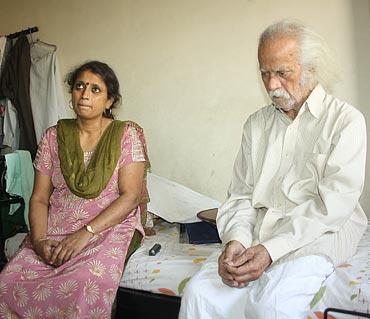 "My father has never asked anyone for money," Achala says. "There have been so many instances where producers haven't paid him for his work. But he did not go to them for money."
The only help he has received is from the Maharashtra Navnirman Chitrapat Karmachari Sena, who will take care of his cataract surgery expenses, and other medical expenses.
"Amay Khopkar and Shalini Thackeray have given us 51,000 and have promised to take care of the medical expenses," Achala says. "Barrister A R Antulay has promised 500 every month and has sent a lumpsump amount too."


'I did not get married to take care of my father'
To take care of their daily expenses, Achala runs a catering centre, where she takes orders for cakes and fruit juices.
"I did not get married because nobody would have been there to take care of my father. I had to quit my job," she says. "When we stayed in Parel, I had some kind of income. But since we moved, the orders have decreased. My (two) elder sisters, who are married, try to help us when they can."
EARLIER IN OUR SHOLAY SERIES