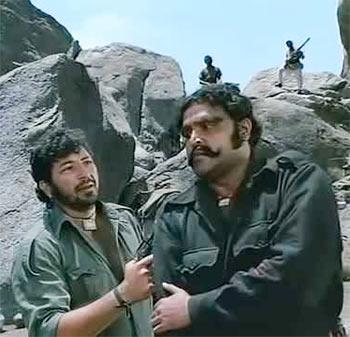 Celebrating the epic on its 40th birthday.
'Is story mein emotion hai, romance hai, tragedy hai,' declares Dharmendra's Veeru in one of his drunken moments in Sholay.
But there's more, much more, to Hindi cinema's landmark entertainer that lends to its mega appeal even after 40 years.

Since its release on August 13, 1975, its characters, language, attitude has seeped into our daily lives.
Until Ramesh Sippy's Sholay, penned by Salim-Javed, bearing influences of Akira Kurosawa's The Seven Samurai and Sergio Leone's Once Upon a Time in the West, Bollywood on-screen violence hadn't dared to be this bold or brutal.
In this desi Western, Ramgarh's vendetta-seeking Thakur (Sanjeev Kumar) employs two golden-hearted crooks -- Jai (Amitabh Bachchan) and Veeru (Dharmendra) to bring him the notorious dacoit named Gabbar (Amjad Khan) alive.
What ensues is alternately thrilling and tense, so uncompromisingly tense.

But that's just one of the things we love about Sholay.

Here are 40 reasons on the occasion of its 40th anniversary.
1. Dialogues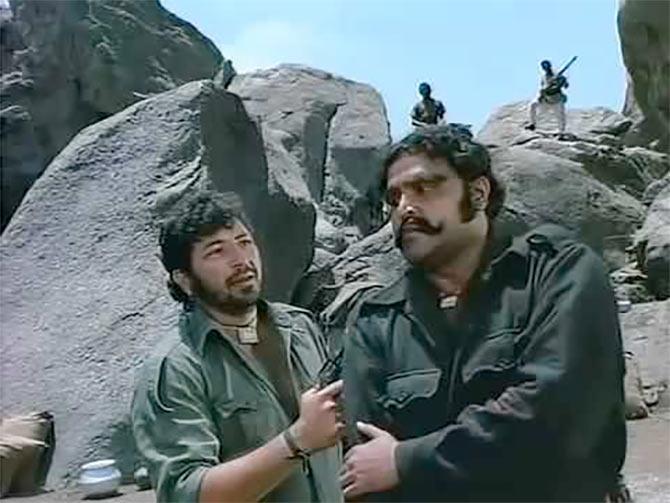 Sholay is a rare film that boasted of dialogue-specific cassettes that packed in its many iconic lines for our hearing pleasure.

Even today, lines like 'Kitne Aadmi The' Or 'Tumhara naam kya hai, Basanti?' are our greatest takeaway from the beloved classic.
2. The crackling background score

Be it the guitar n whistle theme, Jai's subdued harmonica or that eerie, ominous sound to announce Gabbar's chilling presence, Rahul Dev Burman's background score is even more effective than the songs he composed for Sholay.
3. Horses

They are everywhere in Sholay, as is the sound of their dedicated gallop, when ridden by dakus charging at a goods train or carrying the mighty Gabbar if not his latest casualty.
4. Asrani

His droll Hitler take-off as the 'Angrezon ke zamane ka jailor -- ha, ha!'

5. Ramgarh

Shot against the granite hills of Karnatak's Ramanagar, roughly 50 km from Bengaluru, Sholay bears a distinctly open, severe and striking landscape that gives the narrative its edge.
6. Shawl secrets

For the longest time, we see Sanjeev Kumar';s torso neatly concealed in a dull shawl but not a single glimpse of his arms.

Sippy builds up our curiosity and then goes for the disturbing reveal tailing a cruel flashback.
7. Sholay-styled proverbs

Folks in the film dole out the most fun, doozy fundas.

Here are a few samplers. 'Jo dar gaya woh mar gaya/'

'Keemat jo tum chaho kaam jo main chahoon.'

'Loha lohe ko kaat-ta hai.'

'Loha garam hai maar do hathoda..
8. The great train fight sequence

It lasts almost 10 minutes but there's never a dull moment as Jai and Veeru come to Thakur's cops' rescue against an army of relentless horse-riding bandits.
9. Dosti

Jai and Veeru's camaraderie isn't typically syrupy Bollywood stuff and involves incessant ribbing and pranks.

Dharmendra and Amitabh Bachchan exude such genuine warmth towards each other, it's one display of friendship that refuses to lose its fizz.
10. Dishkyaaon

No bullet fired in this atmospheric action film is arbitrary.

Every single one is part of a strategic scene, whether launched from Gabbar's pistol or Jai's rifle.
11. Gabbar's entry

An hour into Sholay, Amjad Khan's Gabbar finally pops up on screen but, boy, is he worth the wait!
Whipping that bullet belt on the rocks before his trembling minions and making the all-important inquiry, 'Kitne aadmi the??'

Wolf-whistles were created for moments like this.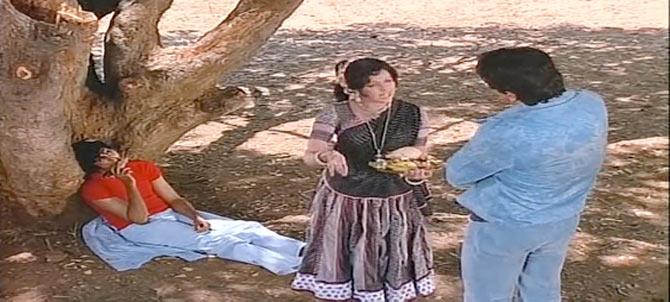 12. Heads or tails?

Jai's coin turns out to be one hell of a trick, which not only fools his best friend Veeru, but the audience too.

How different would Sholay turn out if the said coin wasn't 'heads' on both sides?
13. The look

Every character in Sholay -- regardless of good or evil -- bears a definite, consistent look, a comic-book reminiscent specificity.

Gabbar in his military greens, Thakur in the shawl and kurta, Jai-Veeru in denims, Radha's white sari and Basanti's chaniya choli.
14. Suiiiiicideeeeee!

No mention of Sholay is complete without a smashed Dharmendra's loquacious appeal and ultimatum, atop a water tank, for Basanti's hand and displeasure at Mausi's refusal over the same.
15. Scandalised Mausi

The changing expressions of Basanti's aunt, played by a delightful Leela Mishra, as Jai weaves a yarn about Veeru's debauched ways in an one-of-a-kind marriage proposal, alone are worth the price of admission.
16. Jai's sarcasm

'Tumhara naam kya hai Basanti?' is like the ultimate glimpse into Jai's reserved, sardonic personality.

Not to forget those scoffing 'Lag gaya nishana' brand of remarks he punctuates Veeru's shooting lessons to Basanti with.
17. Yin yang love stories


Before Gabbar takes over the scene, Ramesh Sippy smoothly establishes two contrasting romances in Jai-Radha's discreet affection playing off against Veeru-Basanti's rambunctious, effusive courtship.
18. Jai and Veeru's scooter with sidecar

So symbolic, so fun, joyride guaranteed.
19. Sidekicks
In our book, Gabbar underlings -- the gun-toting 'Ab tera Kya Hoga Kaalia' (Viju Khote), 'Arre O Samba' (MacMohan) are no less significant.
20. Basanti's bak-bak!
Jaya Bachchan hardly has any lines in Sholay. Hema Malini does nothing but yak in Sholay. Her 'Yun ke...' series could easily fill up half a dozen journals or more.
21. That scene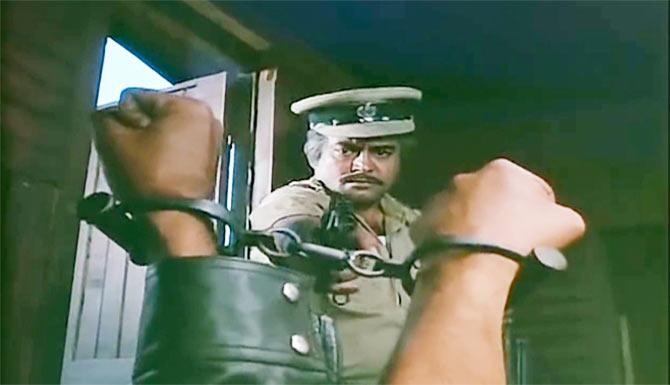 Sanjeev Kumar releasing Jai and Veeru from handcuffs to assist him against a sudden bandit attack on a goods train.
22. Jai's harmonica
When not darting sarcastic jibes at his flirtatious pal, Jai makes quite a heartfelt case of his own feeling playing the mouth organ as a tribute to his unspoken love for Radha.
23. Gabbar's complete disregard for toothpaste
Staining his pearly whites sure got Amjad Khan the part and provided Saif Ali Khan the inspiration to look suitably vile as Langda Tyagi in Omkara.
24. Dark and graphic
Arms get severed, families massacred. There's no scarcity of turmoil and torture in the dark, DARK world of Gabbar the maniac.
25. Gabbar's laugh
All the more creepy when it's followed by his cruel, menacing laugh.
26. Swag
Perhaps the slang wasn't in use around the time Sholay came out, but it aptly underscores the vibe of Sholay from start to finish.
27. Naach Basanti Naach
Basanti proves she's not all sound no fury by romping over broken glass to save her beloved Veeru from Gabbar's clutches during the ditty, Jab Tak Hai Jaan.
28. Helen's belly shakes!
Speaking of dance, can the original floor-burner be far behind?

Helen seduces and sizzles in and as Mehbooba like only she can with RD's Tarzan-inspired Ooo-ooo-ooh to boot.
29. Keshto's in it too!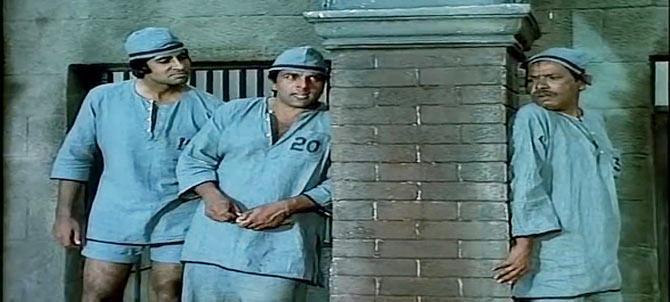 Cell mates Jai and Veeru whisper something about digging a 'surang' to escape in a deliberate bid to grab squealer Keshto Mukerji's attention.
30. Gabbar's gussa
Take a look at that badass 'won't spare you' expression in his unkind eyes.
31. The jhoola
The sound of a creaking swing that punctuates many a spine-chilling scenes of Sholay is one you associate most frequently with its stark imagery. And memory.
32. Image

Interesting how everyone goes for Gabbar's neck during Sholay's dishoom dishoom scenes.
33. Strong language
'Basanti in kutton ke saamne mat nachna.'

'Haramzade, tujhse bada kameena maine zindagi mein nahi dekha.'

'Suwar ke bachhon.'

Not just the catchphrases and applause-designed dialogues, but even the gaalis in Sholay are now part of movie legend.
34. Jai, the spoilsport
Remember the part where Veeru, playing God to hoodwink Basanti into admission, is caught red-handed by her thanks to Jai's prankish intervention.
And then those tall tales he comes up with to convince her Mausi how Veeru is both -- good and good for nothing.
35. Dhanno
If withstanding a painfully talkative mistress wasn't enough, Dhanno valiantly runs for her life and Basanti's in a nail-biting chase when Gabbar's men come to abduct the latter.
36. 70mm
'A 70mm format takes the awe of the big screen and magnifies it even more to make the picture even bigger,' explains Ramesh Sippy in a 2010 interview.
And it doesn't get any bigger than Sholay.
37. Those shoes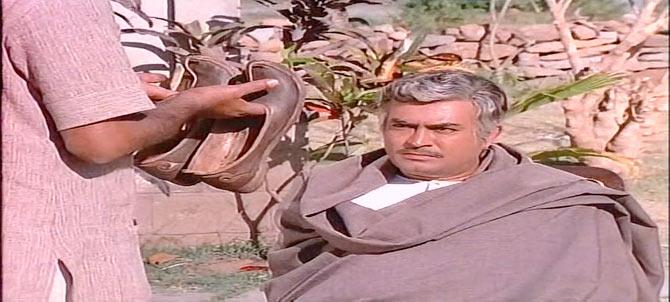 Thakur's custom-made shoes make all the difference in the end.
38. Stunning camerawork
Dwarka Divecha's cinematography doesn't merely film Sholay, it translates the script, captures its delicate nuances and creates unflinching, unprecedented drama on celluloid.
39. Thakur's limbless fight in the climax
It could look super corny, instead Sanjeev Kumar's furious intensity and Amjad Khan's resistance, quickly after Jai's tragic dismissal, makes the much-awaited retaliation most befitting.
40. The grand sets of Sholay

It all boils down to the magnificence of Ramesh Sippy's frames. Ram Yedekar creates the most brilliant set, among others, of Thakur's spacious, sprawling home.
FROM OUR SHOLAY SERIES: