A wonderful, warm, bowl of Pumpkin and Vanilla Soup along with lightly-cooked Walnut and Brown Butter Gnocchi will make your meal special.
Both dishes are not overfilling and make a great meal for two.
If you are reading this feature in the US, Happy Thanksgiving!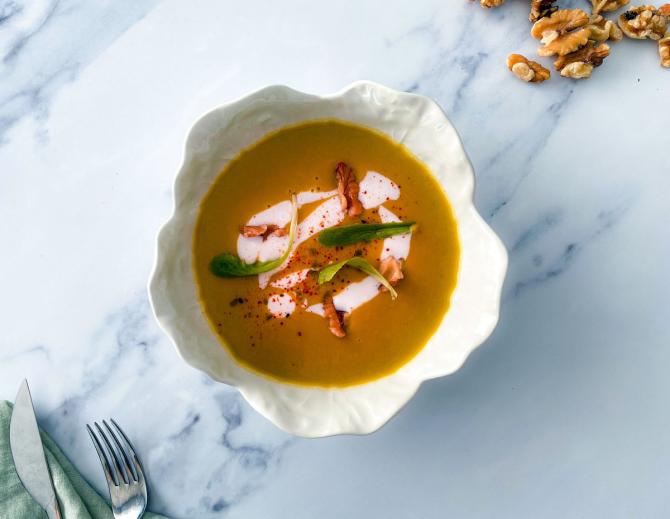 Pumpkin and Vanilla Soup
Serves: 2
Ingredients
250 gm lal bopla or kadu or pumpkin
2 tbsp extra virgin olive oil
1 pod or more garlic, chopped fine
1-inch piece ginger, grated
½ large onion
Handful chopped walnuts
¼ tsp or less vanilla essence
1 l water
Pinch pepper
Salt to taste
For the garnish
Arugula or rocket leaves, for garnish
Dash paprika
Drizzle of fresh cream

Chopped walnuts, for garnish


Method
Cut the pumpkin and onion in quarters and saute with the garlic and the ginger in a large heavy-bottomed saucepan with the olive oil over low-medium heat.
Add the walnuts and stir.
Cover the pumpkin with water and cook until the pumpkin is done and quite soft.
Mash the mixture well so there are no lumps in the soup or use a hand blender.
Add the vanilla essence, salt and pepper.
Adjust seasoning and take off heat.
Serve warm in individual bowls, each garnished with arugula leaves, paprika, some chopped walnuts and a drizzle of cream.
---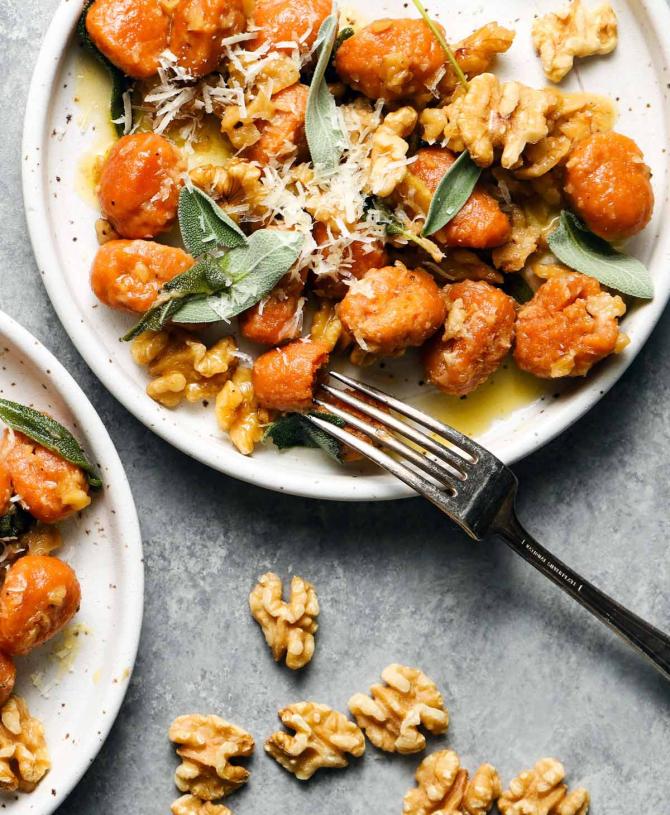 Walnut and Brown Butter Gnocchi
Serves: 2
Ingredients
450 gm sweet potato gnocchi or any kind of gnocchi, available in gourmet stores and online
¼ cup chopped walnuts
4 tbsp butter
1 tbsp or less brown sugar
½ tsp lemon zest or grated lemon peel
Few fresh sage leaves
¼ cup shredded or grated parmesan
¼ cup pasta water
Salt and pepper to taste
Dash curry powder, optional
To garnish
Shredded or grated parmesan
Chopped walnuts
Fresh sage
Method
Cook the gnocchi according to the package instructions.
Gnocchi will pop to the top of a boiling pot of water when ready.
Drain but keep aside ¼ cup pasta water.
Add 1 tbsp of the butter to the cooked gnocchi and set aside.
Melt the remaining 3 tbsp butter in a heavy-bottomed saucepan over medium heat.
Add the chopped walnuts, sage, lemon zest and saute a few minutes till it lightly browns.
Add the brown sugar and stir.
Add salt and pepper and the curry powder.
Add the reserved pasta water.
Add the gnocchi and the shredded parmesan.
Mix well.
Take off heat and plate.
Garnish with more shredded parmesan, chopped walnuts, sage and serve warm.
Recipe: Kind courtesy California Walnuts