Sangita Agrawal's hearty Minestrone Soup is loaded with vegetables and macaroni.
Wholesome, comforting and tasty, it is full of fibre and protein.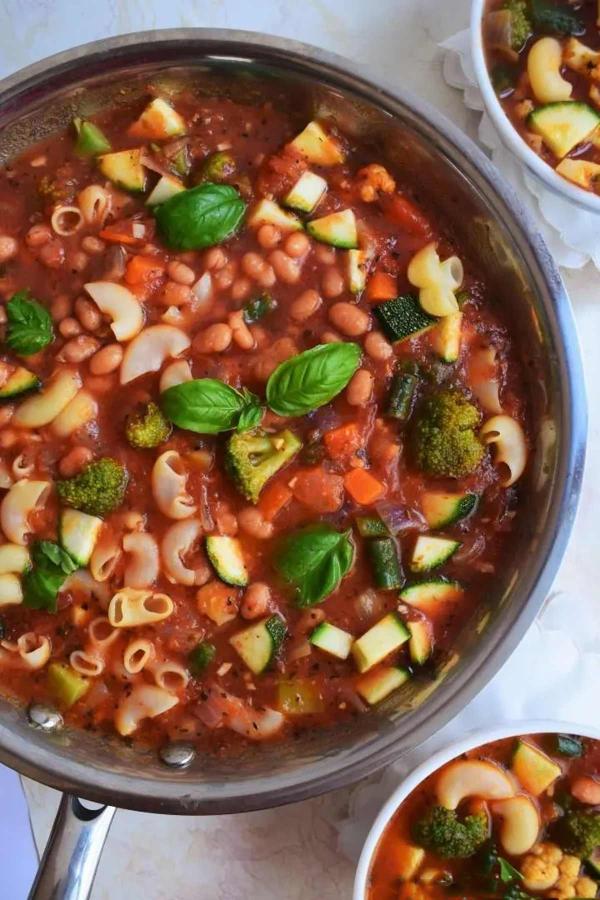 Minestrone Soup
Servings: 6
Ingredients
2 tbsp olive oil
4 garlic pods, minced
1 medium onion, finely diced
¼ cup finely diced carrots
¼ cup finely diced green beans
¼ cup finely diced cauliflower
2 tbsp finely diced celery (stalks and leaves)
¼ cup finely diced broccoli
¼ cup finely diced zucchini
½ tsp dried or fresh oregano
1 tsp dried basil
Salt per taste
A dash of freshly ground pepper
1 cup tomato puree (blanch and then grind fresh 3-4 fresh tomatoes)
4 or more cups vegetable broth (please see the note below)
½ cup uncooked elbow macaroni pasta or any other variety of small pasta
½ cup rajma or red kidney beans, soaked and cooked
For the garnish
2 tbsp chopped or torn fresh basil
1/3 cup finely grated Parmesan cheese
Tabasco sauce, as required, optional
Method
Warm the olive oil in a large heavy-bottomed saucepan with the diced onions and cook for a few minutes till soft.
Add the garlic and cook for 30 seconds or so.
Add the carrots, beans, cauliflower, celery and saute for about 2 minutes.
Stir in the dried oregano, dried basil, salt, and pepper.
Add the tomato puree, vegetable stock and let it come to a boil.
Add the kidney beans, broccoli, pasta and cook until the pasta is al dente -- not too soft (Al dente means 'to the tooth' or pasta that has a bite to it).
Add the zucchini and cook till the vegetables are tender.
Adjust the seasoning as per your taste.
Take off heat, ladle into bowls, top with Parmesan cheese, tabasco sauce and torn basil.
Serve hot.
Note: Liquid broth is available in some gourmet food stores. Or combine 2 vegetable soup cubes or 2 vegetable broth/bouillon cubes or 2 tsp vegetable broth/bouillon powder with 4 cups boiling water. Or make vegetable broth from scratch by boiling 4-5 cups water with 1-2 large roughly chopped carrots, 3 stalks roughly chopped celery with leaves, 2 medium onions chopped in chunks, 5-6 whole black peppercorns, 2 tsp salt, 4 tbsp chopped parsley with stems, 2 laung or cloves, 5 pods garlic, 2 tej pattaor bay leaves till vegetables are tender and the water is steeped with the flavour of the vegetables and spices.
Strain and use for the recipe.
To make soup for 2, use 1-2 tbsp of each vegetable and reduce the vegetable broth, tomato puree, kidney beans, seasonings and pasta by at least half.
Sangita Agrawal lives in Mumbai and publishes the food blog Bliss of Cooking.