Culinarian and food stylist Vindhya Karwa's creamy Cauliflower Soup can be served for dinner or for a light supper with crusty bread on the side.
Low in calories, this soup is made with baked cauliflower florets, coconut milk, lemon juice and vegetable broth.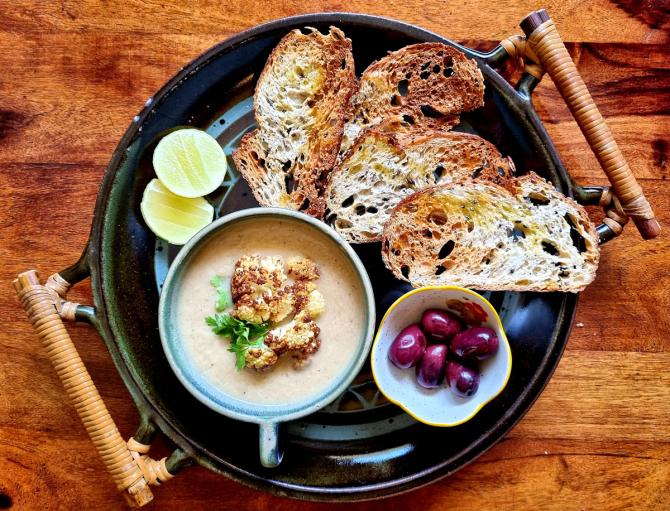 Cauliflower Soup
Serves: 3-4
Ingredients
2 cauliflowers, cut into florets
Extra virgin olive oil, for baking
Extra virgin olive oil, for frying
Salt to taste
Dash of black pepper
1 onion, chopped
5 garlic pods, minced
2½ tsp paprika
2 tsp jeera or cumin powder
¼ tsp haldi or turmeric powder
4 cups vegetable broth (please see note below)
1 cup water
2½ cup coconut milk
½ lemon juice
Green dhania or coriander or cilantro leaves, chopped for garnish
Method
Preheat the oven to 180°C.
Place the cauliflower florets on a large sheet pan or baking tray.
Sprinkle some salt and pepper over them.
Drizzle with olive oil generously and toss.
Spread out the florets evenly on the sheet pan and roast for 20-25 minutes or until cauliflower is tender and caramelised in some parts.
Take out of the oven and keep aside to cool.
Heat a little olive oil in a large heavy-bottomed pan or kadhai kept over low heat.
Add the onion and saute until translucent.
Add the chopped garlic, pepper, paprika, cumin and turmeric powder.
Add ¾ of the baked cauliflower florets and stir so well-coated with the spices.
Add the vegetable broth and water. Bring it to a boil.&
Let it simmer for 5-7 minutes.
Take off heat and let it cool down.
Transfer the contents of the pan into a blender and pulse until smooth.
Pour the cauliflower mixture back into the same pan over medium heat.
Stir in the coconut milk and lime juice.
Add the remaining cauliflower florets and stir.
Add the chopped coriander leaves.
Transfer into bowls.
Serve piping hot with whole wheat bread.
Note: Vegetable broth can be purchased ready made from gourmet food shops and online. Or use one soup cube/bouillon cube per 2 cups boiling water.
Or make fresh vegetable stock by boiling 4-5 cups water with 1-2 large roughly chopped carrots, 3 stalks roughly chopped celery with leaves, 2 medium onions chopped in chunks, 5-6 whole black peppercorns, 2 tsp salt, 4 tbsp chopped parsley with stems, 2 long or cloves, 5 pods garlic, 2 tej patta or bay leaves till vegetables are tender and the water is steeped with the flavour of the vegetables and spices.
Strain and use for the recipe.
Vindhya Karwa posts vegan and vegetarian recipes under the Instagram handle @vinsplate