A delightful cold weather special that will keep you warm and your belly full and happy.
Spice your mid-week meal with Chef Sabyasachi Gorai's aromatic Walnut and Lentil Balls in Coconut Curry.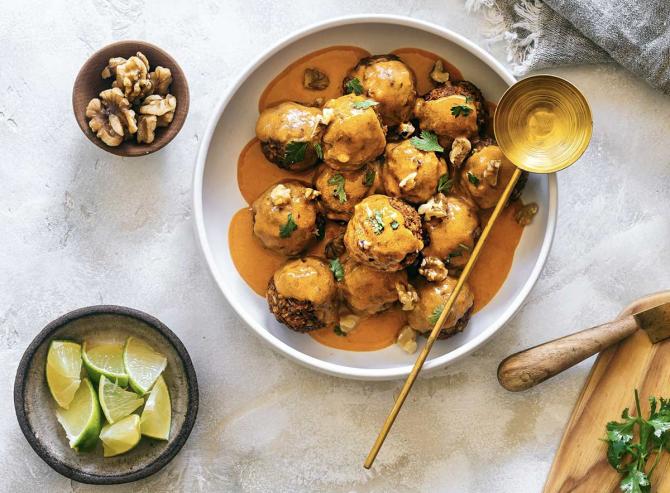 Walnut and Lentil Balls in Coconut Curry
Serves: 3-4
Ingredients
For the meatballs
1 tbsp extra virgin olive oil
½ medium yellow or white onion, chopped
1 large carrot, peeled, coarsely shredded
1 tbsp tomato paste
½ tsp ground ginger
½ tsp salt
1 pod garlic, minced
½ cup finely chopped walnuts
½ cup whole masoor or any brown lentils, cooked, coarsely ground
¼ cup dry breadcrumbs
1 egg, lightly beaten
Butter for greasing baking tray
For the coconut curry
1 can or 400 ml light or regular coconut milk
2 tbsp red curry paste
2 tsp cornstarch dissolved in 1 tbsp cold water
Juice of 1 lime, around 2 tbsp
Salt to taste
For the garnish
Green dhania or coriander or cilantro leaves
Thai basil or sweet basil leaves, optional
Snipped spring onion tops/greens
Lime zest or grated lemon peel, optional
Method
Warm the olive oil in a medium-sized skillet over medium heat with the chopped onion.
Add the shredded carrot and cook for 7 minutes or until very soft, stirring occasionally.
Stir in the tomato paste, ground ginger, salt and garlic and cook for 3 minutes more, stirring frequently.
Transfer to a large bowl and stir in the walnuts, lentils, breadcrumbs and egg.
Mix well.
Chill the mixture for 15 minutes.
Preheat oven to 200°C and line a large baking sheet with parchment paper or lightly grease the baking sheet with butter.
Roll the walnut mixture into 16 equal balls and place on baking sheet.
Bake for 20 minutes or until tops are lightly browned.
While the walnut-lentil balls are baking, bring the coconut milk and curry paste to a gentle boil in a medium-sized heavy-bottomed saucepan.
Whisk in the dissolved cornstarch and cook until slightly thickened.
Stir in the lime juice and salt.
Add the baked meatballs to sauce and gently stir to coat. Garnish as desired. Serve warm ith steamed rice or bread.
Chef Sabyasachi Gorai is a consultant chef and mentor.