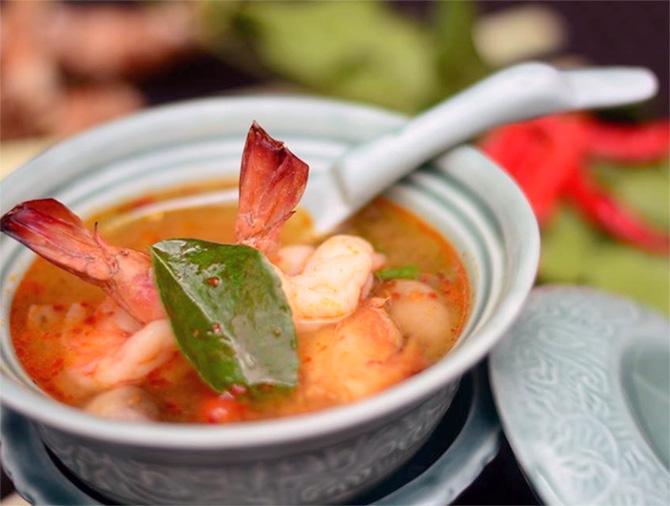 Slurp on to these delicious soups to stay warm this winter.
The ultimate comfort food in this season is undoubtedly a steaming bowl of soup bursting with flavours.
Spicy, replete with ingredients like ginger, turmeric, pepper, vegetables, that boost our immunity and perk up our taste buds, it could be a clear broth or a thick soup.
Five chefs from hotels across India share their recommendations and recipes with Mini Ribeiro.
Take a look.
Curried Cauliflower and Apple Soup Sphere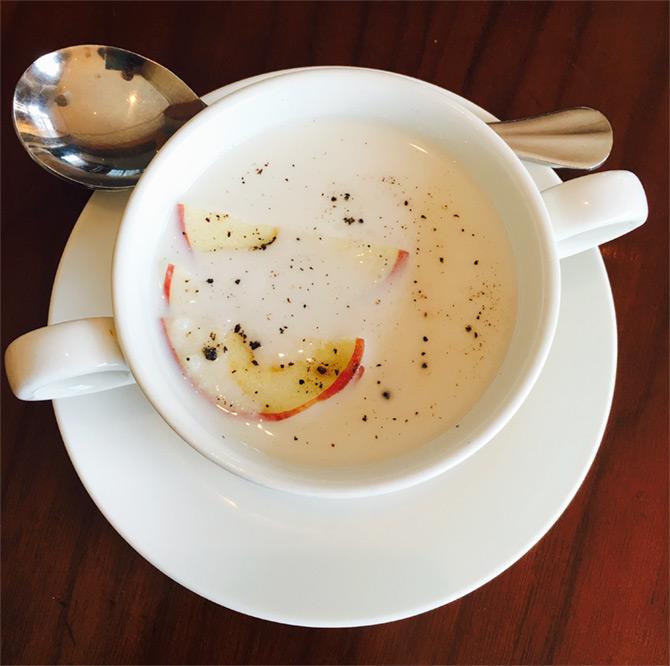 IMAGE: Curried Cauliflower and Apple Soup Sphere by executive chef Vikram Ganpule, Hyatt Regency Chennai
Ingredients
500 gm cauliflower florets
50 gm butter
50 gm celery
50 gm onion
50 gm leek
35 gm garlic
Salt to taste
20 gm apple
200 gm fresh cream
100 gm curry powder
20 gm thyme
50 gm carrot
Method
Thoroughly wash and roughly cut the celery, leeks, carrot, onion and garlic.
Make a vegetable stock of the above ingredients and keep it aside.
Rough cut the cauliflower; peel the apple and cut in to slices.
Sauté with butter, add curry powder and add the vegetable stock.
Gently boil for some time.
After 30 minutes, strain the mixture from liquid and blend it well.
Mix with excess liquid and boil for few minutes. Adjust the seasoning.
Finally add cream and finish it. Serve hot.
Carrot and Orange Soup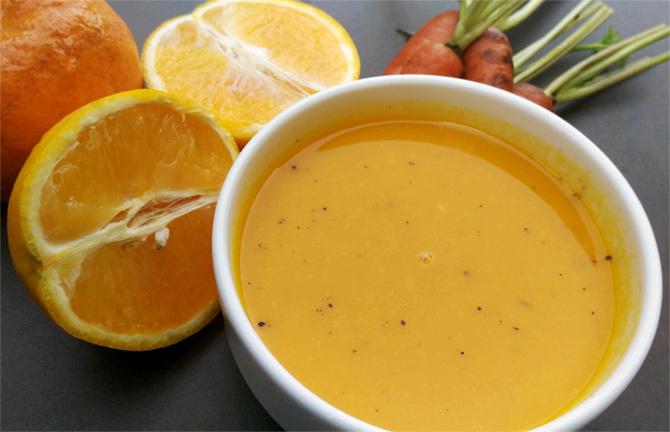 IMAGE: Carrot and Orange Soup by Executive Chef, Vikram Gakkan, Courtyard by Marriott, Pune, Hinjewadi
Ingredients
1 kg carrots thinly sliced
200 gm onions finely chopped
6 cloves garlic finely chopped
10 gm fresh ginger finely chopped
3 tbsp vegetable oil
3 medium sized oranges
1 litre vegetable stock
1 bay leaf
Salt and pepper to taste
Method
Take a large saucepan and heat oil over medium heat.
Add chopped onions, sliced carrots, ginger and garlic.
Cook them together, stirring occasionally until golden brown.
Meanwhile grate the orange to yield 2tsp of orange zest and remove 1/2 cup of orange juice.
Add the vegetable stock, orange zest and bay leaf to the vegetables.
Bring everything to boil and reduce the heat and let it simmer for 20 minutes.
Once the vegetables are cooked, puree it in batches in a food processor or a blender until smooth.
Return the pureed soup to saucepan. Stir in the orange juice and season it well.
Allow it to cook for few minutes on a medium heat.
Serve hot.
Cellophane Noodle Soup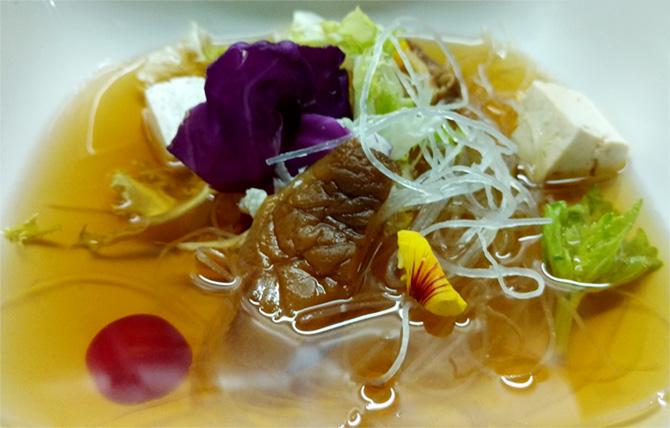 IMAGE: Cellophane Noodle Soup by executive chef, Kshitiz Shekhar, Hotel Marine Plaza Mumbai
Ingredients
10 gm shiitake mushrooms
5 gm lily bud, dried
25 gm cucumbers
5 gm garlic
20 gm white cabbage
300 gm water
30 gm noodles, cellophane 'glass'
5 ml soya sauce
5 gm brown sugar
20 gm tofu
2 gm fresh coriander leaves
Method
Soak the shiitake mushrooms in warm water for 30 minutes.
In a separate bowl, soak the dried lily buds same way.
Place cucumber, garlic and cabbage in a food processor and blend to a smooth paste; transfer into a large pot and add water.
Bring to a boil, reduce the heat and simmer for about two minutes.
Strain through a fine muslin and sieve into another pot.
Return to heat and leave to simmer.
Drain the lily buds, rinse under cold running water and cut off the hard ends.
Add to the stock together with the noodles, soy sauce and sugar. Simmer for 5 minutes
Strain the mushroom liquid into the soup; discard the stems and slice the caps.
Divide the sliced mushrooms and tofu equally in pre-warmed soup cups and pour over with the soup.
Garnish with a few coriander leaves and serve.
Tom Yum Thalay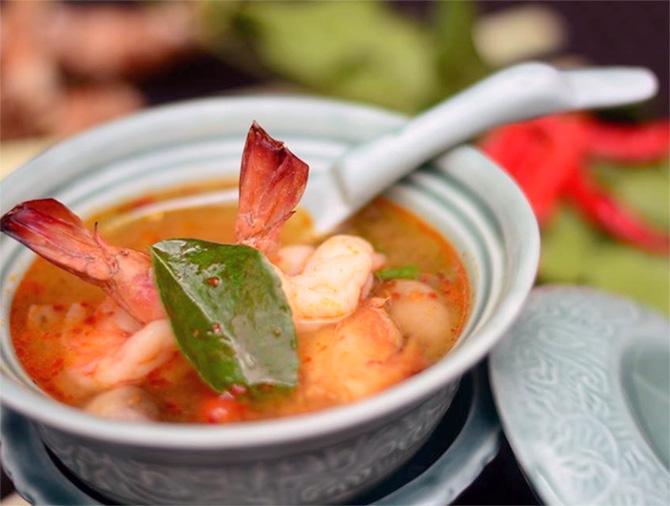 IMAGE: Tom Yum Thalay by chef Veena Arora, Chef De Cuisine The Spice Route, The Imperial New Delhi
Ingredients
30 gm squid
30 gm sole fillet
60 gm prawns
30 gm lemon grass
15 gm kaffir lime leaves
30 gm galangal
1/2 stock cube
10 ml lemon juice
3 gm chilli
8 gm Tom Yum paste
10 gm coriander
5 ml fish sauce
Method
Pour water into the pot.
Add the cube then the herbs and the rest of the ingredients. Mix well.
Bring it to a boil and serve hot.
Minestrone Alla Genovese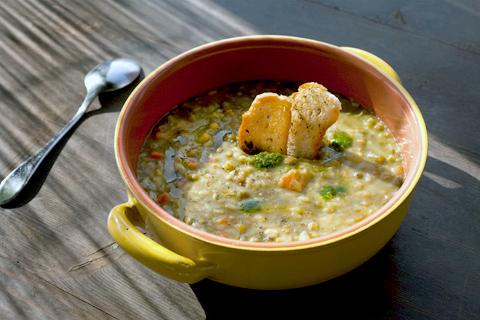 IMAGE:
Recipe by Executive Chef, Suresh Thampy, Sheraton Grand Bangalore Hotel at Brigade Gateway
Ingredients
200 gm barley
8 gm onions
80 gm carrots
100 gm green zucchini
5 gm parsley
5 gm fresh basil
330 gm potatoes
3 gm salt
2 gm ground pepper
700 ml water
3 gm garlic
60 gm celery
350 gm tomatoes
200 gm beans (Borlotti)
250 gm pumpkin
60 gm extra virgin olive Oil
150 gmn leeks
400 gm cauliflower
200 gm peas
A pinch of nutmeg and rosemary
2 bay leaves
Method
Soak the barley for 12 hours. Cook for 30 minutes with a pinch of salt and tbsp of olive oil.
Wash all the vegetables, and make sure to peel the carrot and the potatoes.
Cut all the vegetables into small cubes of 1x2 cm and soak them in cold water.
Chop an onion and cook it in a hot pan with a drop of extra virgin olive oil.
After a minute add the celery, carrots and potato. Stir for a minute.
Add all the other vegetables and add some water.
Blanch the tomatoes in hot water for a minute. Transfer it to a container with ice water to stop the cooking process.
Remove the skin and cut it in two parts and remove the seeds.
Add the peeled tomato to the soup. Add grated nutmeg, rosemary, bay leaves and salt.
Slow cook the soup for around 30 minutes.
Take 1/4 of soup and grind the same in a kitchen blender. Add the remainder of the soup as well.
Chop some fresh basil and parsley and add to the soup.
Before serving, add in the cooked barley and serve hot with some extra virgin olive oil.
You can also finish the soup with some grated parmesan cheese and some toasted bread. (Optional)
Dear readers, you can send us your favourite winter recipes too.
Write in to us at getahead@rediff.co.in (subject: Winter Recipe) with your name, hometown and any interesting details about the origin of the recipe, along with a photograph if possible.
We'll publish the best preparations right here on Rediff.com.