The coronavirus outbreak is definitely changing the way we dress to work... ermmm... from home.
Illustrations: Dominic Xavier/Rediff.com
Most of us probably prefer working in our PJs (day ones and then night ones; mind you, they are different). Yoga pants. Sweats. Shorts.
Or even undies.
Who do you dress for, at home?
With hardly anyone around who is going to appreciate your style sense.
And that's one of the worst things about this lockdown. No reason to dress.
But hey why can't you dress up to stay home.
Are you one of those types?
Then let's inspire you to use your clothing to get a sense of order in your life.
>> Too much time, too little to do?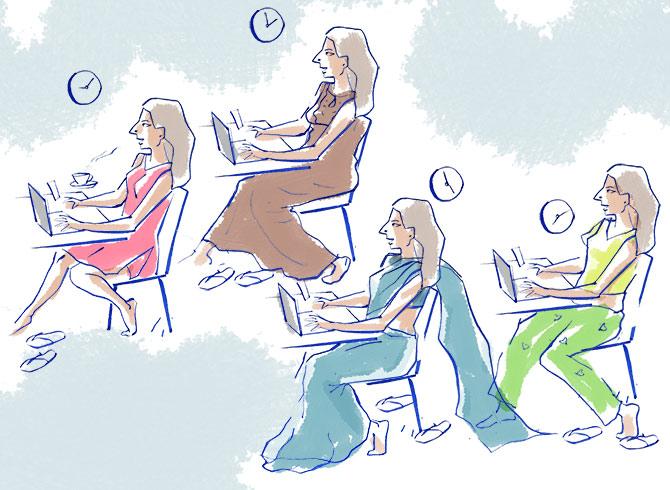 Have a pile of freshly ironed work clothes lying unused in your wardrobe? Fret not! Change your work from home look by the hour. Or according to your comfort. And the makeup too.
What's stopping you from making a style statement?
Ditch your sweatshirts for something more formal and business-like. Have fun with your looks and chose office-appropriate silhouettes that will make you feel charged and more in control.
>> This one is for the sports crazy!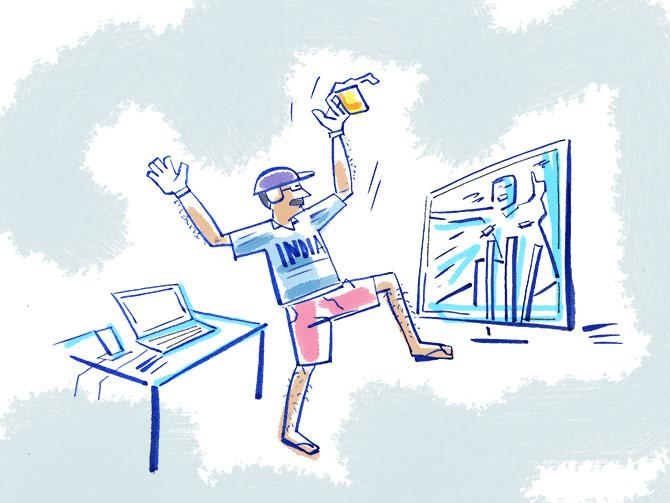 Lots of spare time obviously.
Instead of lazing around, why not get your adrenaline pumping watching an old cricket or football match?
Get out the jersey of your favourite team and some of your other sporting gear. Switch on the match -- like when India won the World Cup --- on your plasma television and get set for an eventful day.
>> Say YES to the fun look
Not in the mood for something formal -- opt for a cute pair of beach shorts and a colour-coordinated top or bralette.
It's a lot better than being wrapped up in a sheet or towel all day.
It makes for a really cute silhouette, especially when you are also on a video-call with your boyfriend.
Don't forget the make up. Add a little splash of colour to your face and you'll soon notice the difference it makes to your mood!
>> Have kids at home? Keep your safety gear handy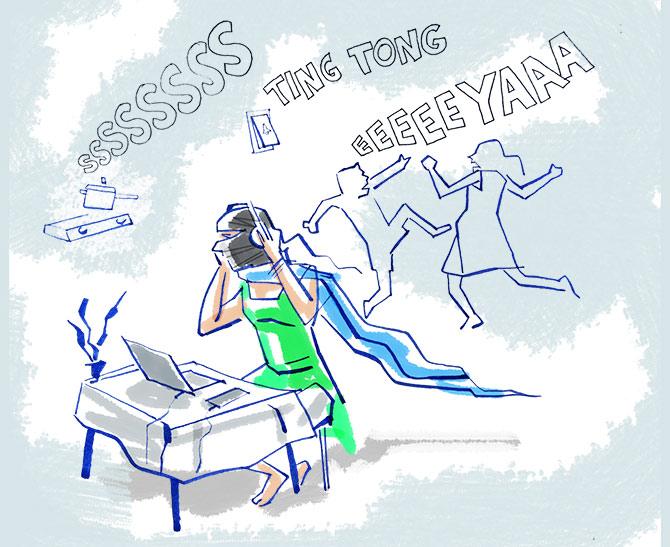 Having your offspring around while you are working from home can be a huuuuuge nuisance.
Imagine having to call your boss or attend a video call with your children fighting in the background. Or a meowing cat strolling through.
Not always possible to avoid the embarrassing video-bombing.
If that is the case, don't hesitate to equip yourself wisely.
---
Share your work from home look with us and we will publish the most interesting ones.
Write in to us at getahead@rediff.co.in (Subject: Work From Home Look) along with your NAME, AGE and LOCATION.
Don't forget to tell us what you do and why you chose the look. We'll publish the best responses right here on Rediff.com.