We bring you the recipe of Vattayappam, a steamed rice cake made during Christmas in homes in Kerala.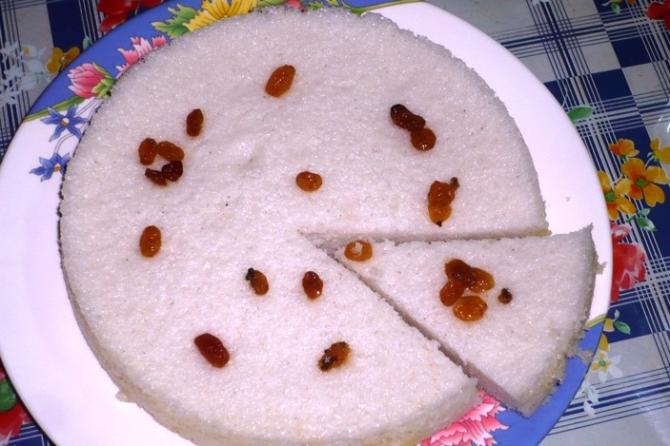 Photograph: Kind courtesy Sajetpa/Wikimedia Commons
Ingredients:
2 cups rice (Parimal chawal)
1/2 coconut
1/2 tsp dry yeast (you can also use half glass toddy)
Sugar as per taste
Method:
Soak the rice overnight. If you are making the dish during winter, make sure that you soak the rice for at least 8 hours. Next morning, grind it to a fine mixture. Do not add a lot of water when grinding it. The batter should be slightly thick and not watery.
Once the rice is ground, add yeast to it and let it set for 4-5 hours. Yeast has to be mixed in a little warm water with one tsp sugar and then added to the ground rice. You can later add sugar to the mixture as per your taste.
Place the mixture in greased flat vessels and steam in a pressure cooker for 15-20 minutes. You can garnish it with raisins before steaming it.
Remove from cooker and let it cool. After the Vattayappam cools, cut it into slices.
Tip: To make Vattayappam softer, you can add one cup of cooked rice to the mixture while grinding it.
ALSO SEE