We bring you traditional Christmas recipes from Nagaland.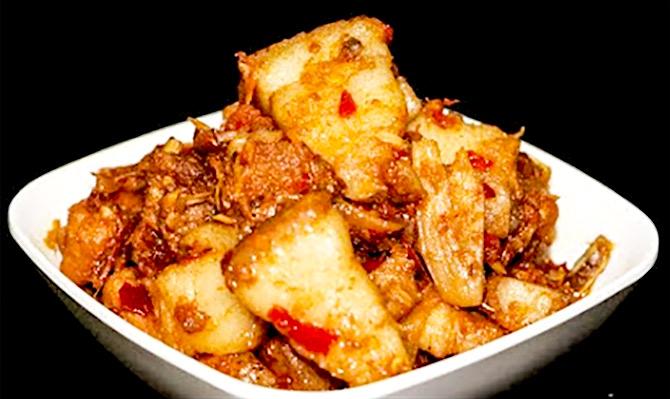 Megovino Kehie shares her recipe for Pork with Bamboo Shoot.
"This dish is mostly prepared by the Angami Naga, a major tribe of Nagaland," she says.
"The cuisine has been passed down from great ancestors. It is prepared on occasions like weddings, Christmas, harvest festival, etc."
Ingredients:
1 kg pork
1 tbsp washed and sliced bamboo shoot (baans ki kalli)
1 tsp ginger paste
1 tsp garlic paste
1 dried or fresh king chilly
3 tsp red chilli power
Salt to taste
Method:
Cut the pork into medium-sized pieces and place it in a cooking pot.
Add salt, king chilly, chilli powder and enough water to immerse the pork.
On a medium high flame, cook the meat, king chilly and chilli powder for 30 mins or until the pork is half cooked.
Add the sliced bamboo shoot and stir the mixture.
Add some water and cook the meat until it is cooked or the water has almost evaporated.
Add in the ginger and garlic paste and stir fry for about 2-3 minutes. Make sure there is enough water in the dish so that it doesn't burn.
Add some more water and let it boil for 5 minutes. The curry formed should be medium thick. Serve hot with rice.
Tip: This dish is usually served dry, but you can add a cup of water with the remaining ingredients, if you want a gravy.
---
Chicken with Bamboo Shoot
Journalist and founder at Northeast Odyssey, Hoihnu Hauzel shares her secret recipe.
Serves: 6
Ingredients:
1 kg chicken
200 gm bamboo shoot
½ cup rice powder
2 tsp finely chopped green chillies
1½ tbsp chopped ginger
1 tbsp chopped garlic
1 tsp salt
Method:
Clean chicken, cut into 2" pieces and wash.
Wash bamboo shoot and cut into 1" pieces.
Place 2 cups water in a pan and bring to boil over high heat.
Add bamboo shoot, cover pan and cook over moderate heat for about 5 minutes.
Add chicken and cook for about 5 minutes longer.
Blend in rice powder and keep stirring.
Stir in remaining ingredients and continue stirring constantly for about 10 minutes, till the chicken is cooked and gravy thickens.
Lead pic used for representational purpose only. Kind courtesy: Krista/Creative Commons
ALSO READ:
---
Ask your mother, dad, husband, aunt, uncle, grandmother or maybe your food-loving neighbour to share those yummy, nostalgia-filled traditional Christmas recipes.
Share your recipes along with a small write-up on what the preparation means to you.
Email your recipes and a pic of the dish, if you have one, to getahead@rediff.co.in (subject: Christmas Recipes) with your NAME and HOMETOWN, and we'll feature the best ones right here on Rediff.com.