Indulge in scrumptious waffles this Christmas. Take lessons from Nishita Biyani!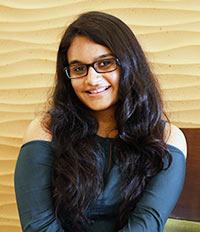 It's that time of the year when you wouldn't mind cheating on your diet.
With Christmas round the corner, your house must be thronging with family and friends.
You have your party decor, food and beverage menu in place... but, what about feeding their sweet tooth?
So here's a twist to your regular sweet dishes.
Serve waffles with yummy toppings to satiate their taste buds.
Tista Sengupta/Rediff.com catches up with Nishita Biyani (pictured left), owner of Wafflist, Mumbai who shows us how to make insanely delicious waffles.
---
How to make Waffles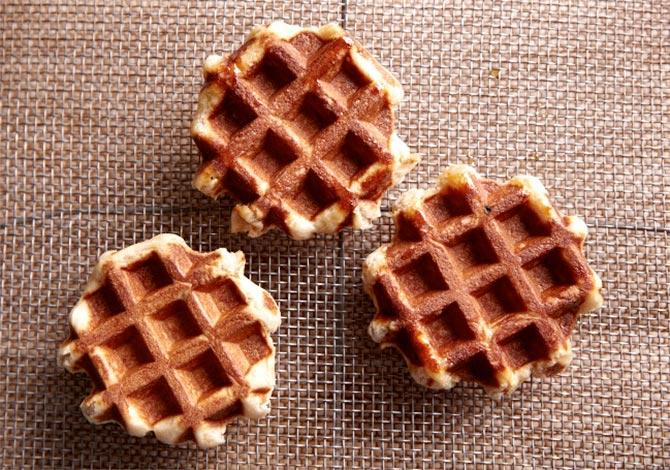 Ingredients
2 cups all purpose flour
3 tbsp sugar
1

1/2

tsp baking powder
1/2 tsp salt
2 cup milk
9 tbsp unsalted butter
Vegetable oil
Method
Preheat your waffle iron.
Sieve all the dry ingredients and set aside in a bowl.
Melt the butter.
Add the butter and milk to the dry ingredients. Mix and whisk it well until no lumps are left.
Rest the batter for 30 minutes.
Set the waffle iron temperature to 180 degree Celsius. Brush it with some vegetable oil.
Add a ladle of batter to the iron.
Bake for about four minutes.
Once the waffle is completely baked, remove it from the waffle iron and place it on a plate.
Top it with your favourite toppings like honey, butter. For those who want to cut the sweetness, add a dash of black pepper.
Serve.
Watch the video below to learn how to make waffles at home:
---
Waffle in a coffee cup
Ingredients
1 baked waffle
A coffee cup
A scoop of vanilla ice-cream
Molten chocolate
8 to 9 strawberries
Whipped cream
Chocolate sauce
Method
Cut the waffle into small pieces.
Take a coffee cup and place the pieces of waffles in it.
Add a scoop of ice-cream on the waffle pieces.
Place some more pieces of waffles on it.
Add molten chocolate and few cut strawberries.
Repeat the layers till the cup is full.
Once the cup is full, finish it with whipped cream, chocolate sauce and a few more strawberries.
Serve.
Note: If you want to splurge, you may also top it with fresh raspberries and blueberries.
Click on the video link below to see how to make waffle in a coffee cup:
---
Everything Waffle
Ingredients
Dark chocolate*
Milk chocolate
Strawberry compote
Chocolate fudge
Kit Kat or any other chocolate of your choice
Butterscotch nuts
A big scoop of ice-cream
Method
Take a waffle and drizzle dark chocolate followed by milk chocolate on it.
Add some whipped cream now.
Top it up with a fresh strawberry compote and chocolate fudge.
Place a few pieces of Kit Kat on the top.
Finish it with some butterscotch nuts and a nice big scoop of ice-cream.
Serve.
*Use as per your liking.
Watch the video below to know how to make an Everything Waffle:
Photographs: Courtesy Wafflist
Video: Afsar Dayatar/Rediff.com
ALSO SEE
Party appetisers: 5 finger-licking chicken recipes
You can send us your favourite party recipes too. Write in to us at getahead@rediff.co.in (subject: Party recipes) with your name, hometown and any interesting details about the origin of the recipe, along with a photograph if possible. We'll publish the best preparations right here on Rediff.com and in India Abroad.