In the third of a series featuring Christmas celebrations in different Indian communities, we take a trip down to Tamil Nadu.
ALSO SEE
Christmas recipe: How to make Milk Pudding
Christmas recipe: How to make Raan Roast
Christmas season among Tamil Christians is heralded gastronomically with a tidal wave of snacks: murukku, Acchu Murukku (rose cookies), adhirasam, kulkuls, Sweet and Spicy Diamond Cuts, Rava laddoos, sweet Somaas, Mutton Samosas.
Christmas breakfasts invariably include idli or appam with mutton or chicken korma. And lunch is mostly biryani.
Kavitha shares a family recipe for a traditional Madras Christian mutton curry:
Mutton Korma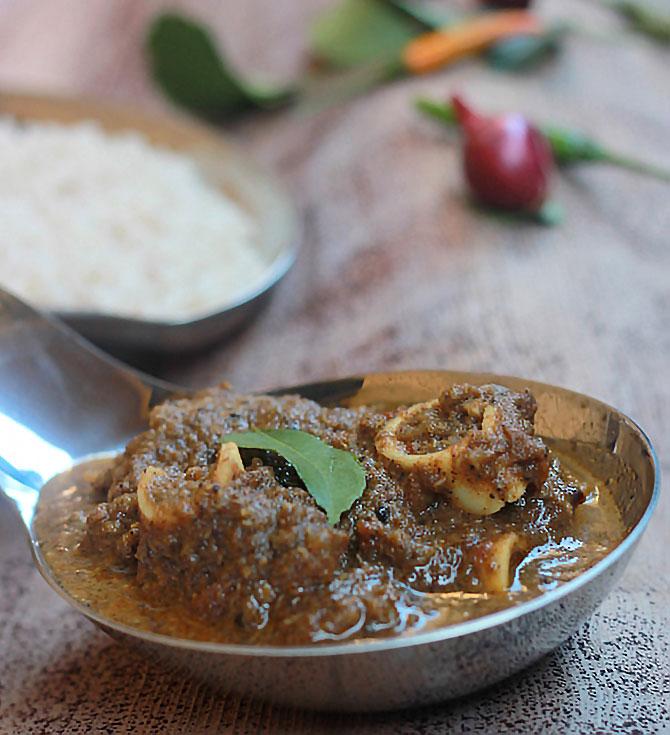 Ingredients
1 kg mutton curry pieces with some bones
1 and 1/2 tbsp garlic and ginger paste
1 and 1/2 tbsp cilantro paste
10 green chillies, slit
2 medium onions, sliced
Salt
1 large tomato chopped small.
Clean 1/2 coconut and grind with water to a smooth paste.
1 large potato, boiled, chopped, optional
1/2 a lemon
Method
Heat oil. Add 10 cloves, 5 green elaichi, 1 to 2 bay leaves. Crackle few minutes.
Add onion. Add haldi garlic and ginger. Fry nicely.
Add green dhania paste. Fry for a few more minutes.
Add chillies and tomatoes. Add meat and salt. Cook on low heat for nearly an hour.
Just before serving, add coconut and if need be some boiled water.
Give it a boil and add boiled potato and juice of 1/2 a lemon.
Image: s4's world/Creative Commons
ALSO SEE
Christmas recipe: How to make Milk Pudding
Christmas recipe: How to make Raan Roast
5 traditional Christmas recipes
Droolworthy X'mas recipes just for you
Party appetisers: 5 finger-licking chicken recipes
Video recipes: Make insanely delicious waffles at home!
You can send us your favourite party recipes too. Write in to us at getahead@rediff.co.in (subject: Party recipes) with your name, hometown and any interesting details about the origin of the recipe, along with a photograph if possible. We'll publish the best preparations right here on Rediff.com and in India Abroad.
>Click here for interesting recipes and food features!