We continue our special series on traditional Christmas recipes from Christian communities around India.
Today, Anita Aikara shares her aunt Joyce Benny Meledath's recipe of milk pudding.
ALSO SEE Christmas recipe: How to make Raan Roast
Kerala Noel feasts
No Christmas meal in a Syrian Christian household is complete without tharavu (duck) curry.
Nadan Tharavu curry and Tharavu Roast are very popular dishes.
Breakfast is usually mutton or chicken stew served with appam.
Lunch is a lavish affair, with families at times opting for a six to seven course meal. It starts with fish fry, followed by chicken cutlets and beef roast/fry/chilly.
Then there is Meen Molee (fish in coconut curry), Nadan Kori (chicken curry), tharavu roast/curry/fry, Karimeen Pollichatu, vegetable thoran, steamed nendra-pazham(Kerala-style steamed bananas) or nendra-pazham porichathu, and chicken or Malabar biryani.
Nowadays people prefer vegetable pulav or steamed rice instead of biryani. The meal ends with custard or bread pudding.
Visit a Syrian Christian's home on Christmas, and you're sure to be welcomed with goodies like Vattayappam (steamed rice cakes), puffs, rava (semolina) and rice laddoos, muruku, kuzhalappam, achappam (rose cookies) and Kerala-style plum cake.
They also make laddoos out of avalose podi (roasted rice powder with coconut).
Anita Aikara talks to her aunt Joyce Benny Meledath who loves cooking traditional recipes. Joyce says she learnt this recipe from her sister-in-law in Thrissur.
Here's the recipe:
Milk pudding with caramelised cashew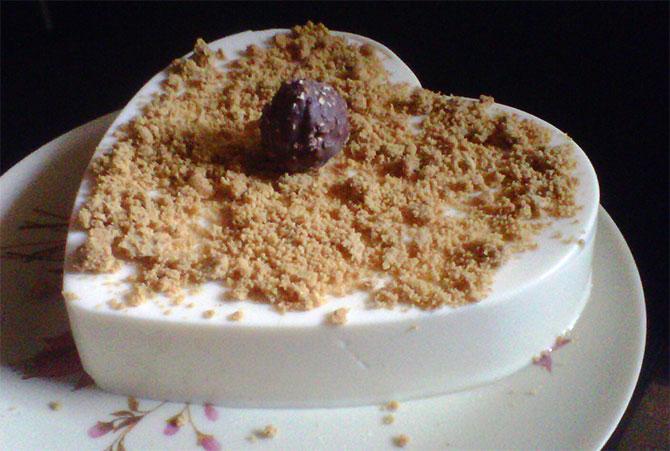 Ingredients
For the pudding
2 litre milk
1 tin or 400 gm condensed milk (Milkmaid)
600 gm china grass, preferably Brown & Polson's
For carmelised cashews
10 to 15 cashew nuts
1/2 cup sugar
For the pineapple base
1/2 cup sugar
1/2 cup water
10 to 15 slices fresh pineapples
Method
For the pudding
Heat the milk in a pan. Bring it to a boil.
When it boils, reduce heat and add Milkmaid.
In another pan, dissolve china grass in a little water.
Once the china grass dissolves, add to the milk.
Heat the milk on medium heat for around 20 minutes, stirring continuously.
Turn off heat and let the mixture cool. If the china grass has not dissolved well, there will be lumps in the mixture.
Strain the milk so that any lumps are removed.
Refrigerate for 2 to 3 hours.
For the caramelised cashew topping
Heat the sugar. Add cashews. Mix well.
Keep stirring the mixture until the cashews are well coated with sugar.
Turn off the heat. Cool and grind them. Be careful not to powder the cashews.
For the pineapple base
Heat sugar in a non-stick pan with water.
Place the pineapple slices in the pan. You can also use canned pineapple.
As the pineapple cooks, keep turning the slices until they turn golden brown.
Turn off the heat and let the pineapple slices cool.
To assemble
In a deep flat bowl place the pineapple slices. Pour the pudding over the slices.
Garnish with the caramelised cashews.
Photo courtesy: Joyce Benny Meledath
ALSO SEE
Christmas recipe: How to make Raan Roast
5 traditional Christmas recipes
Droolworthy X'mas recipes just for you
Party appetisers: 5 finger-licking chicken recipes
Video recipes: Make insanely delicious waffles at home!
You can send us your favourite party recipes too. Write in to us at getahead@rediff.co.in (subject: Party recipes) with your name, hometown and any interesting details about the origin of the recipe, along with a photograph if possible. We'll publish the best preparations right here on Rediff.com and in India Abroad.