We'd asked you, dear readers, to share special Christmas recipes from your hometown.
Angelina Joseph shares her Mangalorean Chicken Curry recipe. You can share yours too.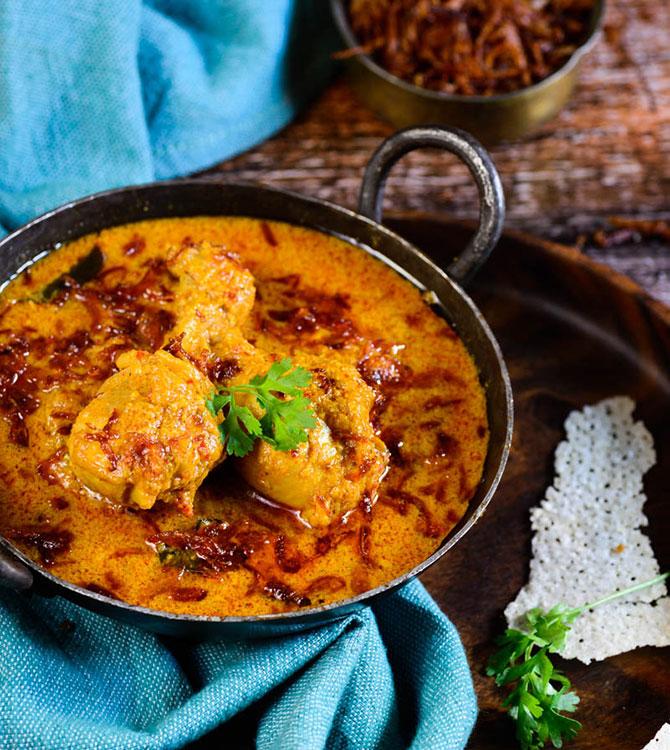 Photograph: Rajesh Karkera/Rediff.com
Ingredients:
1 kg chicken, cleaned and cut in 1 inch cubes
2.5 kg potatoes
2 tbsp ghee/oil
1 tbsp vinegar
For the dry roast and grind
¾ coconut
1 onion, sliced
2 garlic cloves
20

Byadgi chillies

10 pepper corns
1 tbsp coriander seeds
1 tsp cumin seeds
2" cinnamon
4 cloves
5 tsp turmeric powder
4 cloves garlic
Method:
Dry roast together the grated coconut, onion and garlic until light brown in colour. Keep aside.
Dry roast chillies, coriander seeds, cumin, cloves, cinnamon, pepper and grind into thick fine paste along with coconut, garlic and onion. Do not add too much water while grinding. Add turmeric.
In a vessel, heat ghee/oil and saute sliced onion and garlic till the onion turns translucent. Add chicken, salt, turmeric and fry on high flame for three minutes. Add water if necessary and cook on slow flame.
Add potatoes and cook till done. When chicken is almost cooked, add the ground masala and stir well. Cook till the chicken is done. Keep the curry thick. Do not overboil.
Add 1 tbsp vinegar for taste.
Tip: You can reduce or increase chillies and pepper if necessary.
---
Sanna
Ingredients:
3 cups rice, parboiled
2 tbsp urad dal (black gram)
2 tbsp rice, cooked
1 tsp yeast
1 tsp sugar
Salt to taste
Method:
Wash and soak rice and urad dal separately for a few hours.
Grind rice, urad dal, cooked rice, yeast and sugar together to make a fine but thick batter. Do not add too much water while grinding. Pour it in a vessel large enough to hold the dough when it rises, as it may double. Mix this batter well so that enough air is incorporated.
The time taken to ferment the batter depends on the weather. It usually takes 4 to 5 hours. Make sure that the batter should be of pouring consistency, thicker than dosa batter.
How to make sanna
Heat a steamer with sufficient water and bring it to a boil. Grease small bowls and arrange them in the steamer.
Without stirring the fermented batter, take it out with a ladle from one side.
Smear oil inside the bowls and arrange them​ in the steamer. Make sure that you don't fill the bowls to the brim, preferably let them be half full only. You can arrange the bowls in two rows by balancing them one above the other.
Close steamer and allow it to steam for 15 minutes or till done.
Open steamer carefully so that the water inside the lid does not fall in the sanna.
Remove cooked sanna bowls, place them on a tray upside down and cover with wet towel till them cool. Once they cool down, remove it carefully with the help of a spoon by pulling the sides towards the center with your fingers.
Tip: If you do not get parboiled rice, you can use two cups of raw rice like Parimal chawal and one cup white boiled rice. Urad dal is optional. In case you don't have sanna vatis, you may use any round flat bottomed 2-3 inch bowls, preferably steel.