We asked you, dear readers, to share your recipes of Moringa Paratha.
R S Dev from Bengaluru sent us these amazing recipes!
The superfood moringa (drumstick) is known for its health benefits since ancient days. It is an antioxidant, has anti inflammatory effects and is highly nutritious.
It lower blood sugar, has calcium, iron and also promotes blood circulation.
I created this sauce during the pandemic and it tastes as good as pesto.
Moringa Sauce
Ingredients
250 to 300 gm fresh moringa leaves
8 to 12 garlic cloves.
50 gm walnuts
25 gm pine nuts or cashew nuts
100 gm hard cheese (cheddar/gouda/parmesan)
100 ml virgin olive oil
Rock salt to taste
Method
Clean moringa leaves by removing all stems and veins, dried leaves or any other particles.
Rinse the leaves thoroughly.
Blanch or steam the leaves for 2 minutes
Strain and soak in cold water.
Grind the leaves along with peeled garlic cloves, cheese, walnuts, pine/cashew along with rock salt.
Do not use water. Add 2 or 3 teaspoons of olive oil to make it smooth.
Grind to a coarse to smooth consistency.
Transfer it to a bowl. Add leftover olive oil and mix well.
Check for salt and preserve it in a glass bottle.
Add a few teaspoons of olive oil on top to preserve it for a week.
You can use the sauce to make pastas and several other dishes.
---
Fried Idli with Moringa Sauce (Moringa Sauce)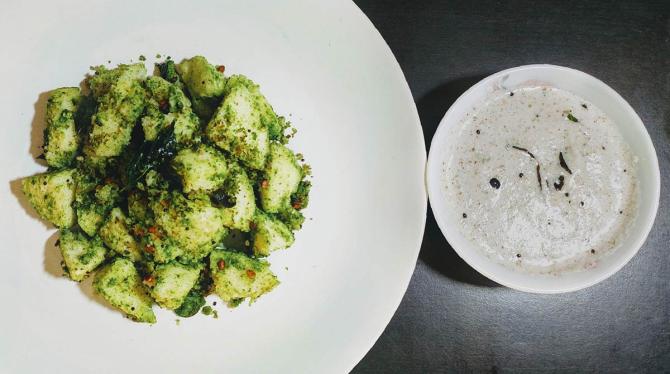 We have been very familiar with podi idli, fried idli, masala idli, idli chilly capsicum, curry leaf tadka idli and so on.
Do try this interesting recipe:
Ingredients
4 idlis cut in to 6 pieces each
2 tbsp moringa sauce (recipe above)
1 tsp butter
1 tsp cooking oil
1/2 tsp mustard seeds
1 tsp split urad dal
3 to 4 dried red chilly broken in halves
1 tbsp chopped onion
1 tsp chopped garlic
1/2 tsp chopped ginger
A few curry leaves
Salt to taste
Method
Heat a wok. Pour some oil and add butter.
Once butter is melted, add urad dal. Wait for it to turn light brown.
Add mustard seeds, red chillies and curry leaves. Wait for it to sputter.
Add chopped onion, garlic and ginger and saute till it is cooked. Add salt to taste.
Add moringa sauce (recipe above) and idlis.
Mix slowly so that the idli doesn't break. You could even toss/ flip the wok to allow the sauce to coat the idlis.
Cook for about 3 to 5 minutes.
Serve hot with coconut chutney.
---
Cream of Moringa Oleferia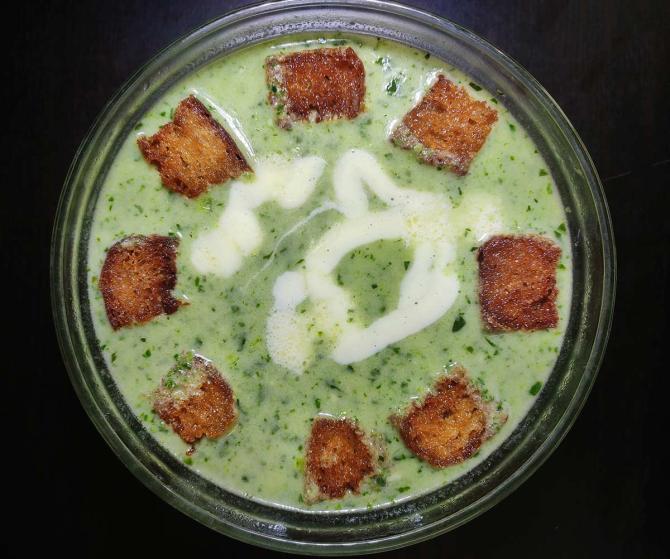 Ingredients
1 cup moringa leaves
4 tsp butter
6 chopped garlic cloves
6 bulbs chopped shallots
2 tsp chopped celery
4 tsp maida
1 tsp crushed peppercorn
1 cup milk
100 gm fresh cream
Salt to taste
Method
Blanch or steam moringa leaves and keep it aside.
Melt butter in a saucepan and add chopped garlic, onion, celery and saute till light brown.
Add maida and keep stirring. Add equal quantity of milk and water. Allow to boil.
In a blender, grind above and pass it through a sieve and keep to boil.
Grind moringa leaves and add along with it. Add peppercorn and salt to taste.
Garnish with croutons, fresh cream and serve hot.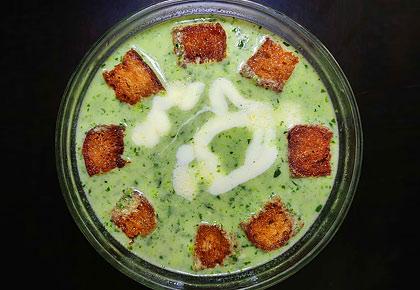 Would you like to share an interesting recipe or cooking video?
Please mail your recipe (s)/video(s) to getahead@rediff.co.in (Subject: My Recipe) along with your name, location and, of course, the recipe(s).