Bethica Das from Sharjah shares her special festive recipe.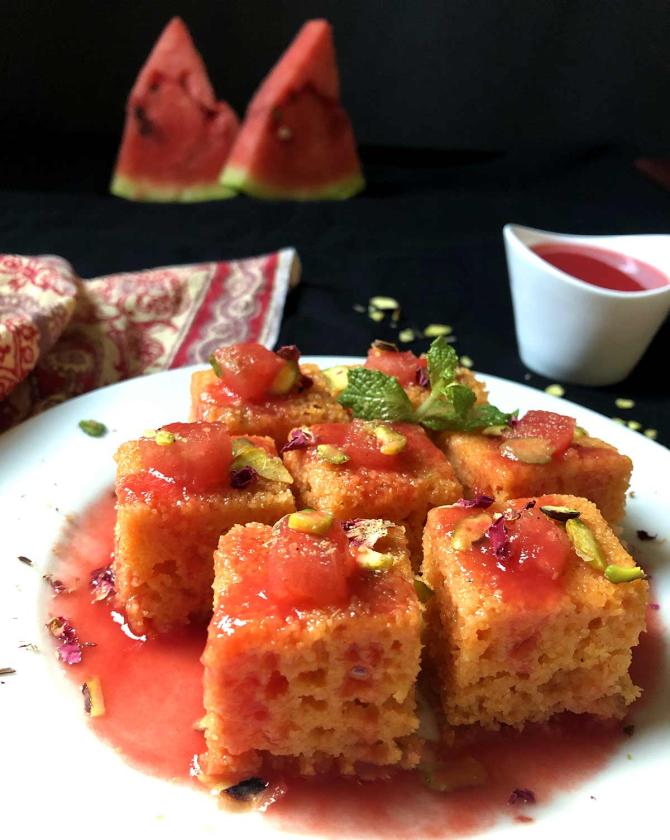 Watermelon Dhokla
Ingredients
½ cup semolina
1 tbsp roasted chickpea flour
¾ cup watermelon juice or as required
2 tbsp sugar or brown sugar (adjust as per taste)
A pinch of salt
1 tbsp melted ghee or butter
¼ tsp cardamom powder
1 tsp Eno fruit salt
Chopped pistachio
Dry rose petals to garnish
Method
In a bowl, take semolina and roasted chickpea flour. Mix well.
Add watermelon juice, salt, melted ghee, cardamom powder and sugar.
Whisk to combine well. Keep aside for 10 minutes.
After 10 minutes, whisk again and adjust the consistency by adding more watermelon juice if required. The batter should be of pouring consistency.
Add Eno fruit salt and give it a gentle stir. Pour into a greased steel container and steam for 15 to 20 minutes.
Insert a toothpick to check if done.
Set aside to cool.
Remove on a plate and cut as desired.
Garnish with chopped pistachios and dry rose petals.
Enjoy it at room temperature with a drizzle of some watermelon juice.
Would you like to share an interesting recipe or cooking video?
Please mail your recipe (s)/video(s) to getahead@rediff.co.in (Subject: My Recipe) along with your name, location and, of course, the recipe(s).