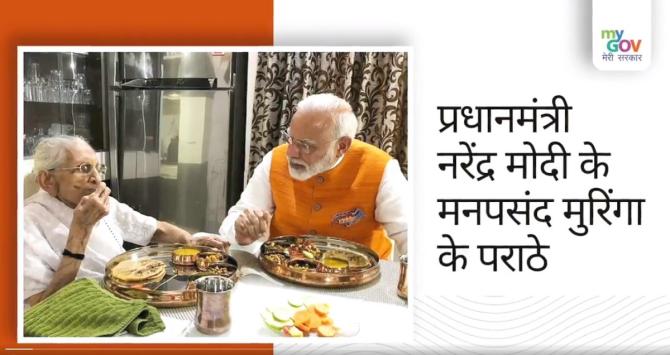 Do you know what Narendrabhai's favourite dish is?
No, it's not, surprisingly, dhokla or khaman!
The prime minister loves gorging on moringa parathas twice a week.
'I had learned about the health benefits of drumstick leaves (moringa). I found the recipe and used to make moringa parathas,' Narendrabhai shared in a video released online by the Government of India.
'Even today, I eat it once or twice a week,' the 70 year old added, giving us a clue about his excellent health.
The GoI has been encouraging people to share recipes of their local cuisines as part of the 'Ek Bharat Shreshta Bharat' initiative. The prime ministerial video was released to inspire people to talk about their regional cuisines.
Dear readers, do you know how to make moringa parathas?
Please share your recipe with us. Do mail your recipe at getahead@rediff.co.in (Subject: Moringa Paratha) along with your name, location and photographs/video (id possible) of the recipe. We'll feature the best recipes on Rediff.com.