Food blogger Sangita Agrawal tells you how to begin your mornings in the most exciting way!
Breakfast, the first meal of the day, often sets the mood and energy for the rest of the day.
Here are some interesting recipes that'll make you look forward to mornings!
All recipes and photographs: Sangita Agrawal/Bliss of Cooking
1. Vegetable And Mayonnaise Sandwich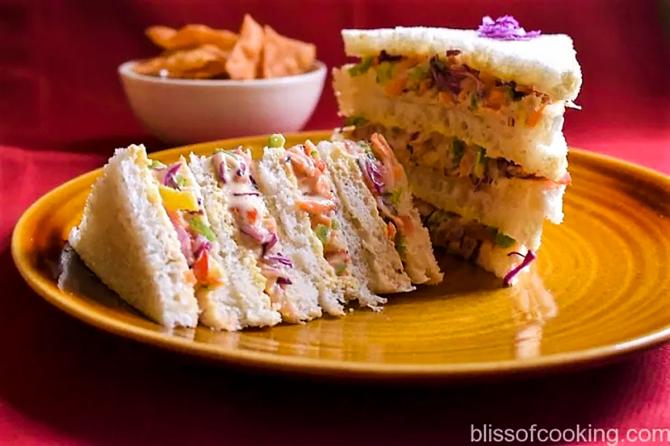 Yield: 6
Prep time: 10 minutes
Total time: 15 minutes
Ingredients
12 slices of sandwich bread
½ cup green pepper or mixed colour pepper thinly sliced
2 tbsp carrot grated
2 tbsp cabbage or purple cabbage thinly sliced
2 tbsp onion sliced
3 tbsp cucumber julienned
1 tomato deseeded and julienned
2 to 3 tbsp mayonnaise
1 tbsp mustard sauce
½ tsp tabasco or pepper
2 to 3 tbsp butter
Salt to taste
Method
Trim the sides of the bread slices and apply butter on all the slices and set aside.
Transfer all the vegetables in a bowl.
Add mayo, mustard, tabasco and mix gently.
Add salt and pepper.
Place a thick layer of the vegetable mix on 6 slices and close with rest of the slices.
Cut into desired shape and serve.
2. Vada Sambhar
Yield: 20 to 25 pieces
Prep time: 10 minutes + soaking time 4 hours
Total time: 30 minutes
Ingredients
1 cup urad dal soaked for 4 hour
1 medium onion chopped fine (optional)
2 tsp ginger chopped
2 green chilies chopped
2 springs curry leaves chopped
1 tbsp coriander chopped
1 tsp jeera (cumin)
¼ tsp peppercorns
A pinch of hing
Salt to taste
1 tbsp rice flour (optional)
Oil for frying
Method
Drain the urad dal, grind to a paste and transfer to a bowl.
Add rest of the ingredients except oil and stir to mix well.
Now stir the dal mixture till fluffy. Check by dropping a small ball in a cup of water. The batter should float on the water. Now the batter is ready for making vada.
Heat a kadai with oil to fry the vada, on medium heat.
Take water in a bowl, wet your fingers and palm; place some batter on the left palm and spread lightly to a round; make a hole in the center; upturn your hand and drop the vada in the oil.
Fry till golden and crisp. Make all the vadas similarly.
Drain and keep on absorbent paper.
Serve hot with a bowl of sambhar and a dollop of coconut chutney.
3. Khaman Dhokla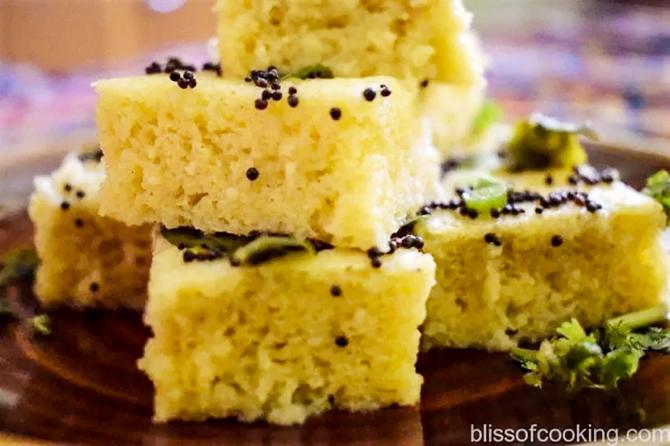 Yield: 4 serving
Prep time: 5 minutes
Total time: 25 minutes
Ingredients
1 cup besan (gram flour)
1 tbsp suji (semolina)
1 tbsp ginger green chilli paste
1 tsp citric acid
1 tsp salt
3 tsp sugar
1 tsp Eno
1 tbsp oil
1 cup water
For tempering
1 tsp mustard
1 tsp til optional (sesame seeds)
1 green chilli sliced
2 tbsp curry leaves
1 tsp sugar
½ tsp salt
1 cup water
2 tsp oil
Method
Set the steamer with enough water.
In a bowl add salt, sugar, citric acid, water and mix till all the dry ingredients are dissolved.
In another big bowl mix besan and suji.
Add the sugar water and make a smooth batter.
Now add the oil, paste and mix.
Add in Eno and mix. The batter will froth.
Grease a steaming plate.
Pour the batter in the prepared plate and keep in the steamer.
Steam it for 12 to 15 minutes. Check by inserting a tooth pick or a knife, it should come out clean.
Take the plate out and leave for 5 minutes. Cut by moving the knife horizontally and then vertically.
Tempering
Heat oil in a pan; add the mustard, chills, curry leaves and saute for few seconds.
Add water, salt, and sugar and bring to boil.
Pour this evenly on the steamed dhokla.
Garnish with coriander.
Serve with green chutney.
4. Moong Dal Chilla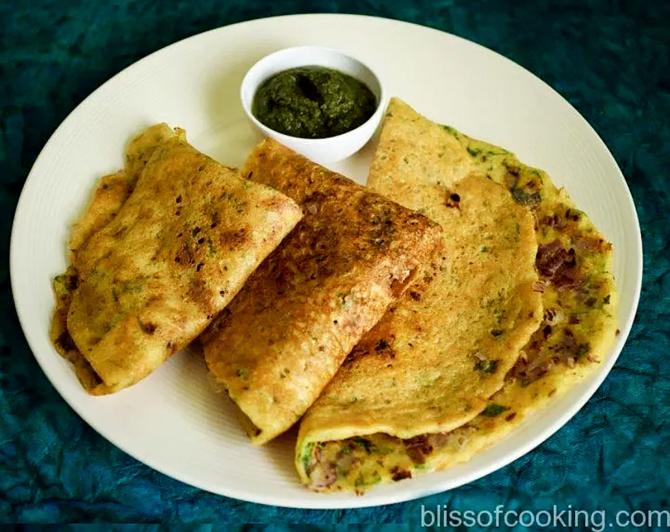 Yield: 4 serving
Prep time: 10 minutes + 4 hours soaking time
Total time: 30 minutes
Ingredients
1 cup moong dal (split green gram) soaked for 4 hours
2 green chillies chopped
1 tbsp ginger chopped
¼ tsp hing
1 cup onion chopped fine
¼ cup coriander chopped fine
1 tsp jeera
½ tsp red chilli powder
Salt to taste
Oil for pan frying
Method
Strain the moong dal (split green gram) in a colander.
In a blender add dal, green chills, ginger and hing and grind to a paste.
Take the dal mix out in a bowl and add salt, chilli powder, jeera, chopped coriander and mix well.
Adjust the consistency by adding water if required. The batter should be of medium consistency.
Heat a nonstick skillet, pour 2 serving spoon of the batter in the center and spread it evenly with the back of the spoon to make as thick or thin chilla as per your taste.
Sprinkle onions on the chilla and gently press the onions with a help of a spatula.
Drizzle 1/4 tsp of oil all around the edges and roast till golden.
Flip to the other side and drizzle ¼ tsp of oil and roast.
Serve with green chutney and tomato ketchup.
5. Onion Uthappam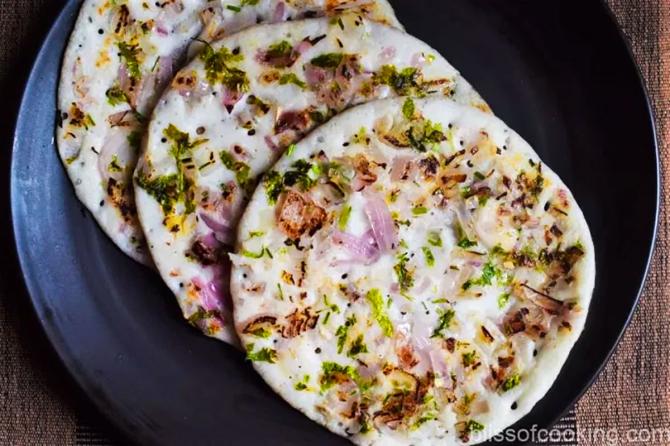 Yield: 5 to 6
Prep time: 10 minutes
Total time: 20 minutes
Ingredients
1/2 kg idli dosa batter
1 cup onion chopped fine
1 tbsp coriander chopped
1 tsp ginger chopped fine
1 green chilli chopped fine
2 tbsp grated carrot (optional)
Oil
Method
Mix all the chopped vegetables and set aside.
Heat a tava (skillet) and add a drop of oil and clean the tava.
Pour a cup of batter to form a very thick dosa. Do not spread it, as the uthappam should be thick.
Sprinkle the vegetable mixture evenly and drizzle a few drops of oil.
Keep the heat on medium or low and cook till you see a lot of holes on the top and it is golden at the base.
Flip the uthappam, drizzle oil and cook for a minute or till the vegetables are well roasted and the utthapam is crisp on one side.
Serve hot with chutney and sambhar.
---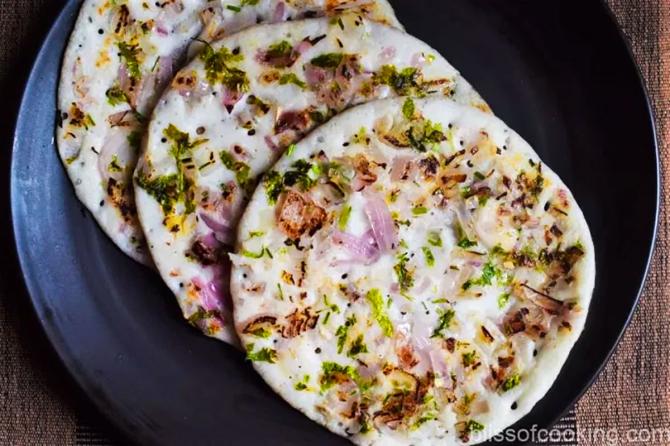 Would you like to share an interesting recipe or cooking video?
Please do send your recipe/video to us at getahead@rediff.co.in (Subject: My Recipe) along with your name, location and, of course, the recipe.