Kick start your day with a fulfilling breakfast at home, the Indian way!
All recipes by Maharaj Jodharam Choudhary, corporate chef, Khandani Rajdhani
Khaman Dhokla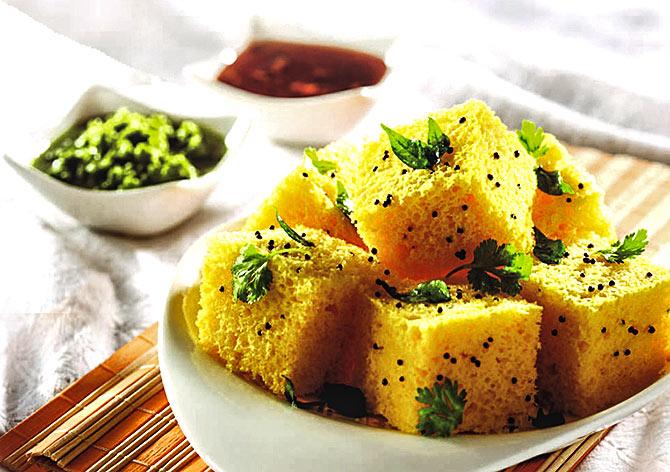 Ingredients
2 cups gram flour sieved 2 cups
1 cup yogurt beaten 1 cup
Salt to taste
½ tsp turmeric powder
1 tsp green chilli-ginger paste
2 tbsp oil
1 tbsp lemon juice
1 tsp soda
1 tsp mustard seeds
2 tbsp fresh coriander leaves chopped
½ cup coconut grated
Method
Take gram flour in a bowl. Add yogurt and approximately one cup of warm water and mix. Avoid lumps. Add salt and mix again.
Leave it aside to ferment for three to four hours. When gram flour mixture has fermented, add turmeric powder and green chilli-ginger paste. Mix.
Heat the steamer. Grease a thali.
In a small bowl take lemon juice, soda bicarbonate, one tsp of oil and mix. Add it to the batter and whisk briskly.
Pour batter into the greased thali and place it in the steamer.
Cover with the lid and steam for ten minutes. When a little cool, cut into squares and keep in a serving bowl/plate.
Heat remaining oil in a small pan. Add mustard seeds. When the seeds begin to crackle, remove and pour over the dhoklas.
Serve, garnished with chopped coriander leaves and grated coconut.
Methi Thepla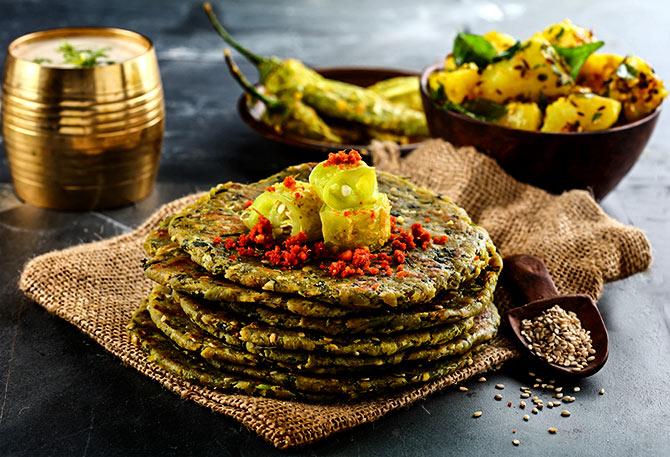 Ingredients
1 cup fresh fenugreek leaves (methi) chopped
1½ cup whole wheat flour (atta)
Salt to taste
1 tbsp ginger-green chilli paste
1 tsp carrom seeds (ajwain)
½ tsp turmeric powder
1 tsp red chilli powder
1 cup yogurt
1 tbsp oil
Ghee for basting
Method
Take fenugreek leaves in a parat (a flat plate).
Add salt, ginger-green chilli paste, carom seeds, turmeric powder and chilli powder and mix well.
Add flour and yogurt and mix well.
Add little water and knead into a stiff dough.
Add 1 tbsp oil and knead again. Cover with damp muslin cloth and set aside for 10-15 minutes.
Divide dough into equal portions, flatten and roll out into thin discs dusting with flour.
Heat a non-stick tawa and roast the prepared theplas, turning sides and basting with ghee, till golden from both sides.
Serve hot.
Sabudana Vada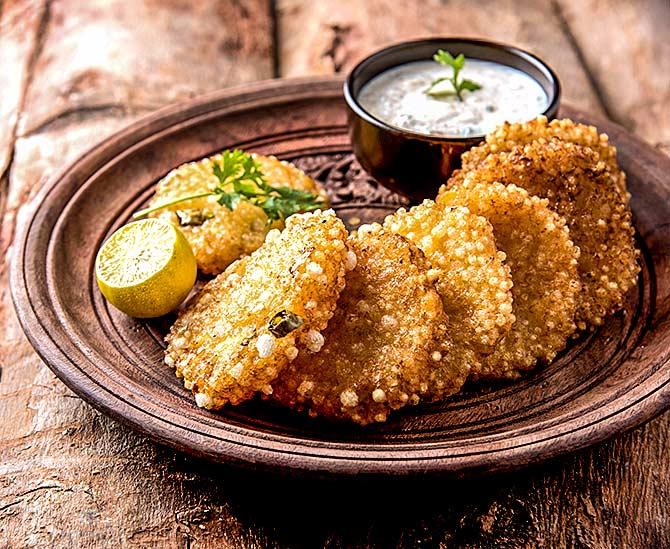 Ingredients
1 cup sago (sabudana) soaked
1 large sweet potato boiled, peeled and mashed
½ cup peanuts roasted and crushed
Salt to taste
1 tbsp ginger-green chilli paste
2 tbsp fresh coriander leaves chopped
½ tbsp lemon juice
Oil for frying
Coconut chutney to serve
Method
Preheat oil to 180º C.
Take sago in a bowl, add sweet potato, peanuts, salt, ginger-green chilli paste, coriander leaves and lemon juice and mix well.
Divide the mixture into equal balls, flatten them slightly to shape like a vada.
Deep fry the vadas till golden brown and crisp.
Arrange them on a serving plate and serve hot with coconut chutney.
Green Peas Ghugra
Ingredients
For the filling
1 cup green peas shelled
3 tbsp fresh coriander leaves
2 tbsp oil
1 tsp cumin seeds
Salt to taste
1 tsp sugar
1 tsp green chilli paste
1 tsp ginger paste
2 tbsp lemon juice
½ cup coconut grated
For the dough
3/4 cup maida
3/4 cup whole wheat flour (atta)
Salt to taste
2 tbsp ghee
Oil to deep fry
Method
Sift the wheat flour and refined flour with salt, add warm ghee and knead it to stiff dough using a little water.
Cover with a muslin cloth and keep aside. Coarsely grind the green peas and keep aside.
Clean, wash and finely chop the coriander leaves. To make the filling, heat oil in a pan, add cumin seeds.
When they crackle add the green peas and sauté on high heat for three to four minutes. Lower heat, add salt, sugar, chopped coriander, green chilli paste, ginger paste and sauté for two minutes. Remove from heat and allow to cool. Add the lemon juice and scraped coconut and mix well.
To make ghughras, divide the dough into sixteen equal portions and shape them into balls. Roll out each ball into a puri, place a spoonful of filling in the centre of each puri and fold again to form a semi circle.
Seal tightly and curl the edges. Repeat the process to make remaining ghughras.
Heat sufficient oil in a kadai and deep-fry the ghugra till golden brown. Drain onto an absorbent paper. Serve hot.
---
Do you have an interesting breakfast, lunch or dinner recipe to share?
Simply write to getahead@rediff.co.in (subject: My recipe) along with a photograph of the recipe, your name, age and location. We'll publish the best ones on Rediff.com.