Make your breakfast fun and healthy with these simple recipes.
Dietitian Jasleen Kaur shares five breakfast recipes. You can share your recipes too!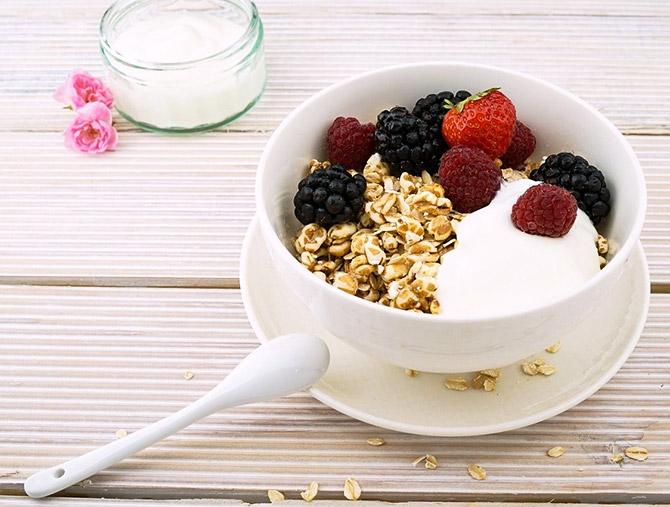 Photograph: Courtesy Pexels/Pixabay.com
---
Oats and mixed flour onion cheela
Ingredients
½ cup rolled oats
¼ cup of wholewheat flour
2-3 spring onions, chopped
Ginger paste
2 green chillies
¾ cumin seeds
2 tsp oil
Method
Mix together the oats and wholewheat flour in a bowl. Add water to make a smooth batter of pouring consistency. Cover and set aside to rest for half an hour.
Add spring onions, spring onion greens, ginger paste, green chillies, cumin seeds and salt to taste. Mix well.
Heat a tava and lightly grease it. When moderately hot, wipe it clean with a cloth.
Pour one spoon of batter on the tava and spread it with the back of a ladle.
Cook for a while and flip it over.
---
Fruity yogurt with cereal topping
Ingredients
2-3 apples, cut into equal squares
8-10 cherries
1 cup skimmed milk yogurt
1 tsp raisins
3-4 walnut or almonds, chopped
4 tsp muesli, roasted
Method
Combine apple and cherries and refrigerate until ready to serve.
Just before serving, mix chilled fruits, yogurt, raisins and nuts.
Spoon into individual bowls, sprinkle muesli over it.
---
Egg chaat
Ingredients
Whites of hard-boiled egg
½ onion, chopped
½ cucumber
2 green chillies, chopped
15 fresh mint leaves
¼ tsp salt
¾ cumin seeds, roasted and crushed
¼ red capsicum, chopped
2 tsp of green chutney
Method
Place the onion, cucumber, green chillies, chopped mint and coriander in a large bowl.
Cut each egg half into four slices.
Add the salt, chaat masala , crushed cumin seeds and mint chutney to the bowl and mix.
Add egg to the onion mixture.
Make a bed of lettuce and serve the chaat.
---
Pineapple yogurt
Ingredients
½ pineapple, cut into small slices
1 inch cinnamon
¾ cup drained skimmed milk yogurt
Method
Place the pineapple and cinnamon in a non stick pan and stew over low heat for 30 minutes.
Remove the pineapple pieces from pan and mix into yogurt.
---
Moong Dal Uttapam
Ingredients
1 cup skinless split green (moong dal)
¼ baking powder
¼ turmeric powder
1 large capsicum
1 small tomato
1 onion
Green chillies as per taste
Salt as per taste
Method
Drain the dal and grind it to paste
Transfer into a bowl and add salt, baking powder and turmeric powder. Mix the above ingredients.
Heat a non-stick tava, pour a spoon of the dal batter and spread it evenly. Take care that it is not too thin. Serve hot.
---
Have an interesting recipe to share?
Write in to us at getahead@rediff.co.in (subject: Recipe) with your name, hometown and any interesting details about the origin of the recipe, along with a photograph if possible.
We'll publish the best preparations right here on Rediff.com.