Kickstart your morning with these exciting, delectable recipes.
The land of sand, sea and surf, Goa, offers some delectable sea food.
But equally delectable are some breakfast items which prove to be the perfect start to the day.
For example, one can't possibly be in Goa and resist the evergreen Choriz Pao.
Hotels in Goa also ensure that there is enough local food to sample so to give the guests a taste of local flavours.
Mini Ribeiro hops to different places in Goa for breakfast and picks her six favourite dishes.
Goan Vatanyachi Bhaji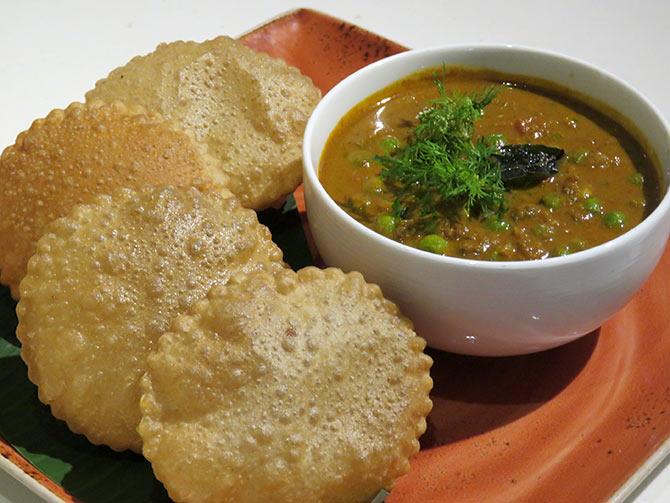 IMAGE: Goan Vatanyachi Bhaji by executive sous chef Siddarth Noronha, Novotel Goa Resorts & Spa and Novotel Goa Shrem Hotel.
Ingredients
1 cup pulses (dried yellow peas)
1/2 cup onion
3/4 cup coconut (preferably dry coconut)
1 tsp garam masala
1/2 tsp chilli powder
1/4 tsp tamarind extract or 1 to2 pieces tamarind
Oil
Salt
Method
Soak pulses in water (if you are using yellow/green peas, soak it overnight).
Pressure cook till they are soft.
Heat little oil and fry one-fourth cup of onion. When they turn brownish, add coconut and fry until coconut turns brown. Grind it with tamarind.
Heat a little oil and fry onions. Add chilli powder, garam masala, the onion-tamarind paste, cooked pulses and salt. Cook for seven to eight minutes. Make sure the bhaji should be watery.
Serve with Goan poi (bread).
---
Goan Choriz Pao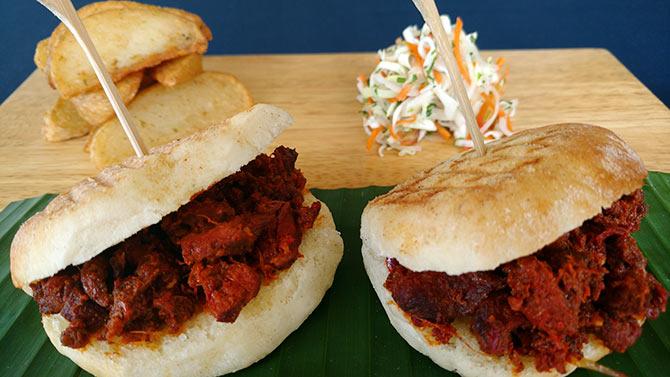 IMAGE: Goan Choriz Pao by executive chef Sunit Sharma, Cidade de Goa.

Ingredients
400 gm Goan chorizo sausages (de-skinned)
100 gm onions, sliced
100 gm diced potatoes
50 gm chopped tomatoes (optional)
20 gm chopped green chilli (optional)
20 ml refined oil
Salt to taste
4 Goan poi (bread)
Method
Heat oil in a thick bottom fry pan.
Add and saute the sliced onions
When onions become translucent, add green chillies and tomatoes.
Add potatoes and crumbled choriz sausages.
Saute a while more. Add two cups of water and allow to cook/simmer for 25 to 30 minutes.
Allow the water to dry up and check for seasoning. Add water if required.
Remember that the mix would be dry and shiny with the fat oozing out and a sharp aroma.
Goan Choriz Chilli Fry is ready.
To serve
Slit the Goan poi and warm it.
Serve the mixture stuffed inside the warm crusty poi.
---
Poached Egg with Confit Tomatoes, Streaky Bacon on Grilled Bruschetta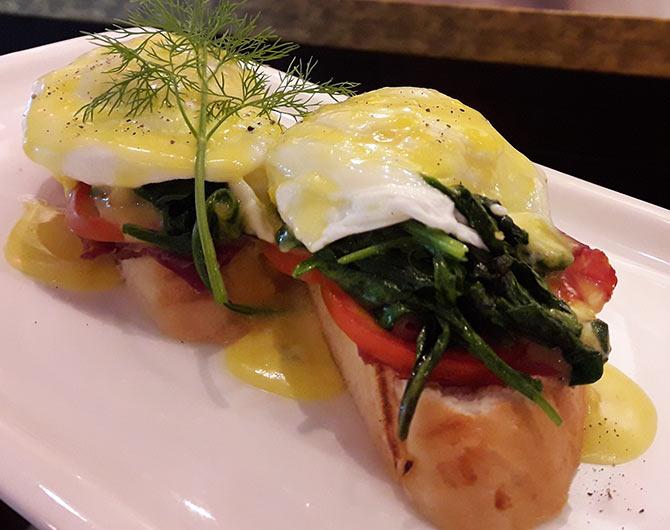 IMAGE: Poached Egg with Confit Tomatoes by executive chef Arun Vats, Hard Rock Hotel Goa.
Ingredients
For poached eggs
2 whole eggs
50 ml white vinegar or lime juice
3 litre water for poaching
For confit tomatoes
3 tomatoes
A garlic clove
1/2 tsp salt
1 bay leaf
750 ml olive oil
For Hollandaise sauce
4 egg yolks
380 gm clarified butter
30 ml vinegar white wine
1/4 tsp crushed pepper
1/2 tsp mustard paste/powder
1.5 litre water
For grilled bruschetta
For garlic spinach
100 gm young spinach leaves
2 garlic cloves, sliced
1 tsp olive oil
Sea salt to taste
Method
For poached eggs
Heat a pan and fill it up with water.
Add vinegar or lime juice. Bring it to boil.
Break the egg in one small bowl. Make sure to put the egg in the water when the thrilling or bubbles stop completely in order to get perfect poached egg.
Slowly drop the egg in the center of hot water.
After few seconds you will see that the egg comes up like a jellyfish or in the shape of a pouch bag.
For confit tomatoes
Take a pan, add water and blanched tomatoes. Remove the skin of the tomatoes.
Heat another pan and pour olive oil.
Place the tomatoes along with garlic, bay leaf and sea salt.
Tightly cover the pan with aluminium foil and place the pan in the oven at 70 degree Celcius for two hours.
Pull out the pan and make sure the tomatoes are juicy and soft. Keep it aside to cool.
For Hollandaise sauce
Pour water in a pan and let it boil.
Take another bowl and add egg yolks, mustard powder, vinegar and crushed pepper. Start whisking. Before putting this bowl in the hot water bowl previously kept to boil, make sure that the eggs have turned frothy.
Whisk the eggs again on double boiler until it reaches a firmer stage. Take it off the double boiler and add some clarified butter.
Once it becomes creamy, add the rest of the butter slowly to the sauce.
Take it off the boiler once you get the ribbon consistency.
Adjust seasoning and keep it at room temperature.
For grilled bruschetta
Cut the bruschetta bread in a slant or in a diamond shape.
Apply little butter or olive oil and make grill marks. If you don't have a grill pan, you can toast as well.
Keep the pieces aside in a warm place. Make sure that one side has to be little crispy.
For garlic spinach
Heat oil in a pan.
Add garlic in it and saute until the colour changes.
Add spinach and sprinkle some salt. Keep it aside.
To assemble
Take a clean plate and place two pieces of grilled or toasted bruschetta.
Arrange two slices of crunchy bacon and place it on top of it.
Place two or three slices of confit tomatoes next, followed by the sauteed spinach on top.
After placing spinach, place two pieces of poached eggs very gently.
Top it up with hollandaise sauce and gratinate the same for 30 seconds. Serve.
---
Chicken Cafreal Poi Sandwich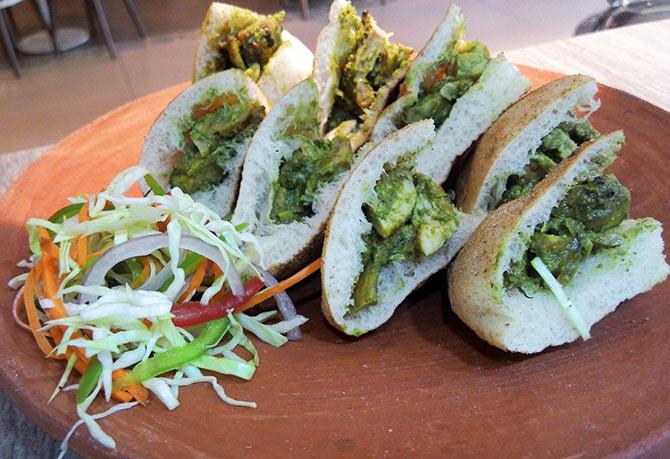 IMAGE: Chicken Cafreal Poi Sandwich by executive sous chef Rahul Bhale, Ibis Styles Goa, Calangute.

Ingredients
200 gm chicken (leg boneless)
30 gm fresh coriander leaves
30 gm fresh mint leaves
10 gm green chilly
10 gm garlic paste
10 gm ginger paste
5 gm peppercorn
5 gm turmeric
3 gm cloves
10 gm salt
15 ml oil
1/2 piece lime
2 Goan poi (round bread)
Method
Wash and clean the chicken leg.
Make slant cuts on the chicken for it to absorb the flavour.
Grind coriander leaves, mint leaves, green chillies, garlic paste, ginger paste, peppercorn, turmeric powder and cloves together to prepare the marination masala.
Marinate with the chicken with the masala and alt. Squeeze lime juice and mix. Refrigerate for two hours.
Once done, heat a pan. Add oil seared chicken from both the sides.
Add masala puree for 12 to 15 minutes till it is done.
Make a pocket in poi, stuffed with hot chicken cafreal bites.
---
Aloo Patal Bhaji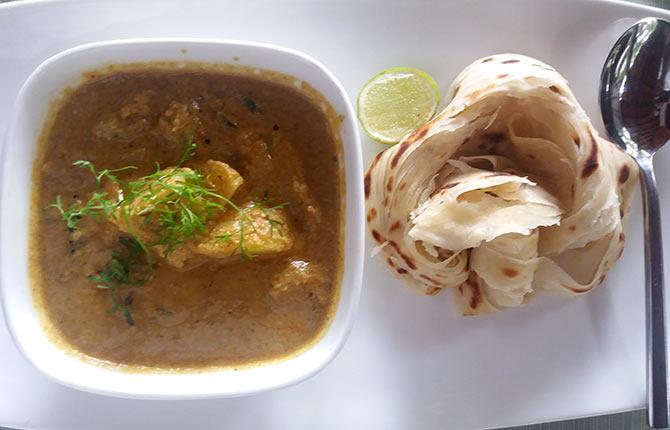 IMAGE: Aloo Patal Bhaji by executive sous chef, Rakesh Kumar, Alila Diwa Goa.
Ingredients
1 cup boiled potato, diced
2 1/2 cup chopped colocassia leaves (arbi ke patte)
1/4 cup split bengal gram (chana dal), washed and drained
2 tsp oil
1/2 tsp cumin seeds
1/2 tsp mustard seeds
1/4 tsp asafoetida
2 tsp tamarind pulp
1 tbsp chopped jaggery
2 tbsp roasted and coarsely crushed peanuts (optional)
5 gm chopped coriander (optional)
Method
Combine spilt bengal gram, colocassia leaves and one and a half cups of water in a pressure cooker. Mix well and pressure cook until three whistles. Keep aside with the lid open.
Heat oil in a non-stick pan. Add mustard seeds, cumin seeds and asafoetida. Saute on a medium flame for a few seconds.
Add spilt bengal gram and colocassia leaves mixture, boiled potato, tamarind pulp, jaggery, peanuts and salt. Mix well and cook on a medium flame for three minutes. Stir occasionally.
Garnish with coriander leaves. Serve hot.
---
Goan Ras Omelette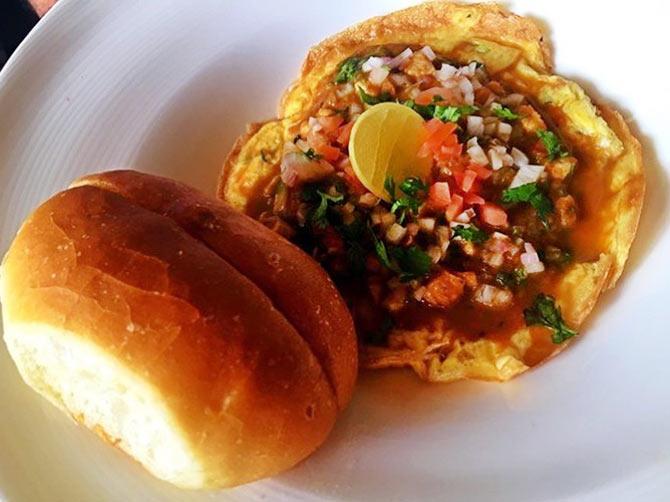 IMAGE: Goan Ras Omelette by executive sous chef Prasad Metrani, Grand Hyatt Goa.
Ingredients
2 tbsp oil
300 gm onions, chopped
5 gm ginger garlic paste
5 gm turmeric powder
150 gm tomatoes, chopped
15 gm red chilli powder
60 gm fresh coconut paste
10 gm garam masala powder
2 eggs, whipped for omelette
5 gm pepper powder
5 gm green chillies
15 gm mint leaves, chopped
30 gm coriander leaves, chopped
Salt to taste
Method
Heat oil in a pan. Add onions, salt and saute for two minutes.
Add ginger garlic paste, turmeric powder, tomatoes, red chilli powder and little salt. Saute further. Place the lid of the pan and cook for two minutes.
Remove the lid and add fresh coconut paste, garam masala powder, little water and cook with the lid on it. Switch off flame. Ras is ready.
In a bowl, add eggs, pepper powder, green chillies, mint leaves, coriander leaves and salt. Beat it.
Heat one tablespoon of oil in a pan. Pour the beaten eggs and cook it on both sides.
Take a serving bowl and pour cooked ras and place the omelette.
Serve with Goan poi.
Send us your favourite recipes! Mail to us at getahead@rediff.co.in (subject: Recipe) with your name, city/town and any interesting details about the origin of the recipe, along with a photograph if possible.
We'll publish the best recipes right here on Rediff.com.