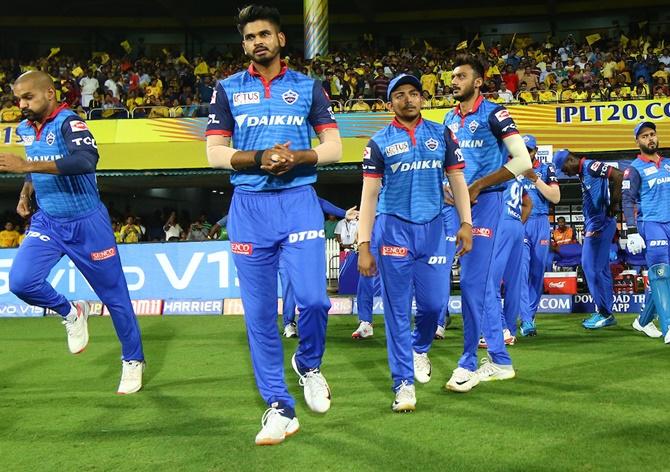 A new name brought the Delhi Capitals much needed good fortune last season as the Shreyas Iyer-led team finished third in IPL 2019.
The Capitals have more or less retained the same squad and bolstered its ranks with the inclusion of the experienced Ajinkya Rahane and Ravichandran Ashwin.
Delhi have the experienced Shikhar Dhawan to give them the impetus at the start of an innings and have a formidable bowling line-up led by Kagiso Rabada, Ishamt Sharma and Chris Woakes.
The Capitals have a strong group of spinners -- Ashwin, Axar Patel, Sandeep Lamichhane and Amit Mishra -- who will come handy on the slow tracks in the UAE.
The franchise owners nearly broke the bank to secure the services of Windies star Shimron Hetmyer and Aussie all-rounder Marcus Stoinis, who the Australian team management hope to build up as a finisher ala M S Dhoni.
Praising Iyer's captaincy, Dhawan believes Delhi can win IPL 2020.
'Last season he led in a very nice manner, and with Ashwin, Ajinkya coming in with their experience, they will share their insights and it can be really helpful for the team,' says Shikhar.
'Shreyas has an open mind to learn from both seniors and juniors and he will lead us in the right way,' 'Gabbar' Dhawan adds.
Squad: Shreyas Iyer, Ajinkya Rahane, Amit Mishra, Avesh Khan, Axar Patel, Harshal Patel, Ishant Sharma, Kagiso Rabada, Keemo Paul, Prithvi Shaw, Ravichandran Ashwin, Rishabh Pant, Sandeep Lamichhane, Shikhar Dhawan, Alex Carey, Shimron Hetmyer, Mohit Sharma, Tushar Deshpande, Marcus Stoinis, Lalith Yadav, Anrich Nortje, Daniel Sams.
Rajneesh Gupta gives us all the numbers on the Delhi Capitals in the IPL over the years.
Result summary in each edition
| Year | Played | Won | Lost | Tied | NR | Abd | Win% | W/L Ratio | Position |
| --- | --- | --- | --- | --- | --- | --- | --- | --- | --- |
| 2008 | 15 | 7 | 7 | 0 | 0 | 1 | 50.00 | 1.00 | 4th |
| 2009 | 15 | 10 | 5 | 0 | 0 | 0 | 66.66 | 2.00 | 3rd |
| 2010 | 14 | 7 | 7 | 0 | 0 | 0 | 50.00 | 1.00 | 10th |
| 2011 | 14 | 4 | 9 | 0 | 1 | 1 | 30.76 | 0.44 | 5th |
| 2012 | 18 | 11 | 7 | 0 | 0 | 0 | 61.11 | 1.57 | 3rd |
| 2013 | 16 | 3 | 12 | 1 | 0 | 0 | 18.75 | 0.25 | 9th |
| 2014 | 14 | 2 | 12 | 0 | 0 | 0 | 14.28 | 0.16 | 8th |
| 2015 | 14 | 5 | 8 | 0 | 1 | 1 | 38.46 | 0.62 | 7th |
| 2016 | 14 | 7 | 7 | 0 | 0 | 0 | 50.00 | 1.00 | 6th |
| 2017 | 14 | 6 | 8 | 0 | 0 | 0 | 42.85 | 0.75 | 6th |
| 2018 | 14 | 5 | 9 | 0 | 0 | 0 | 35.71 | 0.55 | 8th |
| 2019 | 16 | 9 | 6 | 1 | 0 | 0 | 56.25 | 1.50 | 3rd |
Note: In 2008 Delhi Daredevils' match against Kolkata Knight Riders was abandoned without toss (included in the above tally for reference purpose)
Result summary for each opponent
| Vs | Played | Won | Lost | Tied | NR | Win% | W/L Ratio |
| --- | --- | --- | --- | --- | --- | --- | --- |
| Chennai Super Kings | 21 | 6 | 15 | 0 | 0 | 28.57 | 0.40 |
| Deccan Chargers | 11 | 7 | 4 | 0 | 0 | 63.63 | 1.75 |
| Gujarat Lions | 4 | 3 | 1 | 0 | 0 | 75.00 | 3.00 |
| Kings XI Punjab | 24 | 10 | 14 | 0 | 0 | 41.66 | 0.71 |
| Kochi Tuskers Kerala | 2 | 1 | 1 | 0 | 0 | 50.00 | 1.00 |
| Kolkata Knight Riders | 23 | 9 | 13 | 1 | 0 | 39.13 | 0.69 |
| Mumbai Indians | 24 | 12 | 12 | 0 | 0 | 50.00 | 1.00 |
| Pune Warriors India | 6 | 3 | 2 | 0 | 1 | 50.00 | 1.50 |
| Rajasthan Royals | 20 | 9 | 11 | 0 | 0 | 45.00 | 0.81 |
| Rising Pune Supergiant | 4 | 2 | 2 | 0 | 0 | 50.00 | 1.00 |
| Royal Challengers Bangalore | 23 | 8 | 13 | 1 | 1 | 34.78 | 0.61 |
| Sunrisers Hyderabad | 15 | 6 | 9 | 0 | 0 | 40.00 | 0.66 |
In 2013 Delhi Daredevils lost to Royal Challengers Bangalore in Super Over
Highest Totals
| Score | Overs | Vs | Venue | Year | Result |
| --- | --- | --- | --- | --- | --- |
| 231-4 | 20 | Kings XI Punjab | Delhi | 2011 | Won |
| 219-4 | 20 | Kolkata Knight Riders | Delhi | 2018 | Won |
| 214-3+ | 17.3 | Gujarat Lions | Delhi | 2017 | Won |
| 213-6 | 20 | Mumbai Indians | Mumbai WS | 2019 | Won |
| 207-5 | 20 | Mumbai Indians | Delhi | 2012 | Won |
| 205-4 | 20 | Rising Pune Supergiant | Pune | 2017 | Won |
+ batting second
Lowest Totals
| Score | Overs | Vs | Venue | Year | Result |
| --- | --- | --- | --- | --- | --- |
| 66 | 13.4 | Mumbai Indians | Delhi | 2017 | Lost |
| 67 | 17.1 | Kings XI Punjab | Mohali | 2017 | Lost |
| 80 | 19.1 | Sunrisers Hyderabad | Hyderabad | 2013 | Lost |
| 83 | 17.3 | Chennai Super Kings | Delhi | 2013 | Lost |
| 84 | 15.4 | Chennai Super Kings | Abu Dhabi | 2014 | Lost |
| 87 | 16.1 | Rajasthan Royals | Mumbai | 2008 | Lost |
Highest Individual innings
| Score | Player | Vs | Venue | Year |
| --- | --- | --- | --- | --- |
| 128* | RR Pant | Sunrisers Hyderabad | Delhi | 2018 |
| 119 | V Sehwag | Deccan Chargers | Hyderabad | 2011 |
| 109* | DA Warner | Deccan Chargers | Hyderabad | 2012 |
| 108 | Q de Kock | Royal Challengers Bangalore | Bangalore | 2016 |
| 107* | DA Warner | Kolkata Knight Riders | Delhi | 2010 |
| 105* | AB de Villiers | Chennai Super Kings | Durban | 2009 |
| 103* | KP Pietersen | Deccan Chargers | Delhi | 2012 |
| 102 | SV Samson | Rising Pune Supergiant | Pune | 2017 |
Leading Batsmen
| Batsmen | Mts | Inns | NO | Runs | Hs | Avg | SR | 100 | 50 |
| --- | --- | --- | --- | --- | --- | --- | --- | --- | --- |
| V Sehwag | 79 | 79 | 5 | 2174 | 119 | 29.37 | 160.32 | 1 | 15 |
| RR Pant | 54 | 54 | 6 | 1736 | 128* | 36.16 | 162.69 | 1 | 11 |
| SS Iyer | 62 | 62 | 7 | 1681 | 96 | 30.56 | 126.96 | 0 | 13 |
| DA Warner | 55 | 55 | 5 | 1435 | 109* | 28.70 | 133.11 | 2 | 10 |
| G Gambhir | 46 | 44 | 4 | 1182 | 86 | 29.55 | 122.86 | 0 | 9 |
| KD Karthik | 56 | 49 | 8 | 1036 | 69 | 25.26 | 126.49 | 0 | 6 |
| JP Duminy | 38 | 35 | 12 | 1015 | 78* | 44.13 | 130.79 | 0 | 6 |
Best Bowling
| Bowling | Player | Vs | Venue | Year |
| --- | --- | --- | --- | --- |
| 5-17 | A Mishra | Deccan Chargers | Delhi | 2008 |
| 4-11 | A Mishra | Kings XI Punjab | Delhi | 2016 |
| 4-15 | R Bhatia | Deccan Chargers | Durban | 2009 |
| 4-17 | JP Duminy | Sunrisers Hyderabad | Visakhapatnam | 2015 |
| 4-18 | P Negi | Rajasthan Royals | Jaipur | 2012 |
| 4-20 | M Morkel | Kings XI Punjab | Dharamsala | 2012 |
| 4-20 | NM Coulter-Nile | Kings XI Punjab | Delhi | 2015 |
Leading Bowlers
| Bowler | Mts | Wkts | Avg | RPO | Best | 4W |
| --- | --- | --- | --- | --- | --- | --- |
| A Mishra | 92 | 97 | 23.97 | 7.33 | 5-17 | 2 |
| M Morkel | 37 | 45 | 24.73 | 7.62 | 4-20 | 1 |
| UT Yadav | 47 | 43 | 30.55 | 8.16 | 4-24 | 1 |
| CH Morris | 34 | 41 | 24.31 | 8.17 | 4-26 | 1 |
| S Nadeem | 61 | 40 | 37.00 | 7.36 | 3-16 | 0 |
| A Nehra | 27 | 36 | 21.05 | 7.50 | 3-26 | 0 |
| K Rabada | 18 | 31 | 17.93 | 8.13 | 4-21 | 2 |
Captains
| | Mts | Won | Lost | Tied | NR | Win% |
| --- | --- | --- | --- | --- | --- | --- |
| V Sehwag | 52 | 28 | 24 | 0 | 0 | 53.84 |
| SS Iyer | 24 | 13 | 10 | 1 | 0 | 54.16 |
| Zaheer Khan | 23 | 10 | 13 | 0 | 0 | 43.47 |
| G Gambhir | 21 | 10 | 11 | 0 | 0 | 47.61 |
| JP Duminy | 16 | 6 | 9 | 0 | 1 | 40.00 |
| DPMD Jayawardene | 16 | 4 | 11 | 1 | 0 | 28.12 |
| KP Pietersen | 11 | 1 | 10 | 0 | 0 | 9.09 |
| KD Karthik | 6 | 2 | 4 | 0 | 0 | 33.33 |
| KK Nair | 3 | 2 | 1 | 0 | 0 | 66.66 |
| JR Hopes | 3 | 0 | 2 | 0 | 1 | 0.00 |
| DA Warner | 2 | 0 | 2 | 0 | 0 | 0.00 |
Most Matches
| Player | Mts |
| --- | --- |
| A Mishra | 92 |
| V Sehwag | 79 |
| SS Iyer | 62 |
| S Nadeem | 61 |
| KD Karthik | 56 |
| DA Warner | 55 |
| RR Pant | 54 |