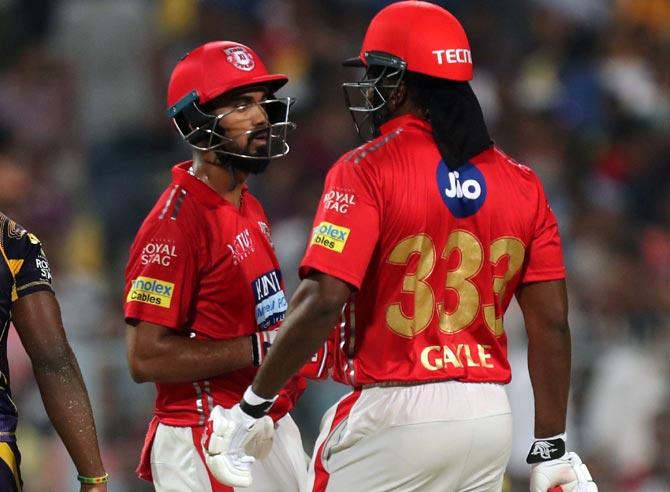 Kings XI Punjab will dive into their Indian Premier League campaign this season with a new coach in Anil Kumble.
Opener K L Rahul will lead the team this season.
KXIP is expected to do well with Chris Gayle doubling up as a mentor to the youngsters while expected to send the ball sailing over the roof.
With Mayank Agarwal, KXIP have another batsman worth his salt.
At the IPL players auction in December 2019, Aussie Glenn Maxwell was bought by KXIP for Rs 10.75 crore. The side also increased depth in its bowling ranks after acquiring Windies pacer Sheldon Cottrell for Rs 8.5 crore.
Kumble said last week that Maxwell was brought in to give the KXIP line-up a much-needed impact player in the middle.
And with his performance against England in the ODI series, where Maxi was the Player of the Series, much will be expected of the Aussie.
KXIP also have the dashing Nicholas Pooran and Jimmy Neesham to accelerate the innings.
The bowling rests on the responsible shoulders of Mohammed Shami, Cottrell, Mujib-ur-Rehman and Chris Jordan.
On paper, KXIP have the team to challenge for the trophy.
Squad: K L Rahul, Harpreet Brar, Ishan Porel, Mandeep Singh, Jimmy Neesham, Tajinder Singh, Chris Jordan, Karun Nair, Deepak Hooda, Ravi Bishnoi, Arshdeep Singh, Glenn Maxwell, Mujeeb-ur-Rahman, Sarfaraz Khan, Sheldon Cottrell, Mayank Agarwal, Mohammed Shami, Darshan Nalkande, Nicholas Pooran, Chris Gayle, M Ashwin, Jagadeesha Suchith, Krishnappa Gowtham, Hardus Viljoen, Simran Singh.
Rajneesh Gupta presents Kings XI Punjab's IPL record over the years:
Result summary in each edition
| Year | Played | Won | Lost | Tied | NR | Win% | W/L Ratio | Position |
| --- | --- | --- | --- | --- | --- | --- | --- | --- |
| 2008 | 15 | 10 | 5 | 0 | 0 | 66.66 | 2.00 | 3rd |
| 2009 | 14 | 7 | 7 | 0 | 0 | 50.00 | 1.00 | 5th |
| 2010 | 14 | 3 | 10 | 1 | 0 | 21.42 | 0.30 | 8th |
| 2011 | 14 | 7 | 7 | 0 | 0 | 50.00 | 1.00 | 5th |
| 2012 | 16 | 8 | 8 | 0 | 0 | 50.00 | 1.00 | 6th |
| 2013 | 16 | 8 | 8 | 0 | 0 | 50.00 | 1.00 | 6th |
| 2014 | 17 | 12 | 5 | 0 | 0 | 70.58 | 2.40 | 2nd |
| 2015 | 14 | 2 | 11 | 1 | 0 | 14.28 | 0.18 | 8th |
| 2016 | 14 | 4 | 10 | 0 | 0 | 28.57 | 0.40 | 8th |
| 2017 | 14 | 7 | 7 | 0 | 0 | 50.00 | 1.00 | 5th |
| 2018 | 14 | 6 | 8 | 0 | 0 | 42.85 | 0.75 | 7th |
| 2019 | 14 | 6 | 8 | 0 | 0 | 42.85 | 0.75 | 6th |
Result summary for each opponent
| Vs | Played | Won | Lost | Tied | NR | Win% | W/L Ratio |
| --- | --- | --- | --- | --- | --- | --- | --- |
| Chennai Super Kings | 21 | 8 | 12 | 1 | 0 | 38.09 | 0.66 |
| Deccan Chargers | 10 | 7 | 3 | 0 | 0 | 70.00 | 2.33 |
| Delhi Capitals | 24 | 14 | 10 | 0 | 0 | 58.33 | 1.40 |
| Gujarat Lions | 4 | 2 | 2 | 0 | 0 | 50.00 | 1.00 |
| Kochi Tuskers Kerala | 1 | 1 | 0 | 0 | 0 | 100.00 | |
| Kolkata Knight Riders | 25 | 8 | 17 | 0 | 0 | 32.00 | 0.47 |
| Mumbai Indians | 24 | 11 | 13 | 0 | 0 | 45.83 | 0.84 |
| Pune Warriors India | 6 | 3 | 3 | 0 | 0 | 50.00 | 1.00 |
| Rajasthan Royals | 19 | 8 | 10 | 1 | 0 | 42.10 | 0.80 |
| Rising Pune Supergiant | 4 | 2 | 2 | 0 | 0 | 50.00 | 1.00 |
| Royal Challengers Bangalore | 24 | 12 | 12 | 0 | 0 | 50.00 | 1.00 |
| Sunrisers Hyderabad | 14 | 4 | 10 | 0 | 0 | 28.57 | 0.40 |
Note: In 2010 Kings XI Punjab beat Chennai Super Kings in Super Over after a tie
In 2015 Kings XI Punjab beat Rajasthan Royals in Super Over after a tie
Highest Totals
| Score | Overs | Vs | Venue | Year | Result |
| --- | --- | --- | --- | --- | --- |
| 232-2 | 20 | Royal Challengers Bangalore | Dharamsala | 2011 | Won |
| 231-4 | 20 | Chennai Super Kings | Cuttack | 2014 | Won |
| 230-3 | 20 | Mumbai Indians | Mumbai | 2017 | Won |
| 226-6 | 20 | Chennai Super Kings | Mumbai | 2014 | Won |
| 221-3 | 20 | Rajasthan Royals | Mohali | 2008 | Won |
| 214-8+ | 20 | Kolkata Knight Riders | Indore | 2018 | Lost |
| 211-4+ | 18.4 | Sunrisers Hyderabad | Hyderabad | 2014 | Won |
| 207-4 | 20 | Chennai Super Kings | Mohali | 2008 | Lost |
| 206-4+ | 18.5 | Chennai Super Kings | Abu Dhabi | 2014 | Won |
| 204-2+ | 18.2 | Kolkata Knight Riders | Kolkata | 2010 | Won |
| 203-3 | 20 | Royal Challengers Bangalore | Bangalore | 2010 | Lost |
| 202-6+ | 20 | Delhi Daredevils | Delhi | 2011 | Lost |
+ batting second
Lowest Totals
| Score | Overs | Vs | Venue | Year | Result |
| --- | --- | --- | --- | --- | --- |
| 73 | 15.5 | Rising Pune Supergiant | Pune | 2017 | Lost |
| 88 | 13.4 | Royal Challengers Bangalore | Bangalore | 2015 | Lost |
| 88 | 15.1 | Royal Challengers Bangalore | Indore | 2018 | Lost |
| 92-8 | 20 | Chennai Super Kings | Durban | 2009 | Lost |
| 95-9 | 20 | Chennai Super Kings | Chennai | 2015 | Lost |
| 111-9 | 20 | Delhi Daredevils | Delhi | 2016 | Lost |
| 112-8 | 20 | Chennai Super Kings | Mumbai | 2008 | Lost |
| 112-8 | 20 | Pune Warriors India | Mumbai DYP | 2011 | Lost |
| 116 | 19 | Deccan Chargers | Dharamsala | 2011 | Lost |
Highest Individual innings
| Score | Player | Vs | Venue | Year |
| --- | --- | --- | --- | --- |
| 122 | V Sehwag | Chennai Super Kings | Mumbai | 2014 |
| 120* | PC Valthaty | Chennai Super Kings | Mohali | 2011 |
| 115* | WP Saha | Kolkata Knight Riders | Bangalore | 2014 |
| 115 | SE Marsh | Rajasthan Royals | Mohali | 2008 |
| 110* | DPMD Jayawardene | Kolkata Knight Riders | Kolkata | 2010 |
| 106 | AC Gilchrist | Royal Challengers Bangalore | Dharamsala | 2011 |
| 104* | HM Amla | Mumbai Indians | Indore | 2017 |
| 104* | CH Gayle | Sunrisers Hyderabad | Mohali | 2018 |
| 104 | HM Amla | Gujarat Lions | Mohali | 2017 |
| 101* | DA Miller | Royal Challengers Bangalore | Mohali | 2013 |
| 100* | KL Rahul | Mumbai Indians | Mumbai WS | 2019 |
Leading Batsmen
| Batsmen | Mts | Inns | NO | Runs | Hs | Avg | SR | 100 | 50 |
| --- | --- | --- | --- | --- | --- | --- | --- | --- | --- |
| SE Marsh | 71 | 69 | 7 | 2477 | 115 | 39.95 | 132.74 | 1 | 20 |
| DA Miller | 79 | 77 | 23 | 1850 | 101* | 34.25 | 138.78 | 1 | 9 |
| KL Rahul | 28 | 28 | 5 | 1252 | 100* | 54.43 | 146.60 | 1 | 12 |
| GJ Maxwell | 52 | 51 | 5 | 1186 | 95 | 25.78 | 167.27 | 0 | 6 |
| WP Saha | 57 | 49 | 4 | 1115 | 115* | 24.77 | 131.95 | 1 | 5 |
| KC Sangakkara | 37 | 34 | 2 | 1009 | 94 | 31.53 | 129.52 | 0 | 8 |
| Yuvraj Singh | 51 | 48 | 5 | 959 | 58* | 22.30 | 127.69 | 0 | 3 |
| M Vohra | 45 | 41 | 2 | 957 | 95 | 24.53 | 132.73 | 0 | 3 |
| Mandeep Singh | 54 | 50 | 10 | 928 | 77* | 23.20 | 123.40 | 0 | 3 |
Best Bowling
| Bowling | Player | Vs | Venue | Year |
| --- | --- | --- | --- | --- |
| 5-14 | A Rajpoot | Sunrisers Hyderabad | Hyderabad | 2018 |
| 5-25 | AD Mascarenhas | Pune Warriors India | Mohali | 2012 |
| 4-11 | SM Curran | Delhi Capitals | Mohali | 2019 |
| 4-13 | L Balaji | Sunrisers Hyderabad | Sharjah | 2014 |
| 4-15 | MP Stoinis | Mumbai Indians | Visakhapatnam | 2016 |
| 4-16 | AJ Tye | Mumbai Indians | Mumbai | 2018 |
| 4-17 | PP Chawla | Royal Challengers Bangalore | Dharamsala | 2011 |
| 4-20 | S Sharma | Delhi Daredevils | Mohali | 2017 |
| 4-21 | AR Patel | Gujarat Lions | Rajkot | 2016 |
| 4-22 | BA Bhatt | Mumbai Indians | Mohali | 2011 |
| 4-25 | S Sharma | Kolkata Knight Riders | Pune | 2015 |
Leading Bowlers
| Bowler | Mts | Wkts | Avg | RPO | Best | 4W |
| --- | --- | --- | --- | --- | --- | --- |
| PP Chawla | 87 | 84 | 26.63 | 7.52 | 4-17 | 1 |
| S Sharma | 56 | 71 | 22.35 | 7.77 | 4-20 | 2 |
| AR Patel | 68 | 61 | 28.93 | 7.52 | 4-21 | 1 |
| IK Pathan | 42 | 47 | 24.80 | 7.79 | 3-24 | 0 |
| P Awana | 33 | 39 | 26.38 | 8.26 | 4-34 | 1 |
| MM Sharma | 37 | 33 | 34.51 | 9.19 | 3-23 | 0 |
| P Kumar | 44 | 31 | 37.16 | 6.96 | 2-10 | 0 |
Captains
| Player | Mts | Won | Los | Tied | NR | Win% |
| --- | --- | --- | --- | --- | --- | --- |
| AC Gilchrist | 34 | 17 | 17 | 0 | 0 | 50.00 |
| GJ Bailey | 30 | 14 | 16 | 0 | 0 | 46.66 |
| Yuvraj Singh | 29 | 17 | 12 | 0 | 0 | 58.62 |
| R Ashwin | 28 | 12 | 16 | 0 | 0 | 42.85 |
| GJ Maxwell | 14 | 7 | 7 | 0 | 0 | 50.00 |
| KC Sangakkara | 13 | 3 | 9 | 1 | 0 | 26.92 |
| DJ Hussey | 12 | 6 | 6 | 0 | 0 | 50.00 |
| M Vijay | 8 | 3 | 5 | 0 | 0 | 37.50 |
| DA Miller | 6 | 1 | 5 | 0 | 0 | 16.66 |
| DPMD Jayawardene | 1 | 0 | 1 | 0 | 0 | 0.00 |
| V Sehwag | 1 | 0 | 0 | 1 | 0 | 50.00 |
Most Matches
| | Mts |
| --- | --- |
| PP Chawla | 87 |
| DA Miller | 79 |
| SE Marsh | 71 |
| AR Patel | 68 |
| WP Saha | 57 |
| S Sharma | 56 |
| Mandeep Singh | 54 |
| GJ Maxwell | 52 |
| Yuvraj Singh | 51 |