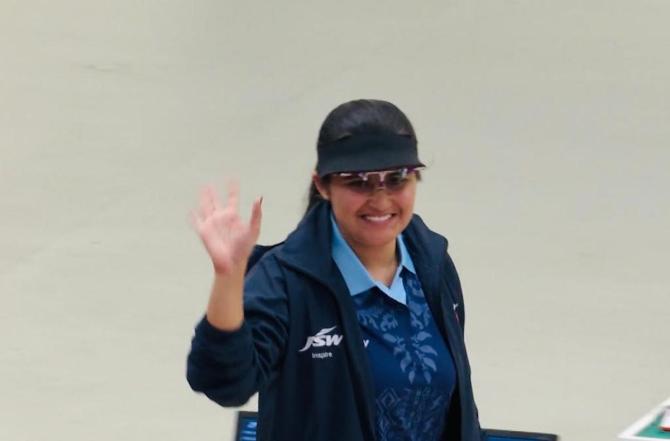 Initially, Palak Gulia would shoot only to break the ennui while studying. But then, pastime gave way to habit and habit to an obsession to excel at the sport, leading to medals at Asian Games.
Hailing from Jhajjar district in Haryana, the 17-year-old Palak took up the sport seriously only after the COVID-19 pandemic.
"I was studying in St Xavier School in Gurgaon when I got to know about the sport of shooting. After that we used to have a one-hour session from 6:30 to 7:30 in the morning. I started shooting randomly for another one and half years," Palak said after clinching her individual gold in Hangzhou on Friday.
"I continued doing that just for fun till 2019. After the COVID-19 pandemic was over, I started taking shooting seriously."
Her businessman father, Joginder Gulia, initiated her to the sport but only to give her some break from studies.
"We have no shooting background in the family, I am the first one. I was more into study and academics. Before taking up shooting, I used to do other sports like athletics and swimming. Even after starting shooting I used to do other sports as well.
"I used to do shooting in my free time, in the break time after studies, my father said if I can do something good in the break that will be helpful for me. That is when we came to know about shooting. We have a shooting range in the school, so we started morning sessions."
Now that she is into serious shooting, Palak follows routine drills before competitions and during camps.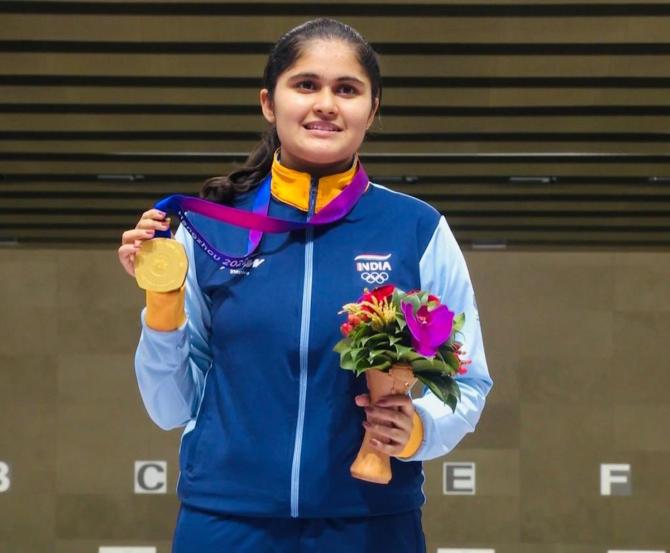 "Since our sport is a psychological sport, two days before the match we prepare an entire routine, we follow that routine till the match. Sleep is very important in our sport, we need eight hours of sleep. It plays a vital role.
"Another thing is do not rush, take it slow. Even if you are walking, do not rush, take it slow because you need to keep your heart beat calm. You need to be calm whatever you do. We have breathing sessions two or three times a week. Mental health is very important in shooting."
'War Room' simulation training
Palak also shed light on the 'war room' simulation training to prepare for the finals, introduced by Indian shooting high performance director Pierre Beauchamp.
"We have a war room where we do simulation for finals. We play music (like in actual competition) and we think of ourselves playing in the finals.
"In that, we measure our pulse rate, breathing pattern which helps to analyse if we are hyper or we are relaxed, which stage should we always be in during the finals. We have had a lot of sessions like that."
Elaborating on the simulation training, she said, "We can measure pulse rate and breathing pattern. Our HPD (Beauchamp) has a device, I think he created on his own. That helps us measure our heart beat and our breathing pattern.
"If we are anxious or we are having too many thoughts, the device can measure all these things and with that we can self-regulate. There are methods to self-regulate and we could do it."
The duration of 'war room' simulation would be the entire duration of a final, around 30 to 45 minutes, she said.
"It's exactly how much the final lasts for, it depends on the event. My event is around 30 minutes. We don't shoot, we do dry run at that time, we simulate.
"We have camps for simulation training for 10-12 days before coming here or any international competitions. Even we don't have camps, we can go to the range and we do it after training," said Palak who trains at Delhi's Dr Karni Singh Range.
She said her next target would be doing well in the Asian Championships (in Changwon in October) and then in the Paris Olympics.
"We have started preparations for the Olympics in the last two-three months," she said.