Also backing the wrestlers were cricketers Kapil Dev and Irfan Pathan, Indian women's hockey captain Rani Rampal, tennis ace Sania Mirza and six-time Winter Olympian Shiva Keshavan, among others.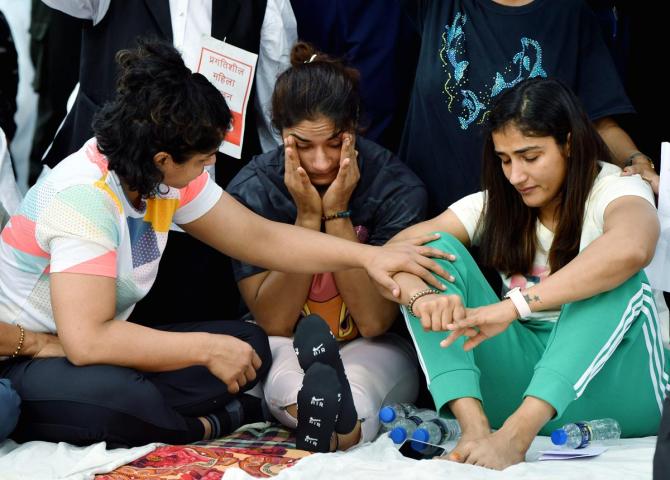 Olympic javelin champion Neeraj Chopra on Friday extended his support to the protesting wrestlers and called for "quick action" from the authorities in order to ensure that justice is served.
Chopra expressed his disappointment a day after Indian Olympic Association (IOA) president PT Usha came down heavily on the wrestlers for hitting the streets to resume their protests instead of approaching its athletes' commission to lodge their complaints against Wrestling Federation of India (WFI) chief Brij Bhushan Sharan Singh.
"It hurts me to see our athletes on the streets demanding justice. They have worked hard to represent our great nation and make us proud. As a nation, we are responsible for safeguarding the integrity and dignity of every individual, athlete or not. What's happening should never happen.
"This is a sensitive issue, and must be dealt with in an impartial and transparent manner. Pertaining authorities must take quick action in order to ensure that justice is served."
Also backing the wrestlers were former cricketers Kapil Dev and Irfan Pathan, Indian women's hockey captain Rani Rampal and six-time Winter Olympian Shiva Keshavan, among others.
The 1983 cricket World Cup-winning captain on Thursday shared a story on Instagram page, with a photo of Vinesh Phogat, Sakshi Malik and Bajrang Punia captioning it "Will they ever get justice?"
'Indian athletes are always our pride, not only when they get medals for us,' former India cricketer Irfan Pathan wrote on his social media handles on Friday.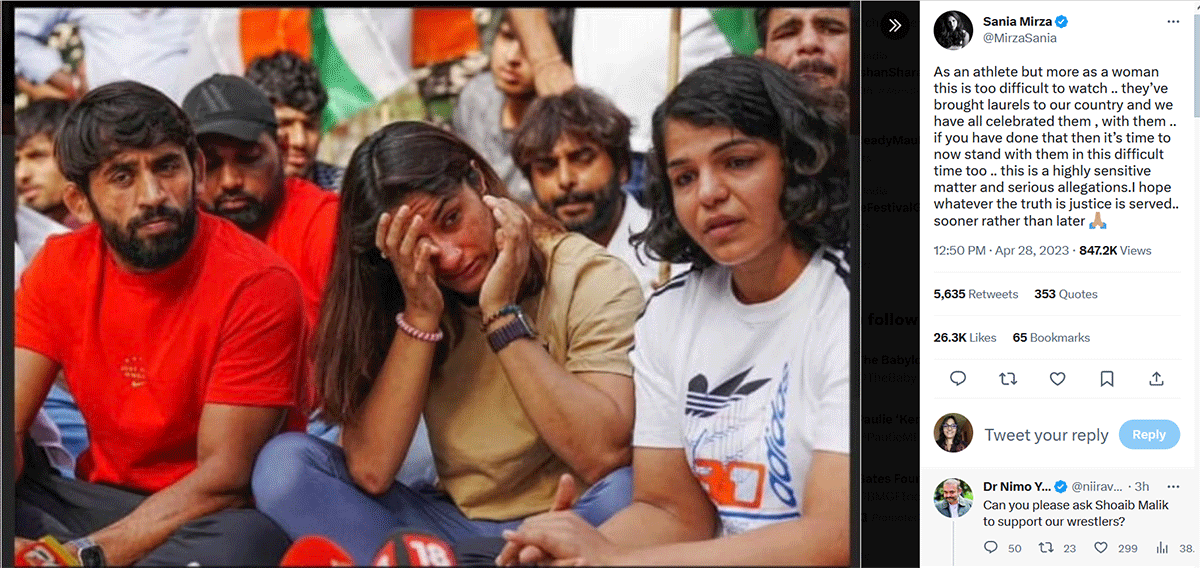 Double world championship gold medallist Nikhat Zareen said, "It breaks my heart to see our Olympic & World medallists in this state. Sports people also serve the nation by bringing glory & laurels. I sincerely hope & pray that the law takes its own course and justice is served at the earliest. Jai Hind."
India's tennis legend Sania Mirza tweeted, "As an athlete but more as a woman this is too difficult to watch .. they've brought laurels to our country and we have all celebrated them, with them .. if you have done that then it's time to now stand with them in this difficult time too .. this is a highly sensitive matter and serious allegations. I hope whatever the truth is justice is served.. sooner rather than later."
"It is extremely sad that our champions, who have brought laurels to the country, hoisted the flag and brought so much happiness to all of us, have to come out on the road today. It is a very sensitive matter and it should be investigated impartially. Hope the players get justice," former cricketer Sehwag tweeted.
Former off-spinner and Aam Aadmi Party (AAP) MP Harbhajan Singh wrote, "Sakshi, Vinesh are India's pride. I am pained as a sportsperson to find pride of our country coming out to protest on the streets. I pray that they get justice."
While Madan Lal said, "Problem with our sports men's and women's are they never stand by their own players. P T Usha's comments are not best for players unity."
Navjot Singh Sidhu, who is now attached with the Congress, also voiced his concerns and said he will join the wrestlers at Jantar Mantar on Monday.
"Shocking that 9 women of recognition complained & no FIR is registered. It'll be a tear on the cheek of time in Indian history. Any country that insults their women icons is hurting its own pride , these women have brought laurels to the nation. They have given wings to the aspirations of millions
"Hurting their self-esteem is hurting India's pride ... are the bigwigs of our country above the law? The law must set a deterrent that generations must tremble before insulting women, a good example is the best sermon you can preach."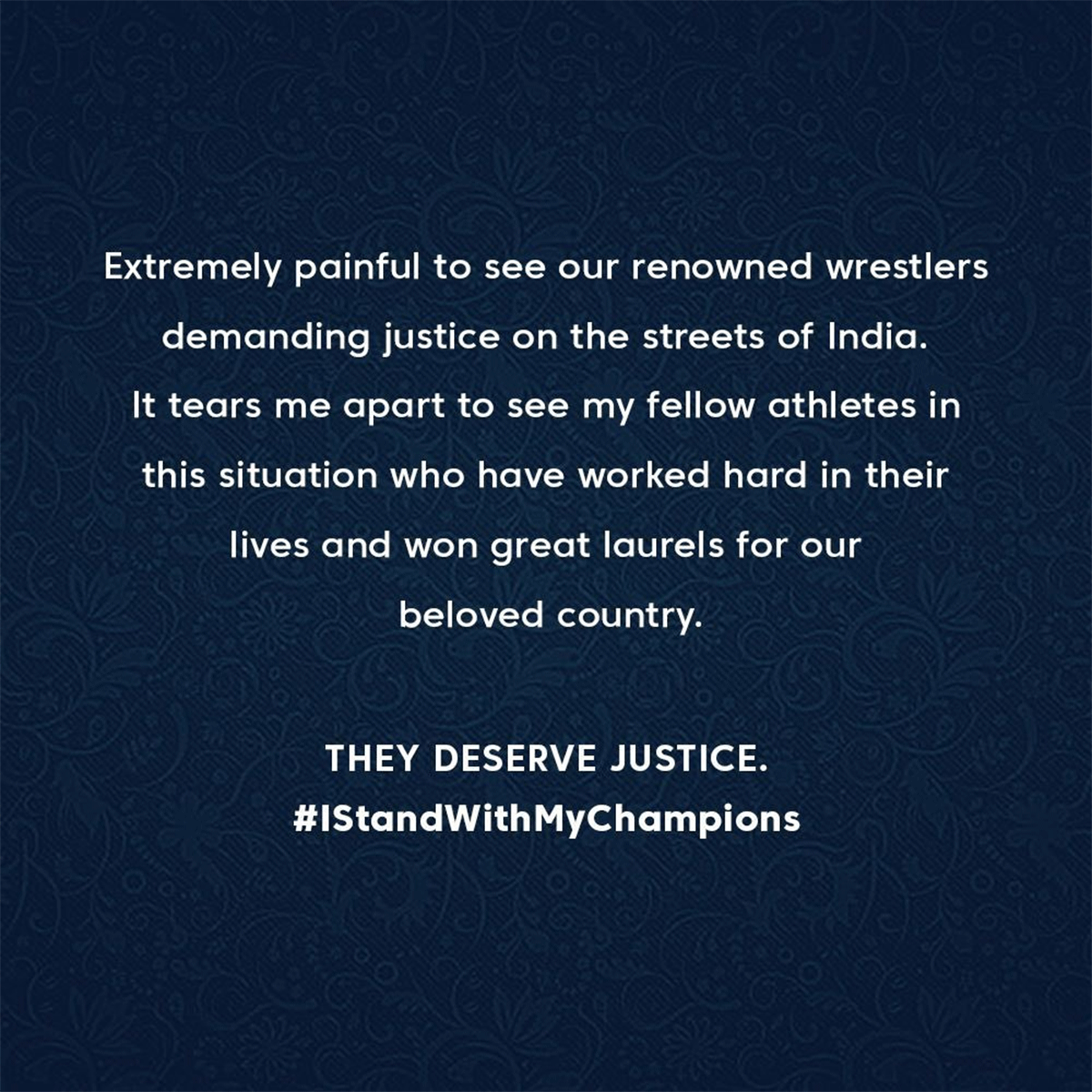 The wrestlers have now received support from the country's only two individual Olympic gold medallists, with 2008 Beijing Games shooting champion Abhinav Bindra too recently voicing his support to the grapplers.
The wrestlers, who include Olympics, Commonwealth and World Championships medal winners in Bajrang Punia, Sakshi Malik and Vinesh Phogat, have been sitting in at Jantar Mantar in the heart of the national capital since Sunday, April 23.
Over the last six days, the wrestlers have slept and trained at the protest site.
Chopra, who is currently training in Antalya, Turkey and has his season-opening event in Doha Diamond League on May 6, has been getting compliments on social media since expressing his views on the issue.
On Friday, the Supreme Court will hear the plea by seven wrestlers seeking the registration of FIR against the WFI president.
The SC noted that there are serious allegations that are contained in the petition by wrestlers who have represented India. The apex court also issued a notice to Delhi Police pertaining to the plea filed by the wrestlers.
Speaking to reporters after an executive committee meeting of the IOA on Thursday, Usha said, "Our feeling is that for sexual harassment complaints, IOA has a committee and athletes' commission. Instead of going to the street (again), they should have come to us, but they have not at all come to IOA."
The IOA also announced the formation of a three-member committee to run the day-to-day affairs of the WFI and conduct fresh polls within 45 days.